Tell Us
Tell us: Is Congress doing enough to curb gun violence?
A bipartisan gun control deal is within reach, but not all advocates are happy.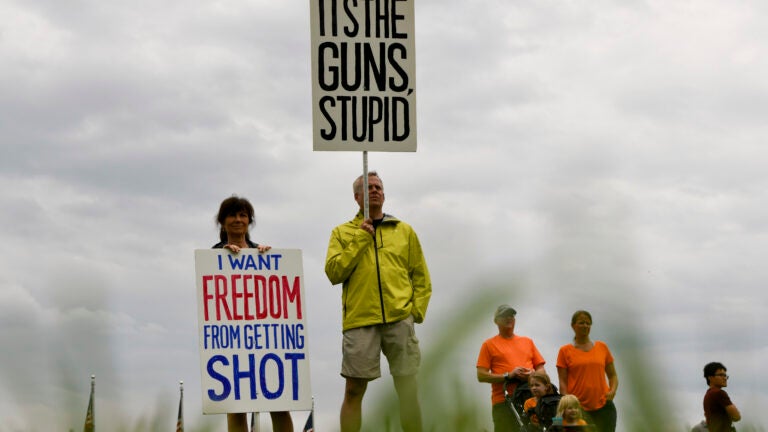 Congress is close to a bipartisan agreement on a gun control deal after recent deadly mass shootings in Uvalde, Buffalo, and elsewhere, but some local advocates and lawmakers say the measures are still not enough.
Last week, the House of Representatives approved a gun bill that would allow federal courts to remove firearms from people who pose an extreme risk of harming themselves or others, raise the age limit for buying a semi-automatic rifle, and prohibit the sale of ammunition magazines with a capacity of more than 15 rounds.
The Senate is unlikely to pass that level of gun control. Still, it could pass legislation that would offer federal money to states with "red flag" laws, make the juvenile records of gun buyers under age 21 available for background checks, and require more people who sell guns to obtain federal dealers' licenses. The proposed deal would also improve school safety and mental health programs.
Local advocates say the compromise doesn't go far enough to curb gun violence.
"This compromise is like moving deck chairs on the Titanic while there's a gaping hole in the hull," John Rosenthal, the co-founder of Stop Handgun Violence, told The Boston Globe. "It's a Band-Aid on a broken bone."
Vermont Senator Bernie Sanders, who indicated that he would vote for the measure should it come to the Senate floor, said the proposal is "a start" but that Congress should "go much, much further."
"The time now is for the sake of our children, for the sake of all of us, to prepare serious gun safety legislation and have the courage to stand up to the NRA," Sanders said during an appearance on Fox News.
Lawmakers Jake Auchincloss, Ed Markey, and Lori Trahan also voiced their support for the deal while urging Congress to take more critical steps.
This deal can save lives, but it grants credence to the GOP's deranged focus on turning schools into fortresses. With tremendous frustration, I will vote yes if this makes it back to the House, and then I'll continue to fight to get weapons of war off our streets. https://t.co/l4yPufa21m

— Rep. Jake Auchincloss (@RepAuchincloss) June 12, 2022
Jaylin Gemmel, 19, who helped organize the March For Our Lives rally in Boston, told The Globe the deal "feels like a good first step," even while naming its limitations.
"This package would not have stopped the shootings in Buffalo and Uvalde, so it's not enough," Gemmel said.
We want to know: Do you think Congress is doing enough to address gun violence?
Let us know what you think of the proposed compromise and what you think lawmakers should be doing to address the spate of mass shootings in the U.S. Tell us your thoughts by filling out the survey below or e-mailing us at [email protected] and your comment may be featured in a future article or Boston.com's social media content.
Is Congress doing enough to address gun control?