Tell Us
Tell us: Is the NFL right to continue with the Patriots-Bills game as scheduled?
We want to know how you think the rest of the season should be handled.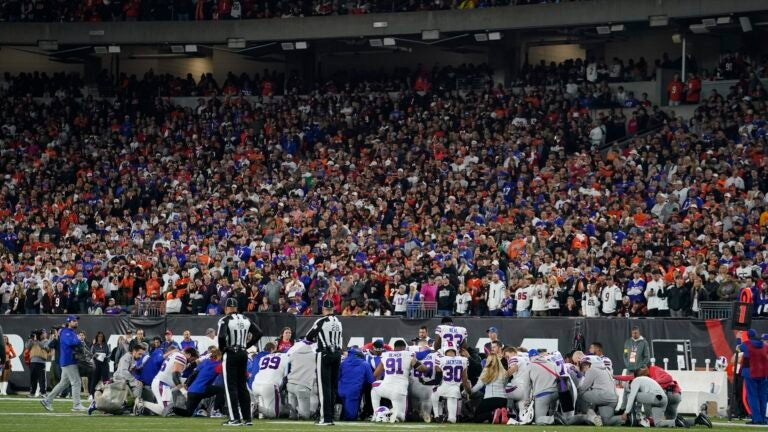 After Damar Hamlin suffered a cardiac arrest on the field during this week's Bills-Bengals game, the NFL is still figuring out how to move forward with the season. Fans, players, and NFL officials have shown an outpouring of support for the Buffalo defensive back, but scheduling questions are still lingering.
The Monday Night Football game between the Bills and Bengals was postponed following Hamlin's collapse. He remains in critical condition and the NFL has said that the game will not be continued in the next week. However, the league will go ahead with the rest of the upcoming schedule, including the Patriots-Bills matchup on Sunday.
The Patriots are among the flood of support that Hamlin has received. On Tuesday night, the team lit up the jumbotron at Gillette Stadium that read "Patriots Nation stands with Damar Hamlin," and individual players have sent their well-wishes.
New from @NFL345 pic.twitter.com/NrGPJb6Rwj

— Brian McCarthy (@NFLprguy) January 3, 2023
All of this comes at a pivotal time in the season with just one week left and playoffs hanging in the balance. While reports show that team leaders and NFL officials were and have been sympathetic to the incident, the league is known for its commitment to its schedule. So much so, that football never missed a beat during the height of the pandemic.
Hamlin's collapse has also further highlighted the physical dangers of the sport, which has become more obvious to the public in recent years.
Given that fans and players are still reeling from Monday's game, how do you think the NFL should handle this situation? Is it right for the schedule to continue as planned? When should the Bills and Bengals continue their game?
Let us know what you think the right course of action is by filling out the survey below or e-mailing us at [email protected] and we may feature your response in a future article or on Boston.com social media channels.
Sorry. This form is no longer available.
Sign up for Patriots updates🏈
Get breaking news and analysis delivered to your inbox during football season.