Tell Us
Jenny's Pizza in Charlestown will close for good on June 30
"I loved it, but it is time for me to move onto a new chapter/adventure."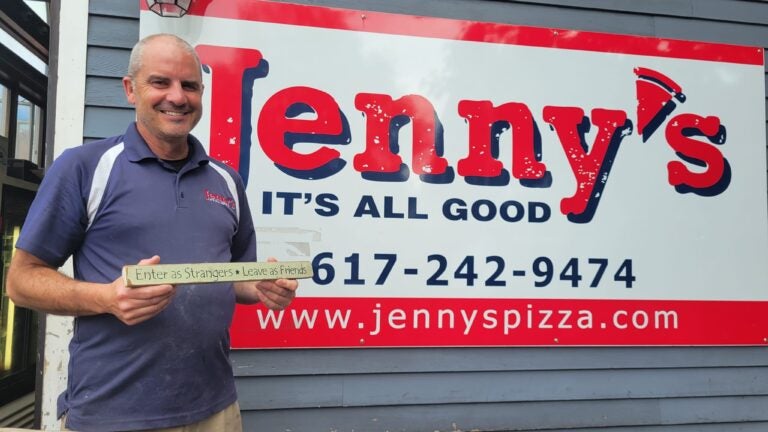 Joey Lacey, owner of Jenny's Pizza in Charlestown, announced Wednesday that the restaurant will be closing on June 30. The eatery, whose last location was on Medford Street, has been serving pies for over 50 years. In addition to selling pizza, Jenny's was known for its subs, salads, calzones, and wings.
The decision to close came after a lot of thought, Lacey posted on Facebook, adding that some of the reasons for shuttering were labor issues, food costs, and COVID fatigue. The last three years had been difficult and had taken a toll on the owner. Jenny's "was never a job for me—I loved it, but it is time for me to move onto a new chapter/adventure," wrote Lacey.
Lacey shared his appreciation for the community in the post, reminiscing about being part of parties and celebrations, and hearing stories from customers when they stopped in. He had enjoyed sharing a love of diecast cars and passing them out to kids. Lacey reminisced about "bad pizza jokes and giving away my mom's brownies or free slices," "surprising [regulars] by saying, 'Hey, lunch is on me today,'" and giving "slices to the one kid in the group that did not have any money and felt left out—I too was that kid."
Lacey added that Jenny's had held a food donation program during the pandemic and that it "re-energized [him] with a sense of what it meant to be a source of normalcy." He also said that he enjoyed watching "Jenny's kids" grow up and become professionals and parents, adding that, " I did not always have the answer but always [lended] an ear to listen and tried to lead by example."
On Facebook, many fans of Jenny's shared how much they would miss the restaurant, calling it "an institution."
"Literally on the verge of tears. I've easily ordered 500 pizzas from Jenny's over the years," wrote one reader. "… You guys have been a staple of my life since moving to Charlestown in the mid-2000s. Good luck with whatever you do next, Joey. You guys will be sorely missed around here."
---
We want to hear about your favorite memories of Jenny's Pizza. Fill out the form below or send us an e-mail at [email protected]. Your response may be used in an upcoming Boston.com article and/or its social media channels.
Tell us: What's your favorite memory of Jenny's Pizza?
Correction: This story has been updated to reflect that Jenny's Pizza has had a presence in Charlestown for over 50 years. An earlier version mischaracterized the locations of the pizza shop through its history. Boston.com regrets the error.
Sign up for The Dish
Stay up to date on the latest food news from Boston.com.