Tell Us
Let us know: What's the best way to spend a snowy winter day?
With snow on the horizon, we want to know the best outdoor winter activity.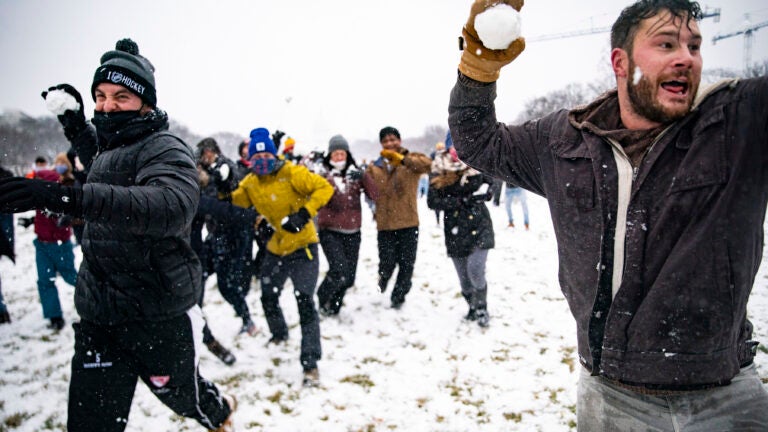 Temperatures are dropping enough to pull out the puffers, scarves, and mittens but where is the snow? By this time last year, Massachusetts already had its first big snowfall, but Boston has stepped into the new year with barely a dusting.
Forecasts are pointing to snow this Friday, in a storm that could bring some inches to much of southern New England. John Wurster, a meteorologist for 7News, said we shouldn't anticipate a "blockbuster" but that it would be the biggest of the season so far.
"Just about everyone will be busting out the shovels and plows," Wurster said in a Tweet.
Of course, the prospect of a big snowstorm isn't always a welcome thought. Earlier this week, after the D.C. metropolitan area was hit with its first snowstorm of the season, residents were faced with power shortages and icy roads that left some stranded on the highway for hours.
Boston is no stranger to bracing itself for tough snowstorms (who could forget the blizzard of 2015) but thankfully, we won't have to prepare for the worst of winter weather just yet.
New England has actually been facing an unseasonably warm winter, evidenced by Boston having its warmest year on record in a decade in 2021. Thankfully, this week's storm will bring us closer to a classic New England winter just in time for some weekend winter fun.
For readers who look forward to the skiing and snowboarding season, this upcoming snowfall is certainly welcome. Last month, readers told us their biggest concern for the season was that there simply wouldn't be enough snow to make it worthwhile.
Scott in Longmeadow, who told Boston.com he plans to hit the slopes in Stowe with his daughters for the first time since the start of the pandemic said he was, "[C]oncerned about lack of snow and temperatures not being cold enough to make snow."
With snow accumulation likely on the horizon, we want to know what outdoor winter activities you like to get into on a snow day. Let us know how you'll be enjoying the snow by filling out the form below or e-mailing us at [email protected].
Favorite outdoor winter activities