Tell Us
Local GoFundMe campaigns to support this holiday season
This year, help a local community member in need.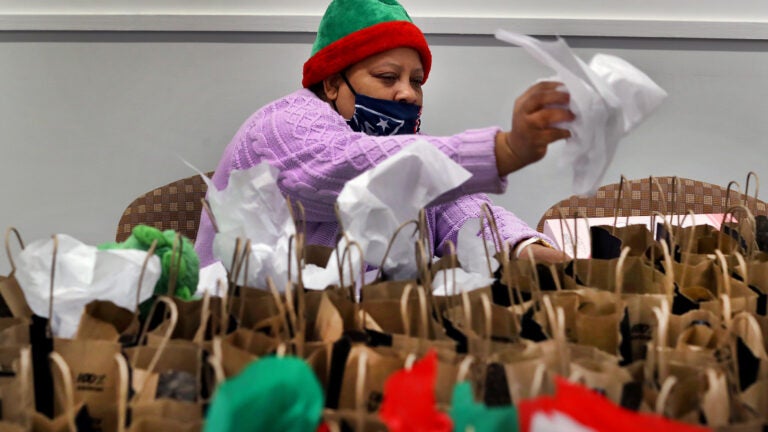 If you're looking for an opportunity to give to the less fortunate this holiday season, Boston.com wants to help connect you with local fundraising efforts that could use community support.
This time last year, Boston.com readers helped local residents meet or surpass their fundraising goals by donating to GoFundMe campaigns to raise money for tuition costs, cover medical costs, and more. Once again, we want readers to spread some holiday cheer by sharing the local GoFundMe fundraising campaigns they're supporting.
Below you'll find fifteen ongoing fundraisers for Massachusetts residents battling cancer, recovering from surgery, and helping the less fortunate.
Employees at Hamilton are raising money to support their coworker Miguel Mejia Nunez, who recently received a successful kidney transplant. Mejia Nunez has returned to work but struggles with related medical bills and post-surgery care. Donate here.
"We are so happy to see him back at work again. During his treatment and recovery from surgery, Miguel was unable to work and continues to accrue medical bills as a result of his transplant which will require frequent follow-ups for life," Alana from Brookline said. "Miguel is a hard-working father of two who is woven into the fabric of the Brookline community."
Phoenix Charter Academy has a fundraising goal of $5,000 to support students in need. Last year, a similar campaign raised $3,500 to support more than 150 families. The school will use your donation to support four food drives during the school year, gift cards to Market Basket, Target, and Walmart for families in need, winter clothing for students, and more. Donate here.
Friends and family of John Miller are raising money to support medical bills and family needs after Miller suffered an accident while cutting trees in Vermont. Donate here.
"Incredible father of two, our good friend John Miller was doing what he loves at his parent's house in Vermont and suffered a devastating accident on October 8. He was in ICU at Dartmouth Hitchcock but eventually moved to Spaulding in Cambridge," said Katie H. from Wakefield. "He is still paralyzed from the chest down and on a ventilator but he's still the one-of-a-kind, great guy we love!"
Regis Spangler was born with cerebral palsy and lives an active life with his limited mobility. Spangler is raising money to purchase a new van with wheelchair accessibility that will allow him to visit family and friends this holiday season and continue his favorite activities like attending musicals in addition to his regular doctor appointments. Donate here.
Students and teachers at Brighton High School are raising money to buy students dealing with food insecurity, homelessness, and other struggles this holiday season. The money raised will be used to purchase gifts and winter clothing like warm coats, hats, and gloves. Donate here.
John Churcher of Leominster served in the U.S. Army and now devotes his time to supporting other Iraq and Afghanistan veterans as they transition back to civilian life. The fundraiser will pay for food, toys, heating oil, clothing, emergency assistance, and more. Donate here.
The Centerville Civic Association is a volunteer organization in Centerville, Mass. that holds a number of events throughout the year and maintains a Families in Need Program. The group receives no local or state funding and relies on donations to continue its work. Donate here.
For the last five years, Keith Putnam of Marstons Mills has raised money to donate bikes and helmets to children in need on Cape Cod. The money raised in the coming weeks will be used to ensure that children wake up to an exciting surprise on Christmas Day. Donate here.
Jesse Setaro spent 16 years in the foster care system and is now raising money to open a Boston-based gym that will be run by current and former foster youth. Setaro, who works as a personal trainer, is among the small percentage of foster youth who go on to get a college degree and hopes to offer his mentorship to youth still in the system. Donate here.
Heather Eaton was one of several people injured when a vehicle ran into an Apple Store in Hingham on November 21. Her friends are raising money to help cover the cost of her ongoing medical bills as a result of the crash. Donate here.
Cory Gardner is undergoing treatment for an uncurable brain tumor, oligodendroglioma grade II. Gardner recently opened Cory Michael Hair Design, a salon in Watertown, but had to close down the business due to his ongoing cancer treatment. This fundraiser will help Gardner and his husband cover medical bills and daily expenses. Donate here.
Officer Michael Shaw was recently killed in an off-duty car accident while jogging in Foxboro. Shaw, who was 57 at the time of his passing, served the Boston Medical Center Department of Public Safety for over a decade. The Public Safety Union is raising money to support his family through this time. Donate here.
Martha's Vineyard native and current resident, Sofia Hart, is battling an irreversible heart condition known as idiopathic dilated cardiomyopathy. Hart's twin sister was diagnosed with the same condition in 2015 and underwent a successful heart transplant. Now, she is also in the need of the same procedure. The 29-year-old recently underwent a successful operation for a left ventricular assist device and her family continues to raise funds as she recovers and awaits a heart transplant. Donate here.
Yoichiro Kawamura moved to Boston with his wife and four children to work as a neurology researcher at Harvard and Massachusetts General Hospital. Now the neurologist is suffering from a cancerous brain tumor. His colleagues at the hospital are raising money to help Kawamura and his family through his costly treatments. Donate here.
This fundraiser, organized by a group of emergency room nurses in Boston, will support homeless patients with families. The money raised will be used to purchase gift cards for food and gas that will be distributed by social workers at six Boston Level I trauma centers. Donate here.