Tell Us
Tell us: Do you think Mac Jones is a dirty player?
Jones incited controversy last weekend after Jets cornerback Sauce Gardner accused him of hitting him below the belt.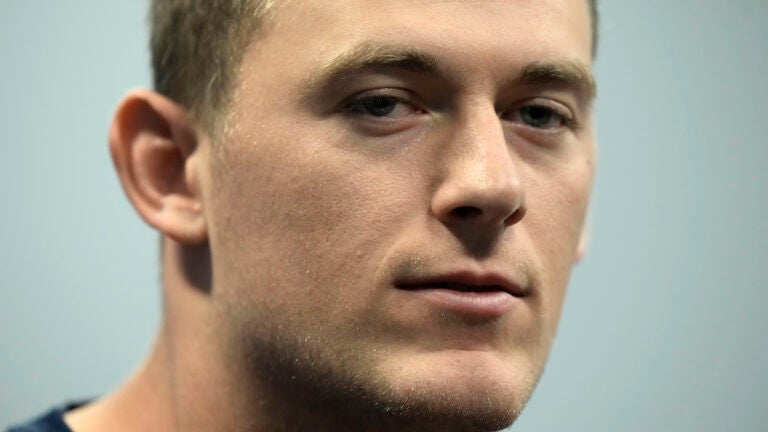 Mac Jones has found himself in yet another controversy.
After New England's win over the New York Jets on Sunday, Jets cornerback Sauce Gardner accused the Patriots' quarterback of intentionally striking him in his "private parts" in the game's fourth quarter. Gardner said that it was the first time that's ever happened to him and was left speechless otherwise.
"My stomach is hurting a little bit, you know what I mean?" Gardner said. "I don't even know what to say. I do have to ice up, he's trying to stop me from having kids in the future. He's tripping."
Gardner posted a video of the incident on X, the platform formerly known as Twitter. Many other football players responded to the video accusing Jones of being a dirty player. Former Patriots defensive end Chris Long called Jones one of the five dirtiest quarterbacks of all time, and former kicker Lawrence Tynes called Jones a "repeat offender" and called on the league to levy a fine against him in a reference to Gardner's caption.
These types of controversies are nothing new for Jones, whose reputation as a "dirty player" is widespread across the league. In a 2021 game against the Carolina Panthers, Jones fell to the ground after being strip-sacked and grabbed the leg of Panthers defensive end Brian Burns, who aggravated his ankle while trying to writhe free. Nearly a year later, Baltimore Ravens linebacker Patrick Queen accused Jones of going too far with trash talk during a game, posting on X, "Shoulda heard what [Jones] told me…"
In a game against the Chicago Bears a month after Queen's post, two of Jones's scrambles ended with him kicking safety Jaquan Brisker with the spikes of his cleat, with one of those kicks landing in Brisker's private parts. And on Christmas Eve of that year against the Cincinnati Bengals, Jones was running down the field after an interception, but stopped and fell backwards into the legs of a sprinting Eli Apple, who tumbled to the ground.
These plays, in addition to Gardner's accusation over the weekend, contribute to the belief that Jones plays football without sportsmanlike conduct. Do you agree with those who say that Jones is a dirty player? Share with us in the form below or e-mail [email protected].
Sorry. This form is no longer available.
Sign up for Patriots updates🏈
Get breaking news and analysis delivered to your inbox during football season.