Tell Us
New rules could require COVID and flu vaccination for health care workers. Do you agree?
Exemptions for medical, religious, and personal reasons would still be available to health care workers under the proposed amendments.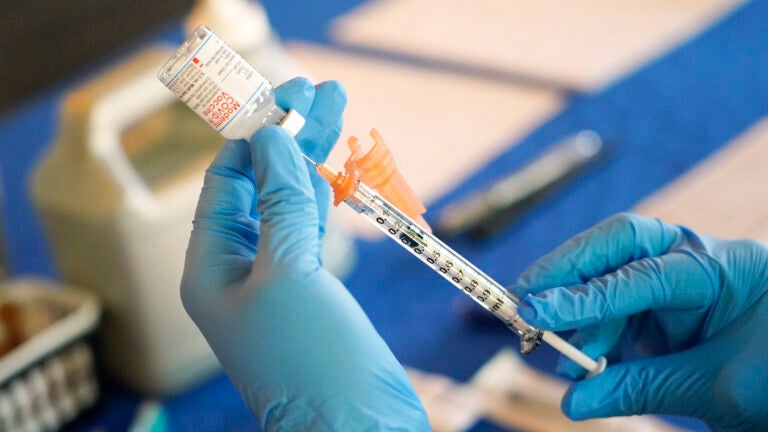 Newly proposed amendments to several public health regulations could require all health care workers to receive COVID-19 and flu vaccinations.
The amendments address vaccinations for personnel of clinics, out-of-hospital dialysis units, hospice programs, hospitals, adult day health programs, emergency medical services, and long-term care facilities — all of which are subject to medical, religious, and personal exemptions.
Specifically, "each hospital shall ensure that all personnel are vaccinated with seasonal influenza vaccine, consistent with any guidelines of the Commissioner, unless an individual is exempt from vaccination," the proposed amendment for hospital licensure states.
Current state rules do not require most health care workers to be vaccinated against COVID, but mandate it for those working in hospice and nursing homes (these workers are allowed medical and religious exemptions).
However, some health care leaders, like the Massachusetts Health & Hospital Association, have warned the new amendments could create confusion about the implementation and enforcement of the rules that could end in "unnecessary and costly litigation," according to the Boston Globe.
Already, some of the state's largest hospital systems — such as Mass General Brigham and Beth Israel Lahey — are facing lawsuits from workers who were fired for refusing COVID shots earlier in the pandemic, and say their requests for religious or medical exemptions were denied without a reasonable process for discussion or appeal. The hospitals have denied those allegations.
The Massachusetts Health & Hospital Association said the proposed new rules could affect the state's high flu vaccination rate, which the Department of Public Health has established to be a minimum rate of 90% or greater for eligible health care personnel at all licensed healthcare facilities. For 2021-2022, health care personnel exceeded the 90% influenza vaccination rate benchmark.
With the proposed amendments, "vaccination rates of health care personnel could significantly decrease, increasing infection risk for patients and staff," the association said in a recent letter to the state health department, the Globe reported.
Each hospital also has different standards for vaccination: for Mass General Brigham workers, it's the primary series — their initial COVID shots — while for Dana Farber Cancer Institute and Tufts Medical Center, it's the initial shots plus at least one booster.
As flu season approaches and many wonder if it's time for another COVID-19 shot, the CDC recommends that everyone get the bivalent shot, which was first offered to people in September, "regardless of whether they previously completed their [monovalent] primary series."
We want to know if you agree with the proposed new amendments and if you plan to get a COVID-19 booster this fall. If you're a health care worker, how do you feel about the proposed rules? Do you think they will cause confusion or jeopardize flu vaccination rates? Tell us your thoughts.
Sorry. This form is no longer available.