Tell Us
North End petition wants to change the 'unfair' outdoor dining program. Do you agree?
Restaurant owners want Mayor Wu to reconsider the plan.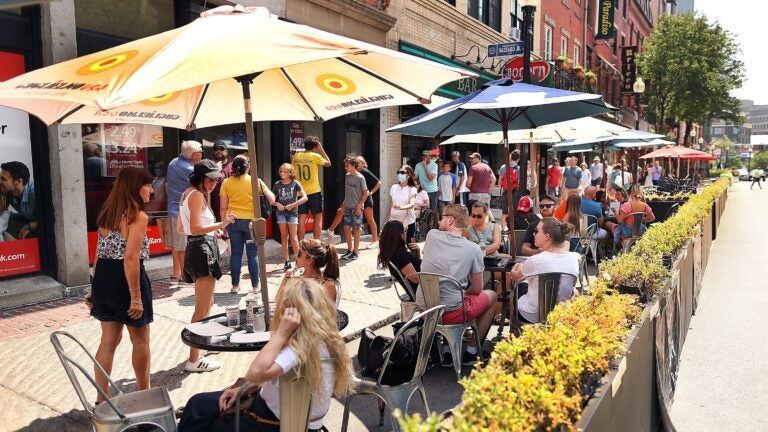 Local restaurants are taking a stance against city regulations that would limit outdoor dining in the North End this season.
On Feb. 16, Mayor Michelle Wu announced a new outdoor dining program, outlining rules for restaurants across the city. While most eateries in Boston will be allowed to set up tables on adjacent street and sidewalk areas starting on May 1, North End restaurants will be limited to sidewalks of "adequate" width, according to the press release. Workers from the North End have called the guidelines unfair, and Karen and Frank Pellino, owners of Casarecce Ristorante, started a petition urging the city to more fully include the North End in the outdoor dining program.
"We felt it was wrong and downright unjust, what the mayor and the administration did, excluding the North End from participating in outdoor dining," Frank said.
The new guidelines restricting outdoor dining in the North End were a response to concerns about noise, crowding, and a loss of parking, the Boston Globe reported. Wu's decisions regarding outdoor dining in the neighborhood became controversial last year, when she imposed a $7,500 seasonal fee for restaurant owners opting to host outdoor table service.
The Change.org petition, which was started on Feb. 24, has received over 1,700 signatures so far. Many of the signatories are North End restaurant industry workers, including immigrants, Frank said. The petition asks the city to "reconsider their decision to exclude the North End restaurants," but Karen said that they simply want to be heard by officials.
While the petition does not call for specific demands, the Pellinos shared some of their personal views on how they'd like to see the program change. They would like to see tables back on the streets, like last year. They would be willing to compromise and reduce the length of the outdoor dining program, which ran in the North End from May to September last year. If there were to be a fee for North End eateries, it should be in proportion to the city's other neighborhoods, they said.
"It will hurt the small restaurant owners the most," Frank said of the new rules. "Lots of people want to sit outside. It really helps [business]."
What practices would you like to see put in place in the North End? Do you agree with the Pellinos' stance, or do you think things shouldn't change? Tell us what you think outdoor dining in the North End should look like. Fill out our survey below or e-mail us at [email protected], and your response may be used in an upcoming Boston.com article and/or its social media channels.
Sorry. This form is no longer available.
Sign up for The Dish
Stay up to date on the latest food news from Boston.com.