Tell Us
10 performing arts shows to watch this spring and summer
We want to know the shows you'll be attending this season.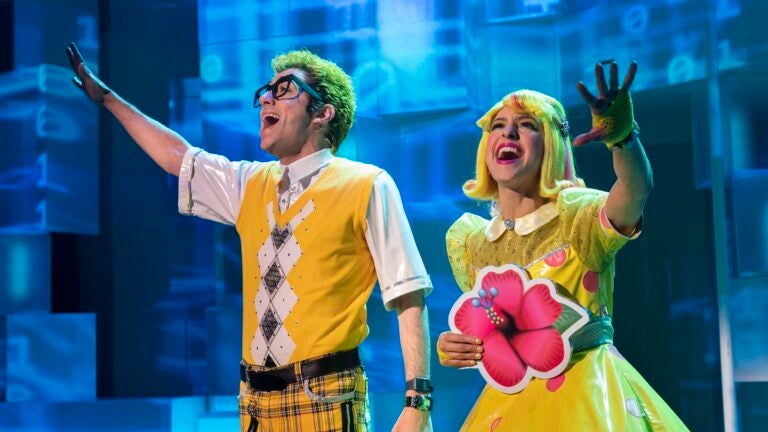 After years of canceled and virtual performances, this spring and summer marks the return of many in-person shows in Boston.
Local companies will stage live productions, ranging from "The Inheritance" to "Swan Lake," but there will also be touring shows including "Wicked" and "Emojiland." Some will offer outdoor performances, like Shakespeare's "Much Ado About Nothing." And there will be reinterpretations of classic musicals, like the historic saga of "1776." In addition, Boston will feature shows from local playwrights like Jamie Lin who will debut her new work "The Ghost of Keelung" at the Pao Arts Center.
Is there a performance that you're excited to see? Or have you already attended a show, and want to share your thoughts? Share with us in the survey below or e-mail us at [email protected].
Ahead, discover our guide to 10 performing arts shows you'll want to check out through the end of summer.
April 22-June 11
Matthew Lopez's play transposes a novel by E.M. Forster, "Howards End," to tell a story about what it is like to be a young, gay man in New York. The tale is set a generation after the AIDS crisis and follows its characters across time, while the audience watches how their lives connect and overlap. "The Inheritance" clocks in at over six hours in length (tickets for Part 1 and Part 2 are sold separately), delivering a narrative about what people leave behind for each other and what they owe the future and each other.
May 17-July 24
American Repertory Theater's rendition of this historical musical explores what we as a nation compromised in the pursuit of freedom and to whom that freedom belongs. John Adams, unwilling to live under the tyranny of British rule, tries to convince members of the Continental Congress to support American independence and sign the Declaration. The show features diverse casting as it explores and reinterprets this pivotal moment in U.S. history.
May 25-June 26
According to Actors' Shakespeare Project artist director Chris Edwards, "The Bomb-itty of Errors" takes the heightened language of Shakespeare and re-mixes it with hip hop. In this retelling of "The Comedy of Errors," four actors will play multiple characters, while a live DJ will appear on stage. Quadruplets separated at birth are caught up in an entertaining identity crisis, and as the story plays out, mishaps and mayhem ensue.
May 26-June 5
A classic ballet about romance, enchantment, and deception comes to the stage in artistic director Mikko Nissinen's imagining of "Swan Lake." In this elegantly told folktale, a girl is transformed into a swan by a sorcerer and must find a way to undo the spell. When a prince pledges himself to her, a story of betrayal and sacrifice unfolds, asking the audience to reckon with the light and darkness within all of us.
June 1-12
World famous producer of contemporary circus spectacles Cirque Du Soleil is coming to Boston. This summer, they will be performing "Crystal," their first experience on ice. Ice skaters and acrobats will push the limits of the imagination as they perform stunts and tricks, creating a surreal world. There will be synchronized skating, freestyle figures, and extreme skating, taking place alongside more traditional circus feats, such as the swinging trapeze and aerial traps.
June 8-July 24
What is the real story behind "The Wizard of Oz"? Fans of the Broadway musical "Wicked" know it well, what happened before Dorothy flew in. The production follows its unlikely hero's journey to becoming the Wicked Witch of the West, proving to us that even villains aren't always who they seem. In this blockbuster show, hear soaring vocals on powerful tunes such as "Defying Gravity," while discovering how two friends became renowned witches in the land of Oz.
June 14-19
This pop-rock musical was an off-Broadway hit and is coming in Boston now to answer the question, what if emojis could sing? What if there was life in your smartphone? In this production, different archetypes take to the stage: a smiley face who is coping with depression, a brooding skull, a princess who doesn't want a prince. When a software update installs new characters, their world is changed, and audience members will enjoy the light and big hearted way this all plays out.
June 17-18, June 30
Boston Lyric Opera continues to hold its "Street Stage" program this summer providing free outdoor shows around Boston from its traveling stage. Mezzo soprano Vera Savage, violinist Annie Rabbat, and pianist Patricia Au will present a mix of opera and crowd favorites. Performances will be held on June 17 and 18 on the Rose Kennedy Greenway, and another performance will take place at the Villa Victoria in the South End on June 30.
June 25
As part of Pao Arts Center's "Found in Translation" series, a radio play presentation of the new work "The Ghost of Keelung," will take place at the Tiger Pavilion at Mary Soo Hoo Park. Written by Boston area playwright Jamie Lin, the story centers around a woman in present day time who visits her family in Taiwan to appease an ancestral wrong. Back in 1956, a young woman works in a bar for American sailors and faces dire consequences when she falls for one of them.
July 20 – August 7
Free Shakespeare is coming to Boston Common this summer. See "Much Ado About Nothing," a funny and joyful comedy that explores the relationships between two different couples. At the same time, the play is about some weighty themes: "trust and betrayal, power and privilege, gendered expectations around chastity and violence." Bring a blanket or chair, and camp out on the grass, enjoying live theater in the open air.
---
Tell us about the local performing arts show you watched or plan to watch this season
Need weekend plans?
The best events in the city, delivered to your inbox.