Tell Us
Share with us: What's your favorite spot to get a takeout cocktail in Greater Boston?
If you're sipping a coconut margarita at home, we want to hear about it.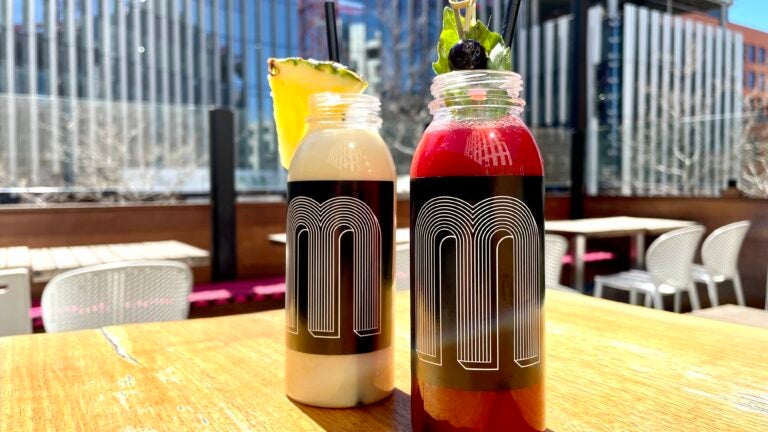 One pandemic-era change that's here to stay — for now — is takeout cocktails. Last month, Governor Maura Healey signed a law allowing restaurants to serve to-go cocktails until April of 2024, a move that a majority of Boston.com readers expressed they'd like to see go on even longer.
Take-out cocktails help local businesses and customers alike, our readers shared.
"Extending to-go cocktails benefits local independent restaurants, which have a tough time staying alive, without any noticeable harm to the community through excess alcohol consumption (due to the high prices) or to local retailers," said Steven S. from Medford.
As we look forward to warmer days spent sipping on cocktails, we've put together a short guide to places where you can get cocktails you can enjoy beyond the walls of a restaurant. Whether your taste leans towards tropical margaritas or something with floral notes, we have some ideas for drinks you might enjoy.
Don't see your favorite takeout cocktail mentioned on this list? Scroll down to share your recommendations with Boston.com.
You'll be happy to know that this West End restaurant is offering spring beverages to-go. Consider the Grapefruit League, which combines Alcove house made citron vodka, ginger, and maraschino. Another classic offering, the Sunshower, is a mixture of juniper gin, anise, and egg white. If you try the Al Fresco, you'll be savoring rye whiskey, aloe, and cava. 50 Lovejoy Wharf, Boston
This South End eatery offers takeout cocktails inspired by vacation. You might think of purchasing the Los Vecinos Negroni, made with mezcal, Campari, and sweet vermouth, or turn to the Tropical Old Fashioned, featuring Flor de Caña rum, Angostura bitters, orange bitters, and demerara. 40 Berkeley St., Boston
From this Central Square haunt, sample drinks like the Berry Brigade, composed of raspberry-infused rum, coconut-berry puree, lemon, and cava. You may also want to sip on the El Malécon, which blends together tequila, dragonfruit, aloe, bitters, citrus, and pineapple. 2 Columbia St., Cambridge
If you're getting Thai takeout from Mahaniyom, think of picking up one of their handcrafted cocktails as well. The Rambutini is made with Tito's vodka, rambutan juice, St. Elder elderflower liqueur, and lemon, while their espresso martini showcases rum, Mr. Black, espresso, and coconut. Choose to order the Papaya Drifted, and you'll taste the flavors of dry Curaçao and hibiscus cordial. 236 Washington St., Brookline
You'll want to down the drinks from Cambridge's Mex, a spot that also serves tacos and enchiladas. Order the La Pina margarita, made with pineapple juice, jalapeño, tequila blanco, pepita vanilla simple syrup, and fresh lime juice. If you try the Rosa Carmina, you'll be enjoying a cocktail that mixes strawberry puree, vodka, lemon juice, sour cherry bitters, agave, and cava float. 500 Technology Square, Cambridge
From the South End Buttery's Shawmut Avenue location, you'll find a variety of cocktails featuring exquisite flavors. Look to the Teatime, made with Hendrick's gin and Earl Grey tea, or the Secret Garden, concocted from elderflower liqueur and basil-cucumber syrup. For more of a pick-me-up, try the Grown-Up Iced Coffee, a blend of Plantation dark rum, house made Irish cream, cold brew, and caffè moka. 314 Shawmut Ave., Boston
This Mexican restaurant is offering quality margaritas, made with blanco tequila and fresh fruit. Get yours in any of the following flavors: classic, coconut, jalapeño, passionfruit, guava pineapple, watermelon basic, raspberry mint, cucumber dill, or strawberry. Multiple locations
---
Do you have a favorite place to order takeout cocktails? We want to hear all about it.
Let us know your spot, what drink you order, and what you like about the beverage. Share your thoughts in the survey below, or e-mail us at [email protected]. We may feature your response in a future article or on our social media channels.
Tell us: What's your favorite spot to get a takeout cocktail from?