Tell Us
Have you seen 'The Embrace' sculpture? Share your photo with us.
The memorial to Martin Luther King Jr. and Coretta Scott King was unveiled on Friday.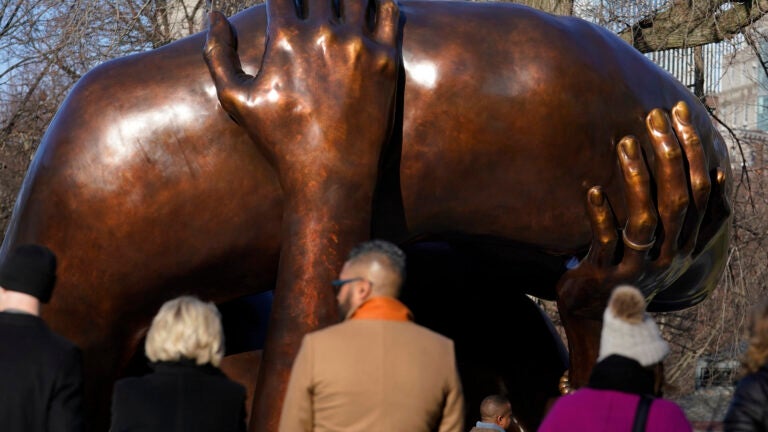 For anyone who has been by the Boston Common in the past few months, you may have noticed the construction of a large metal sculpture and wondered what it was. Well, wonder no further. "The Embrace" memorial, honoring the legacy of Dr. Martin Luther King Jr. and Coretta Scott King, was unveiled on Friday.
The sculpture is located within the 1965 Freedom Plaza, which honors the 69 civil rights leaders who worked with the Kings during their time in Boston. The 22-foot-tall bronze sculpture made its grand reveal at a 1 p.m. ceremony, just in time for local and national celebrations this weekend in honor of MLK Day on Monday. The memorial was designed by artist Hank Willis Thomas and MASS Design Group. The sculpture's design, two pairs of intertwined arms, was inspired by a photo of the couple hugging after Martin Luther King Jr. won the Nobel Peace Prize in 1964.
The Kings had significant ties to Boston. It's where the couple met, studied, and worked in the 1950s. The memorial is in part a remembrance of the couple's love story.
Photos and video of the monument and Friday's unveiling ceremony have already been widely shared.
Boston.com wants to see your angle of the memorial. Send us your photos and first impressions of the sculpture in the survey below or e-mail them to [email protected] and we may share them in an upcoming article.