Tell Us
Tell us: Should Boston rename Faneuil Hall?
Boston City Council will hold a hearing to discuss renaming the centuries-old building.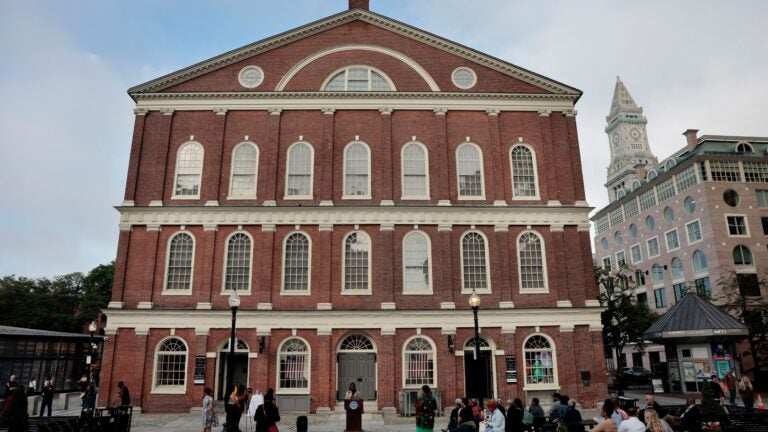 Boston City Council will discuss a resolution to rename Faneuil Hall at a hearing on Wednesday, after years of local organizers calling on city leaders to change the name of the centuries-old building.
Faneuil Hall is named after Peter Faneuil, an 18th-century merchant and slave trader. Calls to rename the popular tourist attraction are part of a larger national movement to reckon with the legacy of the trans-Atlantic slave trade.
The New Democracy Coalition, a local civic engagement group, has been calling for Faneuil Hall to be renamed since 2018. Their efforts, including a lock-on protest at the marketplace, helped lead to the creation of the city's Reparations Task Force.
"We are not pushing toward changing the name to erase history. We want to correct history about who Peter Faneuil was. He was a man who debased other human beings. His name should not be honored in a building called the cradle of liberty," said the Rev. John Gibbons of the Arlington Street Church in a statement released by the coalition.
City Councilor Tania Fernandes Anderson filed the resolution asking the Council to consider the renaming process. The resolution suggests renaming Faneuil Hall after historical figures like Crispus Attucks, Elizabeth Freeman, or Frederick Douglass, or to a "noble concept," such as Freedom Hall or Liberty Hall.
Fernandes Anderson's resolution also asks that the city fund efforts to create a memorial to the trans-Atlantic slave trade at or near the building.
Despite the hearing, the authority to rename Faneuil Hall lies with the Public Facilities Commission, which hasn't considered renaming a building since the city gave the board renaming powers in 2013, according to the Boston Globe.
Previous name changes in Boston were done by the Public Improvement Commission, which in 2018 approved the changing of Yawkey Way to its original name, Jersey Street. The commission also approved the renaming of Dudley Square in Roxbury to Nubian Square in 2019.
The renaming of Faneuil Hall "would not erase history, but enhance our sense of history and place history in its proper perspective," the proposed resolution states.
Do you think Boston should rename Faneuil Hall? Tell us what you think about the proposal by filling out the survey below or e-mailing us at [email protected] and we may feature your response in a future Boston.com article or on our social media channels.
Sorry. This form is no longer available.
Boston.com Today
Sign up to receive the latest headlines in your inbox each morning.