Tell Us
Readers: Should boys be allowed to play on girls' sports teams?
An injury during a local field hockey game has some questioning current rules about gender and youth sports.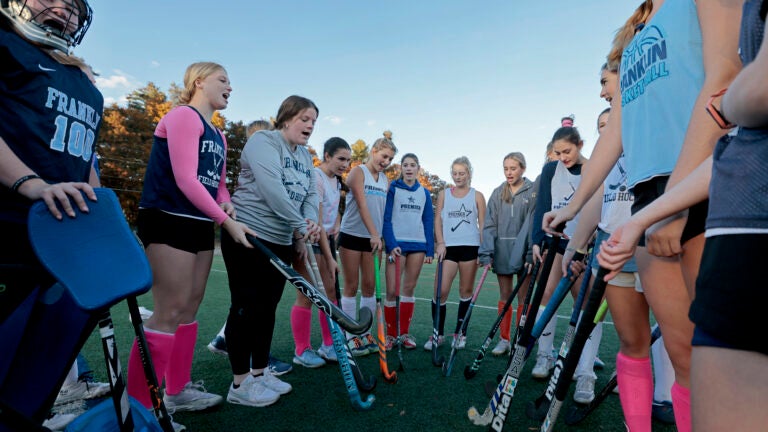 A debate over gender and participation in youth athletics is rearing its head in Massachusetts after an accident involving a male Swampscott field hockey player and a female Dighton-Rehoboth player sent the female player to the hospital.
During a game last week, the male player took a shot in a corner penalty and hit the girl in the face, leaving the girl screaming and shocking onlookers, according to Boston 25 News. Now, Dighton-Rehoboth team captain Kelsey Bain is calling on the Mid-America Intercollegiate Athletics Association to change its rules allowing boys to play on girls' teams.
Under Title IX and the Equal Rights Amendment, Massachusetts boys are allowed to play on a girls' team if no male team exists in that sport. The same rules apply to girls playing on boys' teams. Under this policy, "boys have been competing on girls' teams, and girls have been competing on boys' teams, for more than forty years," the MIAA said in a statement.
The athletic association maintains that students should be allowed to participate in any sport of their choosing, no matter their gender.
"We respect and understand the complexity and concerns that exist regarding student safety," the MIAA said. "However, student safety has not been a successful defense to excluding students of one gender from participating on teams of the opposite gender."
Absent a rule change, Dighton-Rehoboth Regional School Superintendent Bill Runey has suggested allowing equipment changes like "full-faced helmets" that could protect players from potentially dangerous shots.
Tell us: Do you think young people should be allowed to join any sport they want, regardless of gender?
Let us know your thoughts by filling out the survey below or emailing us at [email protected] and we may feature your response in a future Boston.com article or on our social media channels.
Sorry. This form is no longer available.
Get the latest Boston sports news
Receive updates on your favorite Boston teams, straight from our newsroom to your inbox.