Tell Us
Worcester Art Museum returns allegedly looted art. Should more museums do the same?
Tell us how you think museums should handle their repatriation efforts.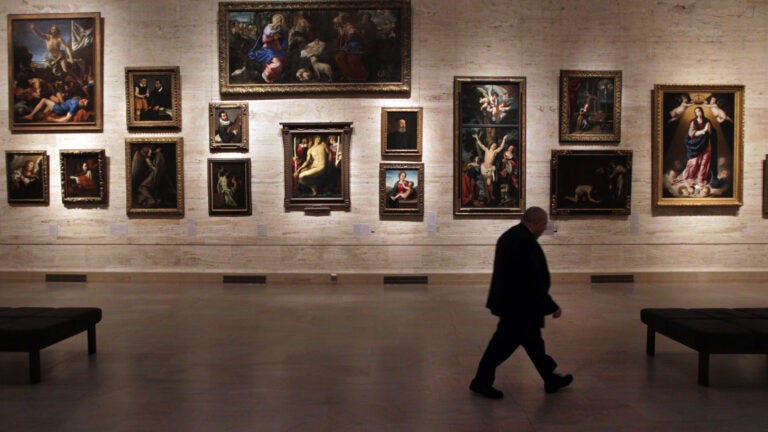 The Worcester Art Museum turned over a bronze bust from its collection to the Manhattan District Attorney's Office earlier this week after learning that the piece was allegedly looted from Turkey.
The museum said in a press release that the bust, known as Portrait of a Lady, was "likely stolen and improperly imported" from the family shrine of an emperor when it was first purchased by the museum in 1966.
Western museums are filled with works stolen from countries of origin or original owners and in recent years, calls for their return have only grown louder. Like the Portrait of a Lady, many have been repatriated to their original owners or heirs but thousands, if not millions more, are subject to debate. Here in New England, and across the globe, the art world is grappling with the question: Do museums have an obligation to return looted works of art?
At the center of this debate are works of art stolen from Jewish owners and sold by Nazis during World War II and cultural objects looted through imperialism and colonialism. Some institutions, including Harvard's Peabody Museum, have even failed to return the human remains of Indigenous people in addition to cultural objects.
The Museum of Fine Arts has returned a number of looted works from its roughly 500,000-piece collection in recent years. In 2022, the museum returned a sculpture to Italy that was likely stolen by Nazi forces. That same year, a 17th-century painting was transferred to the heirs of a Jewish collector who put the artwork in a bank vault before fleeing Hungary during World War II.
Thousands of sculptures taken from the former Kingdom of Benin (a region that is now southern Nigeria) after a violent attack by the British sit in museums across the U.S. and Europe. Last year, the RISD Museum returned a Benin Bronze from its collection, along with the National Gallery of Art, the Smithsonian Institution, and the Nigerian National Commission for Museums and Monuments. Together, the three institutions returned 31 cultural objects. Similar returns have also been made by the Peabody Essex Museum in Salem, which handed over artwork stolen from India.
Critics say it's unethical of museums to keep these objects — particularly when their countries of origin and heirs have asked for their return — but many remain. For all its efforts to return looted art, the MFA still holds 32 of the Benin Bronzes, despite calls to hand them over to Nigeria. In Worcester, where the Portrait of a Lady was recently turned over, some art history experts say it's unlikely museum leaders were unaware the art was stolen at the time of purchase.
The museum said in a press release that it now acquires objects with "greater diligence."
"The ethical standards applicable to museums are much changed since the 1960s, and the Museum is committed to managing its collection consistent with modern ethical standards," said Matthias Waschek, the museum's director.
The repatriation of these works isn't always so clear-cut. Some argue that valuable works will be sent to owners who will be unable to continue the maintenance and care many museums provide, and others worry that private ownership will diminish the ability to educate the public. "View of Beverwijk," the 17th-century painting returned by the MFA, was later sold by its heirs for $567,000.
We want to know what you think should be done about looted art in museums. Do these institutions have an obligation to return works they know were sourced unethically? How should museums handle their repatriation efforts?
Let us know your thoughts by filling out the survey below or e-mailing us at [email protected] and we may feature your response in a future Boston.com article.
What should museums do about stolen art?
Correction: This story previously misstated the number of Benin Bronzes the RISD Museum returned in 2022. We regret this error.