Tell Us
Tell us: Are you concerned about book bans in Massachusetts?
The state has had 22 official challenges to school library books since fall of 2022.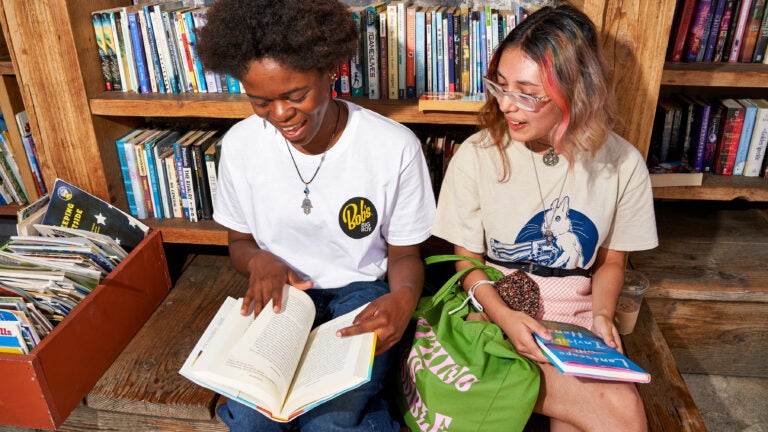 Massachusetts is experiencing a rise in challenges to books in school libraries. These challenges mirror the trend of book bans happening elsewhere in the country and have raised concerns among library associations and free speech advocacy groups.
A recent report by The American Library Association found that libraries nationwide faced nearly double the number of book challenges in 2022 than in 2021. The sharp increase prompted the Massachusetts School Library Association to start collecting its own data. Prior to 2021, book challenges in the Bay State were so few and far between that the MSLA just relied on national numbers. But since fall 2022, there have been 22 challenges.
That number may be lower than the reality, according to Jennifer Varney, the president of the Massachusetts School Library Association. Varney told the Boston University News Service that some challenges go unreported because not all libraries in the state are MSLA libraries.
In January of this year, concerns over book bans in school libraries led the Americal Civil Liberties Union and GLBTQ Legal Advocates and Defenders to pen an open letter to Massachusetts libraries to resist calls to remove books from school libraries. The letter was in response to Rochester Regional School District's move to review books deemed inappropriate by concerned parents.
The titles under review dealt with issues of race and the LGBTQ+ community and included "Gender Queer: A Memoir," "The Hate U Give," "The Absolutely True Diary of a Part-Time Indian," "The Bluest Eye," and more.
"Across the country, there is a coordinated attack on students' right to learn," ACLU of Massachusetts Executive Director Carol Rose said in a news release. "Book bans in school and public libraries — places that are central to our abilities to explore ideas, encounter new perspectives, and learn to think for ourselves — are misguided attempts to try to suppress that right. We applaud the communities that have resisted such attempts in Massachusetts and call on schools to protect all children's access to an equal and safe education."
We want to know: Are you concerned about the rise in book challenges and bans in Massachusetts?
How much of a say should parents and community members have in the books made available at school libraries? Tell us what you think about book bans in Massachusetts by filling out the survey below or emailing us at [email protected] and we may feature your response in a future article or on Boston.com social media channels.
Sorry. This form is no longer available.