Tell Us
Tell us: Do you agree with efforts to remove Native American mascots?
The Foxborough School Committee said it will remove its Native American mascot. We want to know if you agree with their decision.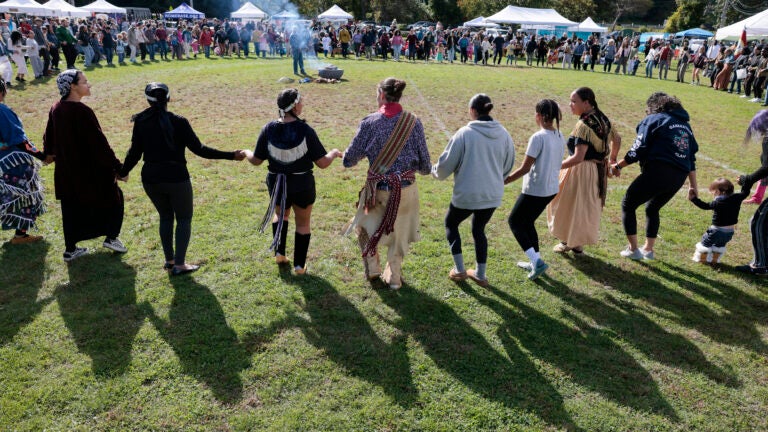 Days before Indigenous Peoples' Day, members of the Foxborough community were in a public debate over the continued use of a Native American man on their school district's logo.
Nationwide efforts have pushed schools and organizations to celebrate indigenous people and their cultures while also acknowledging the history of colonization and objectification of those groups. In that spirit, the Foxborough School Committee voted to phase out the logo.
At a school committee meeting last week, Richard Pearson, Brent Ruter, and Rob Canfield voted in favor of phasing out the logo, arguing that the school should set a goal to "be for everyone, all the time."
Ruter added that "our mission is to ensure a safe place for everyone."
During the meeting, Ruter emphasized the school's goal to "be for everyone, all the time," adding that "our mission is to ensure a safe place for everyone."
Michelle Thackston, who abstained from the vote, expressed uncertainty about phasing out the logo, given there were no proposals for alternative mascots other than the letter "F" for Foxborough.
The school committee voted unanimously to continue using "Warriors" as the district's mascot name and will not immediately stop using sports equipment with the Native American mascot. Instead, it won't order new equipment or accept donations for school use with such a logo, allowing sports equipment with the logo to be replaced without the district having to waste items that are still usable.
At a forum held by the school committee last week, several Foxborough High School students voiced their opinions on changing or keeping the logo.
Among them was Cayden Hui, a junior who started a petition calling to change the mascot. At the forum, Hui pointed out that the Foxborough logo is nearly identical to the now-defunct logo of the Washington Redskins, and perpetuates stereotypes of indigenous people.
"We believe that this mascot objectifies and perpetuates one-dimensional stereotypes of indigenous people," he said. "The image is of a Blackfeet chief. The Blackfeet Nation is not located in Massachusetts or even New England. They are located in Montana. We do not have any local historical ties to this image."
We want to know: Should schools and other organizations with Native American mascots remove their logos? Tell us what you think about Foxborough's decision by filling out the survey below or emailing us at [email protected] and we may feature your response in a future Boston.com article.
Sorry. This form is no longer available.