Tell Us
Tell us: Is Boston right to clear the tents around Mass. and Cass?
Under a city ordinance, tents around Mass. and Cass are now being cleared. But the move has faced criticism from advocacy groups.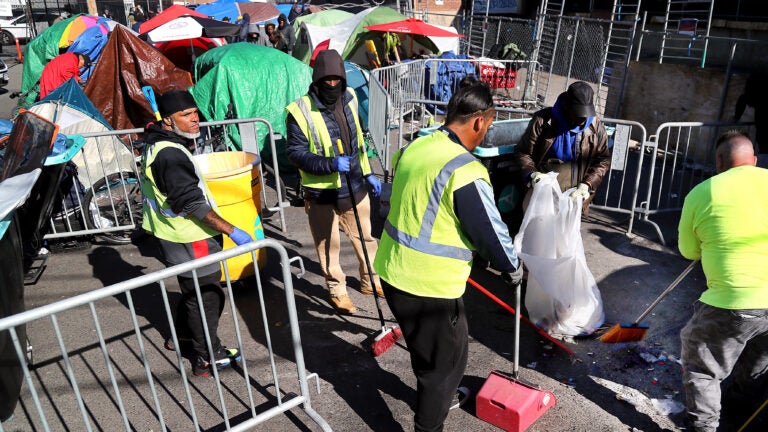 Boston outreach workers have been clearing tents near the intersection of Massachusetts Avenue and Melnea Cass Boulevard, an area that has long been plagued by open-air drug use, human trafficking, and violence.
Starting on Monday, teams of outreach workers, along with the city and nonprofit groups, have been informing residents in the area that encampments and tents will be cleared, and offering shelter to those who want it. At this point, most of the tents have been cleared.
As of Tuesday, 52 people had completed their move from the encampments to another location, mostly shelter beds throughout the city that had been reserved for them. An additional 25 people had accepted relocation offers from the city and were in the process of packing up their belongings Wednesday morning, Coordinated Response Team Director Tania Del Rio told Boston.com. Nine people have been reunited with friends or family, and seven people were identified Tuesday for placement Wednesday.
The tent removal efforts underway were made possible by an amended ordinance approved by the City Council last week. The plan, which was approved 9-3 and introduced by Wu in August, allows police to clear the structures after individuals are offered a place to store their belongings, and allocates shelter beds for people being displaced.
But harm reduction advocates, like Gary Langis, a harm reduction specialist at Boston Medical Center, have raised concerns about the plan.
"This will cause chaos within that community," Langis told the Boston Globe. "The people who use [illicit drugs] will get disconnected from where they get their drugs and buy from less-trusted sources, and that will put them at much greater risk of an overdose."
Marina Coelho, a recovering addict who lived near Mass. and Cass for nearly two years, told the Boston Globe once people are displaced, they will likely return or find another spot to use.
"You can't just sweep this problem away in seven days," Coelho said. "Addicts there need to support their habit and they feel better doing it around their own people."
In 2021, a coalition of public health, addiction, housing, and civil liberties experts called on Mayor Michelle Wu to take a "health-centered approach" to Mass. and Cass, arguing that "requiring tent removal of the area will cause displacement from services, belongings, peers, medical providers, temporary shelters, and more."
"The City should meet basic needs for people living in encampments until people have access to housing," the coalition said.
Criticisms of the city's response to the crisis in the Mass. and Cass area are longstanding. The American Civil Liberties Union of Massachusetts filed a suit against the city in 2021, alleging the city unlawfully removed tents near Mass. and Cass without making sure people had adequate housing options.
"The City's ongoing displacement actions — which are driving unhoused persons from Mass & Cass — fail to address the immediate and urgent needs of unsheltered residents, and put the health and safety of an already vulnerable population at even greater risk," the lawsuit read.
We want to know how you feel about the city's removal of the tents at Mass. and Cass. Is the city right in its plans to remove the tents? Are there other alternative measures the city could take, if at all? Tell us by filling out the form or e-mailing us at [email protected], and your response may appear in a future Boston.com article.
Sorry. This form is no longer available.