Tell Us
Tell us: Should Massachusetts regulate 'ghost guns'?
Massachusetts lawmakers have put forward a new bill that aims to modernize firearm laws and make "ghost guns" easier to trace.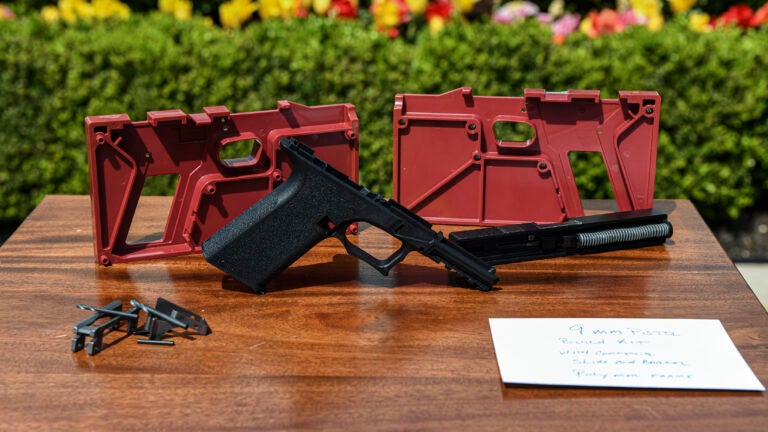 Massachusetts lawmakers put forward a new bill that aims to modernize firearm laws by making "ghost guns" easier to trace, among other measures.
Ghost guns are unserialized and untraceable firearms that can be bought online and assembled at home. They do not require background checks and provide no transfer records, making them an attractive option for people who are legally prohibited from buying firearms.
The new bill, HD.4607, is an update to a former bill sponsored by Representative Michael Day of Stoneham. This would tighten restrictions on ghost guns and ensure that they are no longer untraceable.
The bill also seeks to prohibit the use of firearms in certain public areas, such as places owned, leased, or under the control of state, county, or municipal governments; a location used as a polling place; an elementary school, secondary school, college or university; and other public spaces.
In addition, those interested in seeking a license to carry would be required to participate in live firearm training.
The new bill is part of larger efforts across the country to regulate ghost guns, despite pushback from gun rights advocates.
On Monday, the Supreme Court allowed the Biden administration to continue regulating ghost guns as firearms under federal law. But despite the order, lower courts let two manufacturers continue to sell the banned kits.
The Boston City Council discussed implementing an ordinance last month that would require the Boston Police Department to create a report each year on the trafficking of illegal guns into Boston. Multiple types of data would be reviewed, with the goal of helping lawmakers and police decrease how many illegal weapons are brought into the city.
In April, we asked Boston.com readers about Massachusetts' gun laws. A slight majority, or 51%, said the state has done enough to restrict access to guns while 49% are eager to see lawmakers further address gun control. Most readers said the focus should be on educating the public about the protections already in place and enforcing punishments for those who violate the laws.
With this newly proposed legislation, we want to know if you think Massachusetts should have stricter regulations on ghost guns. Tell us by filling out the survey below or e-mailing us at [email protected] and we may feature your response in a future article or on Boston.com social media channels.
Sorry. This form is no longer available.