Tell Us
Tell us: Should there be more marijuana dispensaries in Boston?
The Wu administration is backing a plan to streamline the marijuana licensing process in the city.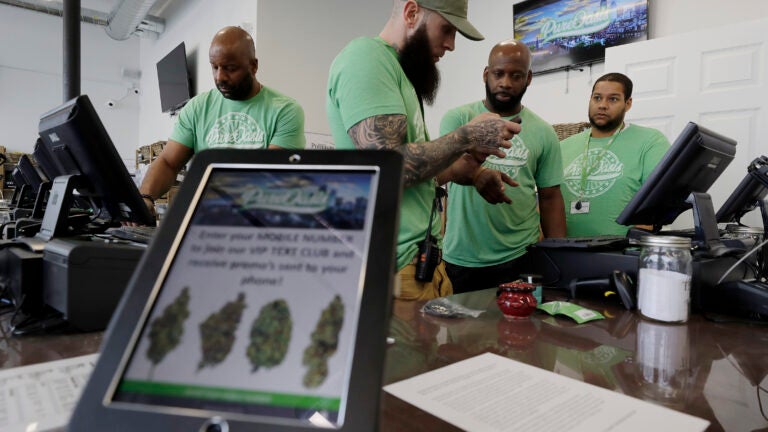 Since the legalization of recreational marijuana in Massachusetts, the market for dispensaries has been booming. With 14 dispensaries in Boston, there are any number of options to choose from. Still, marijuana companies looking to expand in the city say the current rules are preventing them from doing so.
Now, Mayor Michelle Wu is throwing her support behind an effort to make that more possible.
To open a dispensary in Boston currently, businesses have to get approval from both the Boston Cannabis Board and the Zoning Board of Appeal, which can sometimes extend the process by years. Instead, some city councilors would like to simplify the process by only requiring the Cannabis Board's approval. Cannabis businesses may be the focus, but the idea is to make it easier to start a small business in Boston across the board.
"Anytime you have a complex process like that, it impacts the people the hardest who have the least resources," Bryan Glascock told the Boston Globe.
Critics of this proposal say neighborhoods should have a bigger say in the approval process. City Councilor Michael Flaherty said the city should make sure that "no one neighborhood is overrun by cannabis cafes and pot shops."
Boston.com readers have shown their love for local dispensaries in an annual ranking of the best cannabis shops in the state, several of which are Boston-based. Would you be happy to see more dispensaries cropping up in your neighborhood, or do you think the current, more arduous licensing process should remain in place?
We want to know: Do you think Boston should make it easier to open dispensaries in the city? Let us know what you think about the efforts to streamline marijuana licensing by filling out the survey below or emailing us at [email protected], and we may feature your response in a future article and/or on our Boston.com social media channels.
Should there be more marijuana dispensaries in Boston?