Tell Us
Tell us: Was Boston right to pull out of the fossil fuel construction ban?
Boston was in the running for the final spot in the pilot program, but Mayor Michelle Wu said the city would likely not be accepted into the program.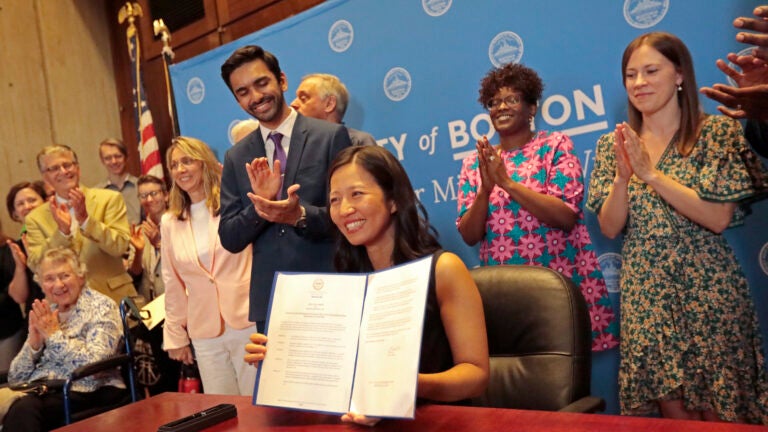 Mayor Michelle Wu said on Tuesday that Boston will not abandon its goal to be fossil-fuel free, after the city announced earlier in the week that it won't participate in a state pilot program to ban developers from including fossil fuels in new buildings.
"Truly the decision was not about whether we want to move forward and be a fossil fuel-free city or not," Wu said during a segment on GBH's Boston Public Radio. "We are doing it one way or the other. We are also committed to doing it in a way that brings along our entire workforce, including those who will need to transition away from fossil fuel industries."
The program was open to 10 communities, with nine of the spots already taken by Acton, Aquinnah, Arlington, Brookline, Cambridge, Concord, Lexington, Lincoln, and Newton, respectively. Boston, along with Northampton, Salem, and Somerville, were vying for the final spot.
Even though Boston city officials repeatedly publicized its importance and the steps they were taking to apply for the program, the city was eventually deemed too "electrically similar" to several of the other selected communities, a spokesperson for the state Department of Energy Resources told the Boston Globe.
The pilot program was designed to collect data from a diverse group of municipalities and some already selected communities face demands too similar to Boston.
Wu said there was not enough time to complete the necessary planning and community engagement "in a thoughtful way" in time for the application deadline and that her administration had also received some hints that Boston was unlikely to be selected for the program.
"We had to make a choice: do we rush the engagement with community to do this by the deadline for a program that there was little chance we were actually going to get selected for, or to find a way to try to expand the program, advocate, basically give up that last slot to do it a different way for Boston and reach it through a more meaningful and sustained community effort," Wu said on GBH.
The news of the city's pullback initially took environmental advocates and legislators by surprise, as they have been encouraging the state away from using fossil fuels to heat and cool new structures, and feared that pressure from real estate developers was responsible for Boston's decision.
But during her radio interview, Wu emphasized that the decision to pull out of the application process was not the result of lobbying efforts.
"This was in no way related to any kind of lobbying by any group or interests or community," she said.
Buildings account for nearly 70% of greenhouse gas emissions in Boston. Boston's Building Emissions Reduction and Disclosure Ordinance (BERDO) was enacted in 2013 and amended in 2021 to give the city authority to set emissions standards for large existing buildings. The city aims to reduce emissions gradually to net zero by 2050.
We want to know what you make of the city's decision not to apply for the pilot program. We'd like to hear from environmentalists, real estate developers, residents of the nine selected communities, and everyone in between.
Share your thoughts with us by filling out the form or e-mailing us at [email protected], and your response may appear in a future Boston.com article.
Sorry. This form is no longer available.