Tell Us
Tell us: Where is the best brewery in Massachusetts?
Let us know what you'll be sipping this summer.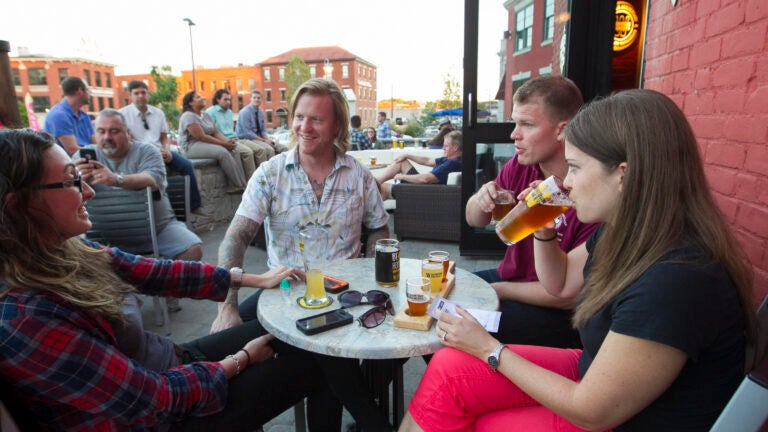 We know that you don't need a special season for drinking a cold one. But with hot summer days ahead of us, it's the perfect time to cool off with a local craft ale—and there's plenty choose from. According to the Massachusetts Brewers Guild, the Commonwealth is home to over 200 breweries, including 21 that opened last year.
The Greater Boston area has no shortage of quality breweries. See Lamplighter Brewing Co., which is based in Cambridge and focuses on "aroma-packed and flavor-driven beers, with an emphasis on New England IPAs, barrel-aged sours, and special seasonals." There's also Aeronaut Brewing Co., Brato Brewhouse and Kitchen, and Trillium Brewing Company, in Boston and Canton. If you're willing to travel out a bit farther, visit Notch Brewing in Salem or Provincetown Brewing Co. in Cape Cod.
Breweries in Mass. are world-class businesses that feature locally-grown grains, fresh hops, and specialty ingredients from blueberries, peaches, and even oysters. With so many to choose from, we want to know where to get the local craft beer in the state.
What breweries make the top of your list? Is there somewhere special that you visit with friends? What flavors or qualities do you look for in a good beer? Do you prefer a drink that is crisp and clean, or one that's malty and sweet? Tell us about your favorite brewery in Massachusetts and their best summer beer that you'd recommend. You can fill out the survey below or e-mail us at [email protected]. Your response may be used in an upcoming Boston.com article and/or its social media channels.
Sorry. This form is no longer available.
Sign up for The Dish
Stay up to date on the latest food news from Boston.com.