Tell Us
Tell us: What are your 'Succession' series finale predictions?
We want to know who you think will sit on the Waystar Royco throne.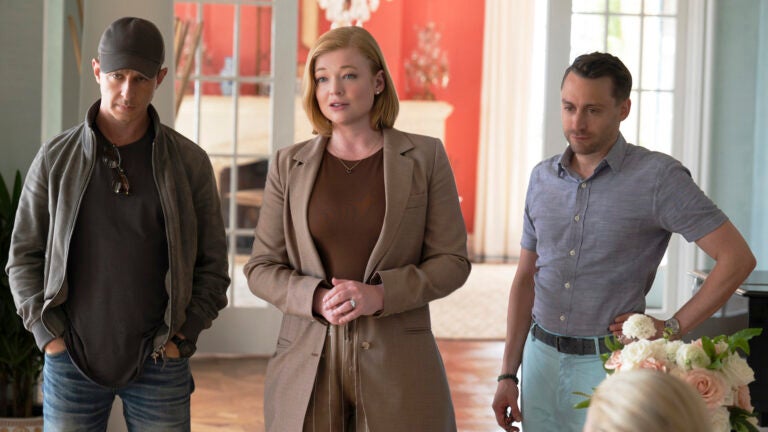 It's still anyone's game as we head into the series finale of 'Succession.' As always, the Roy children are clawing their way to the top of their father's company and destroying their moral compasses and most valued relationships in the process.
The HBO drama about media mogul Logan Roy and his three children's struggle to take over his empire, Waystar Royco, comes to an end this Sunday, May 28. The final season has drawn in a large audience, with a series high of 2.7 million viewers.
The question that's got everyone tuning in is: Who will become CEO of Waystar Royco?
Warning: Spoilers for the latest episode of "Succession" ahead.
Roman Roy is worse for wear going into Sunday's episode, having broken down at Logan's funeral and throwing himself into an aggressive crowd of election protestors. Older brother Kendall Roy is a fan-favorite to take over the company but as he says himself, he and Roman aren't without competition.
It's the Roy Boys against Shiv the Shiv in the finale as the board decides on Lukas Mattson's pitch to buy the company. Shiv Roy has positioned herself as an ally to the eccentric tech billionaire and offered herself up as an American CEO to placate presumed president-to-be Jeryd Mencken, but the deal isn't done. Her pregnancy appears to be a concern for Mattson, and that coupled with Mencken's distrust of her liberal politics may keep her out of the deal she's engineered.
The siblings started the season as a united front, but their own power-hungry scheming has left them distant from each other, their spouses, their children, and their mentors within the company.
Ahead of the series finale, we want to know: What are your predictions for the final episode of 'Succession'?
There are still plenty of questions left unanswered for this Sunday. What will happen with Tom and Shiv's marriage? Will Cousin Greg secure a spot for himself within the company?
Tell us your thoughts on the final season and predictions for the finale by filling out the survey below or e-mailing us at [email protected] and we may feature your response in a future Boston.com article or on our social media channels.

'Succession': What are your series finale predictions?
Need weekend plans?
The best things to do around the city, delivered to your inbox.