Tell Us
Readers: What is your favorite Taylor Swift song or album?
We want to know what you think is her most iconic work, and let us know if you'll be at Gillette Stadium in May for 'The Eras Tour.'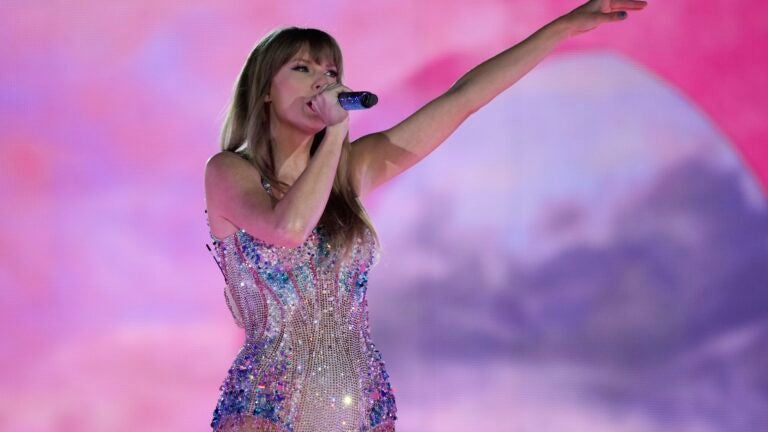 Drop everything now—Taylor Swift will be taking her tour to Massachusetts, and we know that fans are lighting up to see the pop star perform live.
"The Eras Tour," which the artist described as "a journey through all of [the] musical eras of [her] career," will be coming to Gillette Stadium on May 19 through 21. It kicked off in Arizona last week, giving audience members a look across the years of Swift's life as a songwriter. On opening night, she performed hits like "All Too Well," "Anti-Hero," and "Love Story."
Fans who have secured tickets to the Foxborough shows were lucky to come out on top of a Ticketmaster fiasco that prompted the Senate Judiciary Committee to call a hearing on competition issues and consumer protection in the ticketing industry. Presales for the tour that started in November were chaotic, with ticket buyers experiencing "website traffic, hours-long delays, and outages." Ticketmaster canceled the general sale that was meant to follow, citing high demands on the systems and an insufficient ticket inventory as reasons. Fans and Swift herself were outraged by the turn of events.
Swift's work has evolved over the course of her career, since early albums like "Fearless" and "Speak Now." In "Red," she explored tumultuous heartbreak, while with "1989," she debuted her first official pop album. In more recent years, she penned "Folklore" and "Evermore," while her latest release, "Midnights," came out last year. Some of her most popular songs include "You Belong With Me," "I Knew You Were Trouble," and "Lover."
Share with us: Tell us your favorite Taylor Swift album and/or song, and your plans for when she comes to Gillette in May.
We want to know your favorite album and/or song. Did you manage to get a ticket to Taylor Swift's concert? What are your plans, and who are you going with? Share with us in the survey below, or e-mail us at [email protected] We may feature your response in a future article or on our social media channels.
Sorry. This form is no longer available.