Tell Us
'Stranger Things' fans: What song would save you from the Upside Down?
Tell us the tune that could rescue you.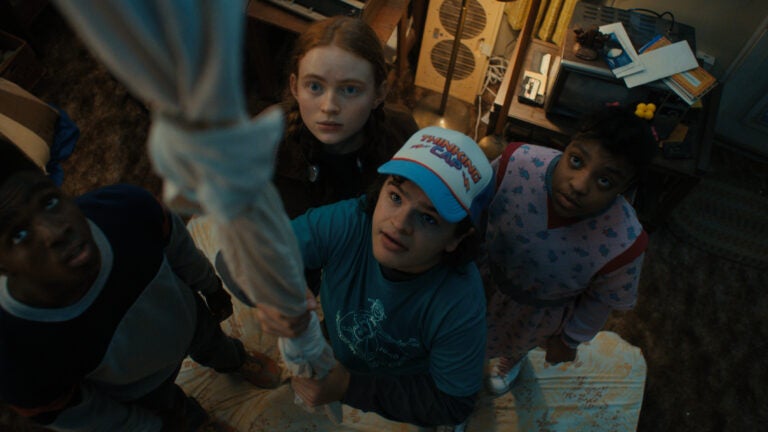 Music plays an important role in "Stranger Things," and the characters from the show know its power. If you've been watching the past four seasons on Netflix, you know that the sci-fi series follows a group of friends in an Indiana town set in the 1980s uncovering secrets of a government lab and facing the alternate dimension of the Upside Down. To be freed from monsters in this sinister realm or lift characters out of trouble, certain songs give the show's characters the strength to run away and sometimes save their lives — not unlike how music can affect us in the real world.
Season 4 Volume 1 dropped May 27, and Variety reported that it's been Netflix's most popular season of an English-language television series ever. Ahead of the season's final two episodes, which will be released on July 1, fans have been discussing the songs that could free them from the Upside Down—and help return them to the real world. On TikTok, viewers shared Taylor Swift songs, while a meme circulated that a pivotal scene in season 4 "changed the trajectory of my life and permanently altered my brain chemistry."
The power of Max's favorite song — "Running Up That Hill," by Kate Bush — in one scene has even led to a resurgence of the 80s hit, which made it the singer's first top 10 single in the U.S.
We asked readers on our Twitter and Instagram stories for the song that could rescue you from the Upside Down. We received reader favorite songs like "Dirty Water" by The Standells and "Watermelon Sugar" by Harry Styles. We want to hear more from you. Fill out the form below to tell us the songs that lifts you up and why you picked it, or send us an e-mail at [email protected]. Your response may be used in an upcoming Boston.com article and/or its social media channels.
Tell us: What song could save you from the Upside Down?
Newsletter Signup
Stay up to date on all the latest news from Boston.com