Tell Us
Tell us: What's the best store-bought eggnog?
Share with us the drink that you enjoy when you're ringing in the holidays.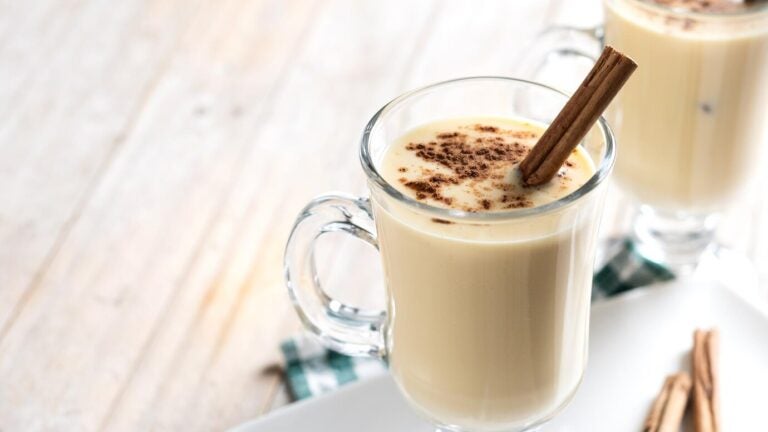 The winter holidays are coming up, and the time for festive celebrations is almost here. On the table at your party, you might lay out a display of sugar cookies, peppermint bark, or maybe even a pie. But there's nothing like a glass of creamy eggnog, topped with a sprinkling of nutmeg, to get into the spirit of the season.
At the grocery store, you can find a variety of eggnogs to choose from, and we'd like to know your favorite. A popular standard is Hood Golden Eggnog, available at Stop and Shop and Star Market. Ronnybrook Farm Dairy makes a thick eggnog that you can get in the aisle of your local Whole Foods. You might also like to sip on an eggnog with a bit of flavor, like the Southern Comfort Vanilla Spice Eggnog, or maybe you'd prefer one made with oat milk. Whatever your taste may be, we'd love to hear what you're enjoying.
Tell us who makes the best store-bought eggnog. Share with us where you get the drink and what makes it so special. Let us know what it tastes like and how you serve it. Fill out the survey below or e-mail us at [email protected], and your response may be featured in a future Boston.com article.
Sorry. This form is no longer available.
Sign up for The Dish
Stay up to date on the latest food news from Boston.com.