Tell Us
Tell us: Where's the best bakery in Greater Boston?
We want to know where to go for the best pastries, coffee, and overall vibe.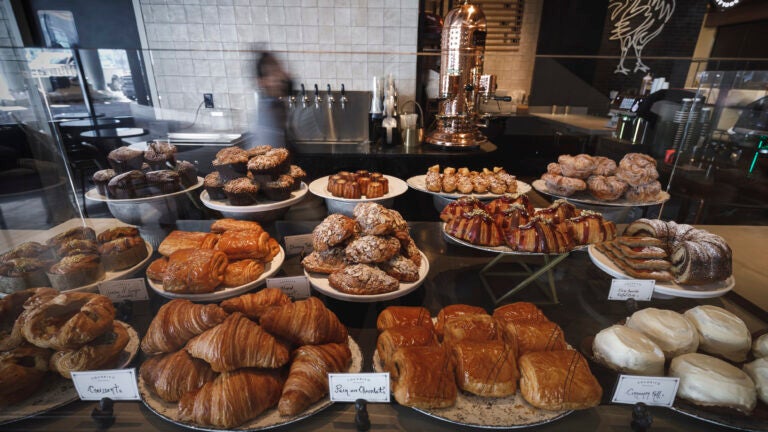 When you enter your favorite bakery, you catch a whiff of the delicious goods that are being prepared inside, wafting through the store. As you step up to the counter to peruse their offerings, you might see eclairs, cannoli, croissants, and mousse cakes on display in a glass case. You settle down with a pot of tea, among groups of customers holding lively conversations, and maybe you take out a book to read. We know that there are many incredible shops specializing in baked treats throughout Greater Boston, and we're turning to you to tell us about the best ones.
Historic spots like Bova's Bakery in the North End has been a neighborhood fixture since 1926 and is open 24 hours a day. If you stop by the Omni Boston Hotel at the Seaport, you can walk into Cocorico, a French-style boulangerie serving brownies and pain au chocolat. Perhaps the newest bakery to join the ranks is the recently opened Hearth & Hug at Boston Public Market where you can order banana bread, madeleines, or lemon cream dream cake.
We'd like to hear about your favorite bakeries in Greater Boston. Is there a place that makes a loaf of bread just right or where you get a great cup of coffee? If there's something in the experience of going there that's special — maybe you like to sit at a table and study for school — tell us about it. Let us know what they do best and what keeps you coming back. Fill out the survey below or send an e-mail to [email protected], and your response may appear in a future Boston.com article.
Sorry. This form is no longer available.
Sign up for The Dish
Stay up to date on the latest food news from Boston.com.