The B-Side
Add this local 🌮 to your bucket list
Plus: Finally, good COVID news.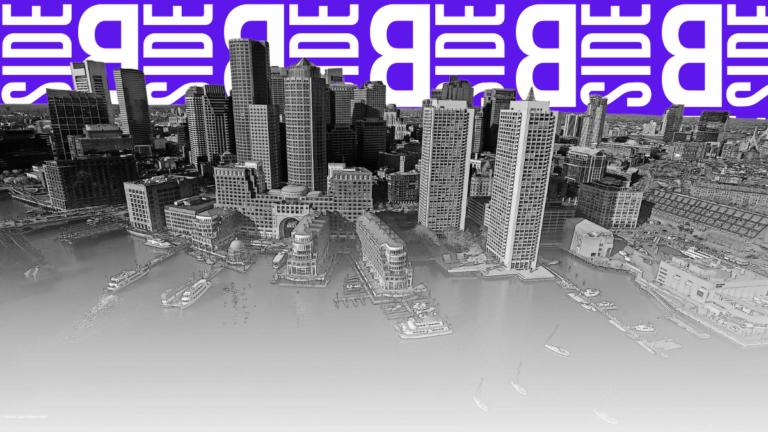 Happy Friday, Boston!
🤝 Heads up: If you're downtown today, make sure to check out the unveiling of the Embrace Memorial on the Boston Common at 1 p.m. NBC10 will also air coverage starting at 11 a.m.
👀 What's on tap today:
Positive COVID news
Bad climate news
Chowda' Day
Up first…
---
FOOD & DRINK
Restaurants to watch in 2023
Gif: Katie Cole
The last three years have been an emotional rollercoaster for the restaurant industry. But even as it continues to find its footing in the wake of the pandemic, we're hopeful that Boston's food scene will continue to expand. With this in mind, here are some 2023 restaurant openings we're excited about:
CASUAL SPOTS
🍔 Stubbys. This family-owned joint from Nantucket will find a second home in the Seaport sometime in March or April. From morning till night, they'll be serving up comfort food favs like breakfast sandwiches, steak and cheese subs, and more.
🍗 Butterbird. Jason Santos, the chef behind Buttermilk & Bourbon, will open up a fast-casual spot in Watertown serving biscuit breakfast sandwiches, fried chicken, beignets, and more. Tentatively mark your calendars for sometime in May.
DATE NIGHT VIBES
🥟 Make way for dumplings! Mei Mei, a beloved Asian dumpling spot, will open its new location in South Boston on Jan. 21. And to sweeten the deal, their cafe will double as a classroom where customers can learn how to make their own dumplings. You can book your class here.
🎶 Grace by Nia. Soul food + a speakeasy lounge + live jazz = an elite date night. Opening in April, this modern-day supper club is a collaboration between local restaurateur Nia Grace, of Daryll's Corner Bar & Kitchen, and Big Night.
🌮 Borrachito. This new taco spot opening in The Superette this winter will put a playful spin on the traditional Mexico City-style taqueria by blending traditional Mexican cooking practices with experimental ingredients. And yes, there will be frozen margs.
WORTHY SPLURGES
🍸 Hue Copley. This is a fancy one – it's in the Copley Square Hotel, after all. But if you're feeling glamorous, you can feast upon kofta meatballs in Indian-spiced tomato sauce, then cap off the night in their speakeasy. Check out their menu here.
🦪 Puritan Oyster Bar. This Cambridge seafood spot set to open in February will serve up dishes like buttered lobster toast, a smoked bluefish melt, and, of course, oysters. It'll be adjacent to its sister spot, Puritan & Company in Inman Square.
But wait, there's more! Read up on other 2023 openings from Boston.com here.
---
CITY
Quick & dirty headlines
Image: Evan Richman/ Globe Staff
📉 COVID levels in Boston area wastewater are going down. Which likely means active cases are, too, an encouraging sign after COVID levels saw a post-holiday bump. The viral concentration from the northern system, which includes wastewater from the City of Boston, was down 50% from Jan. 1. This news quickly follows the Boston Public Health Commission's launch of 11 new COVID wastewater testing sites in the city proper so they can get more neighborhood-specific data.
🔥 2022 was one of Mass.' hottest years on record. A report from Climate System Research Center at UMass Amherst found that 2022 was the state's sixth hottest year on record and second warmest recorded summer. Boston specifically had its fourth warmest recorded year. January 2022 was the only month that saw an average temperature below normal. And if we keep relying on fossil fuels at our current rate, a 2022 report from Greater Boston Research Advisory Group concluded that Boston could see as many as 80 days with temps of 90 degrees or higher.
😟 Inflation may be improving, but morale among local businesses is still low. The Associated Industries of Massachusetts' (AIM) business confidence index finished the year at a 54 on its 0-100 scale. And while anything above 50 is technically positive, the rating was 2.7 points lower than its level in December 2021. AIM gets these numbers from a survey of more than 140 Massachusetts employers and said that businesses are still struggling to hire and retain employees, especially as people move to lower cost states. Plus, as long as interest rates keep climbing, they worry the economy will tip into a recession.
---
THINGS TO DO
Long weekend plans
Gif via giphy
🔪Settle in for a scary-good time during the Friday the 13th Murder-thon at the Coolidge Corner Theatre. Watch parts 1 through 6 of the franchise (that's 10 hours of film, if you're wondering). Tickets are $35 | Friday, Jan. 13, 11:45 p.m.
🧇 Feast on a bottomless brunch at Burro Bar. Chow down on all you can eat for an hour and a half for just $25. | Saturdays and Sundays, 10 a.m. to 2:30 p.m.
🧸 Crawl in comfort at the sixth annualOnesie Bar Crawl. Yes, you read that right. Single tickets are $25, group tickets are $20 per person. Saturday, Jan. 14, 4 p.m. to 12 a.m.
😸 Celebrate the year of the cat with food, local vendors, games, and performances at the annual Tết in Boston Vietnamese Lunar New Year festival. Tickets are $3 online, $5 in person. | Sunday, Jan. 15, 10:30 a.m. to 5 p.m
🖼 Spend MLK Day at the MFA. The museum's free MLK Day Open House features music from DJ WhySham, performances, artist talks, and art creation along with a look at their collection. You can find more ways to honor Dr. Martin Luther King Jr. Day here. FREE | Monday, Jan. 16, 10 a.m. to 5 p.m.
ONE LAST THING
Day of the Chowda'
Image: Lane Turner/Globe Staff
A celebration is in order: January 15 has been declared Chowda' Day in Boston.
The Boston City Council proclaimed the new holiday to mark Legal Sea Foods' annual event where a cup of chowder costs just $1. A portion of proceeds from the event will go toward research at Boston Children's Hospital.
If you're looking to celebrate the day, the $1 cups are available for dine in or takeout at all Legal Sea Foods locations. News you can use.
---
📅 Thanks for reading! Quick note: We're taking Monday off in observance of MLK Day, but we'll be back in your inbox on Tuesday, Jan. 17.
💃 Keep up with us @BostonBSide on IG, TikTok, and Twitter. Send comments and suggestions to [email protected]