The B-Side
All things Eras Tour 🎤
Plus: 🛳️ Free ferry day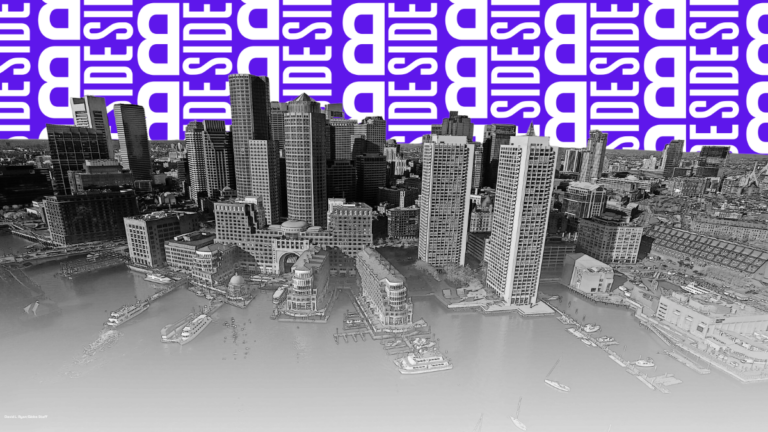 Happy Friday, Boston.
🥳 And a happy birthday to B-Side reader Maura Keith. Thanks for celebrating with us! Lots of May babies who read the B-Side.
👀 What's on tap today:
Boston's Bravo show
Free ferry day
Pride Month events
Up first…
---
MUSIC
Are you ready for it?
Images: Suzanne Cordeiro/AFP via Getty Images; Barry Chin/Globe Staff; Matthew J. Lee/Globe Staff; John Tlumacki/Globe Staff. Illustration: Katie Cole
It's Woodstock for Swifties this weekend. Taylor Swift's Eras Tour kicks off its three-day takeover of Gillette Stadium tonight. And whether you're Swift-obsessed or just a Swift observer, the frenzy around this tour has infected the state.
Here's what to know:
IF YOU'RE GOING
🚗 The parking lots open at 2:30 p.m. Prepaid parking is already sold out, but you can still park in the general lots. Gillette's website suggests leaving early tonight to give yourself time to battle rush-hour traffic. And if you're getting dropped off, remember that drop off and pick up on Route 1 is illegal.
🚂 If you scored a seat on the Commuter Rail, watch the clock! Trains depart South Station and Providence at 4:05 p.m., and they're not waiting for you. You'll have 30 minutes post-show to get back to the train. The full details are here.
☂️ Leave your GoPros, selfie sticks, and umbrellas at home. Gillette has a list of banned items inside the stadium, including professional cameras (but Polaroids are fine). If you're bringing a bag, it either has to be clear and under 12" x 6" x 12" or just super teeny (think wristlet-sized). And if you've got a sign for Taylor, keep it smaller than 11" x 17".
🌦️ Weather for the weekend is a mixed bag. Tonight will be clear and in the low 60s, but Saturday looks like it may be a rain show like her legendary Speak Now rain performance in 2011. There may be showers on Sunday morning, but it should clear up for her 13th Gillette performance (IYKYK).
🛍️ Want merch? You're gonna wait for it. Fans were out Thursday morning at 6 a.m. waiting for the early merchandise sale that opened at 10 a.m.
🎶 Wondering what the special songs will be? Missy Perez on TikTok has a few guesses. She thinks tonight's show will hear "The Very First Night" and "The Way I Loved You." And her reasoning seems pretty solid.
💄 If you need help getting ready, High Street Place is holding a pre-show party and 'Bejeweled Glow-Up Experience' on Saturday, where you can get makeup done to match one of Swift's iconic looks.
IF YOU'RE STILL LOOKING FOR TIX
💰Be prepared to lay down serious dough. Nosebleed seats are currently selling for thousands of dollars. The cheapest seat we could find for tonight's show was $1,532 on SeatGeek, and it was marked as a "Great Deal."
⚠️ Don't get swindled for Swift! Last-minute tix are still available through resellers, but AG Andrea Campbell wants fans to be smart. She tweeted out a graphic advising people to use BBB.org to vet ticket vendors and use a credit card with purchase protection in case you're hit with fraudulent charges. Venmo and Zelle aren't your friends here.
🅿️ Thinking of just tailgating for the show? Think again. Though Swifties at other stops on the tour have been able to watch from parking lots nearby, Gillette will only allow event ticket holders into the parking lot. Reminder: NO tickets will be sold at Gillette Stadium this weekend. Any last-minute ticket releases will be sold through Ticketmaster.
🤑 Wondering how some people got tix and how much they paid? Watch our video here. Some of the dollar amounts might surprise you.
---
CITY
Quick & dirty headlines
Pat Greenhouse/Globe Staff
🏳️‍🌈 Pride Month will return in full regalia. Festivities kick off June 1 at City Hall Plaza with the first in-person raising of the Pride flag since COVID. They'll also unveil the Portraits of Pride art exhibition that day, which will live at City Hall Plaza all month. And on June 10, the Pride Parade will return for the first time since 2019 followed by the Pride Festival. Wu is hoping residents will register to host Pride-related block parties (which you can do here).
🏳️‍🌈 AG Campbell wants more protections for trans student athletes. She's one of several AGs supporting the Biden admin's proposed changes to Title IX, a federal law prohibiting discrimination on the basis of sex in schools (his proposal would also cover transgender students). And the group thinks Biden's changes should go even further, like making it clear that states can establish additional protections. Since 2020, 21 states have passed legislation limiting transgender students' participation in sports.
🙄 Boston's voting map drama needs its own Bravo show. In the wake of a divisive debate about how to redraw Boston's election map, City Council President Ed Flynn proposed an anti-bullying policy, because even elected officials forget how to play nice sometimes. It's been reported that everyone's been a little more bitter than usual ever since the OG map got thrown out. That said, the council has agreed to push back the deadline for nomination papers so they can get a new map together.
🍔 Add another new restaurant to your list. Stubby's, a beloved family-owned joint from Nantucket serving American and Jamaican comfort food has officially opened in the Seaport.The fast-casual spot will be serving up faves like breakfast sandwiches, burgers, and more from morning till night, seven days a week. Just take a look at their IG to see the full spread — their waffle fries look incredible. And make sure to ask about their secret menu!
---
THINGS TO DO
Weekend plans
🌳 Celebrate Esplanade Community Day with food trucks, vendors, and live music at the park.
🍦 Party for New City Microcreamery's 8th birthday with special sundaes, a photo booth, and games.
🛼 Go back in time at Bow Market's Curated Vintage Market with over 70 vintage vendors along with an on-site mending and customization team.
🍻 Raise a glass at Harpoonfest, Harpoon Brewery's annual beer and music festival.
⛴️ Boston Harbor Islands open up for the season on Saturday! And you can take a free ferry ride to Spectacle or Georges Island.
---
ONE LAST THING
A sweet wager
Image: David L. Ryan/Globe Staff
Two doughnut shops are engaging in some friendly competition for the Eastern Conference Finals.
Kanes Donuts here in Boston has made a sweet bet with Mojo Donuts in Miami. The shop from the losing city will send the winning city's shop a box of doughnuts. "Miami, let's face it, you're the eighth seed," said Maria from Kanes in a video proposing the wager on Instagram. "We know that the Celtics are going to win so we are looking forward to tasting your delicious doughnuts."
As for how it's going, the Celtics lost at home in Game 1 on Wednesday night. They face off against Miami again at TD tonight.
---
🍩 Thanks for reading! C'mon Celtics, do it for the doughnuts!
📱 The results are in! While 65% of respondents from yesterday's poll have never thought about becoming an influencer, the other 35% have definitely flirted with the idea.
💃 Keep up with us @BostonBSide on IG, TikTok, and Twitter. Send comments and suggestions to [email protected]