The B-Side
It's a big week for Mayor Wu 👀
Plus: More local layoffs.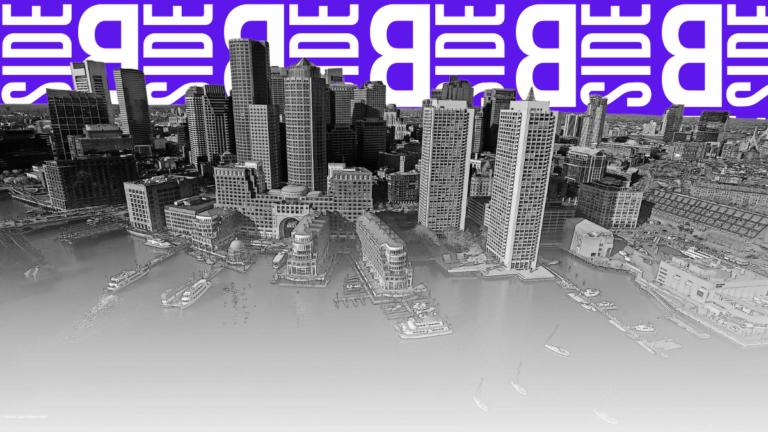 It's Monday, Boston.
📸 Keeping up with Kim K's whereabouts? If you were, you'd know she was in Boston checking out "The Embrace" sculpture and speaking at Harvard Business School on Friday.
Fingers crossed her visit will make an appearance on the next season of KUWTK.
👀 What's on tap today:
More local layoffs
Downtown bouncing back
Blizzard of Oz
Up first…
---
POLITICS
Mayor Wu's big week
Images: David L. Ryan/Globe Staff. Illustration: Katie Cole
Mayor Wu is slated to give her State of the City address this Wednesday. But her busy week actually started Friday when she rolled out a list of proposals she plans to lobby for on Beacon Hill in the next legislative session.
The success of Wu's agenda largely hinges on whether lawmakers give these proposals the greenlight. So here's a quick rundown of what she's hoping to accomplish.
💸 Create a high-value real estate transfer tax. This would charge sellers a 2% tax on real estate sales above $2 million. The tax would generate nearly $100 million annually and be directed toward affordable housing, according to city officials.
🙋‍♀️ Get Boston a seat on the MBTA Board of Directors. This would give the city more power and say over the future of the transit system, which massively impacts the local economy and residents' mobility.
🚇 Make all Boston commuter rail single ride fares $2.40 — the same price as a single trip on the T. This would expand access to stations in Roslindale, Hyde Park, Readville, and West Roxbury, which are currently priced at $6.50 or $7.00 per ride.
🔌 Ban predatory competitive electric supply companies. These companies have a history of signing up residents for electricity suppliers that end up charging them more, generally targeting low-income residents and people of color.
🏠 Bring back rent control. Wu's admin is readying a proposal that would cap rent hikes at 10% — a key campaign promise. However, it'll likely face a long road to approval from both the City Council and Beacon Hill.
🚧 Amend urban renewal laws. These laws give the city permission to take over dilapidated property by eminent domain, and they have a complicated history. While the details of this proposal are vague, Wu admin officials told the Globe they're committed to ending urban renewal altogether.
👶 Immediately provide childcare vouchers to unhoused families. The current process for unhoused families to secure these vouchers is lengthy and can take weeks, according to city officials.
---
CITY
Quick & dirty headlines
Image: David L. Ryan/Globe Staff
🏢 Local layoffs keep on coming. I think I've seen this film before: company's sales increase during the pandemic; company hires more workers to expand; normalcy resumes; sales decline; company lays off employees. At least that's the best way to explain why Boston-based Wayfair announced Friday that it's cutting 1,750 jobs, with 937 of those layoffs being Mass.-based workers. These layoffs represent 10% of the company's global workforce and are about double the size of the cuts the retailer made in August.
🌆 Not all of downtown Boston is back to normal. In-person spending and foot traffic have generally bounced back to pre-pandemic levels in the Back Bay and Seaport neighborhoods thanks to a solid portfolio of retailers, housing, restaurants, and businesses. But the Financial District — which used to be the busiest of them all — is still lagging behind. That's what happens when a neighborhood that's known for office workers is now a ghost town due to hybrid work. And when people aren't coming into the office, retailers and restaurants aren't interested in opening up shop. So what's the fix? Add more housing and fill vacant storefronts with nonprofits and small businesses, according to city officials.
🍽️ A Dorchester establishment is closing its doors. After nearly two decades, the Ashmont Grill's last day will be sometime around Valentine's Day. Chef-owner Chris Douglass told the Globe that while they had a great run, he and his team have gotten older and are ready for new things. Ashmont Grill has been a gathering place for the whole community since opening in 2005, with some of its staff sticking around since the beginning — a feat that's almost unheard of in the restaurant biz. The goal now, in addition to helping staff secure employment, is to find a buyer who wants to run a similarly neighborhood-focused restaurant in the space.
---
THINGS TO DO
Get out of the house
Gif via Giphy
🍺 Splurge on BBQ and Beer when Lamplighter Brewing Co. takes over Sweet Cheeks Q for a four course beer and barbecue pairing menu. Tickets are $65, drinks and food included. | Tuesday, Jan. 24. Seatings between 5 and 8 p.m.
🥃 Say sláinte to National Irish Coffee Day with a bar crawl to find the drink made with Keeper's Heart Whiskey in pubs around Boston. | Wednesday, Jan. 25, 5 p.m.
🧠 Outsmart the competition at FREE trivia at the Boston Public Market. Prizes go to first and second place winners. | Wednesday, Jan. 25, 6 and 7 p.m, repeats weekly.
✨ Get drinks and a show with Drag Night at Aeronaut Brewing Company Somerville. Catch favorite local performers at Aeronaut's first drag show of the year. Tickets are $15. | Wednesday, Jan. 25, 8 to 10 p.m.
🎥 Celebrate a ground-breaking artist with the inaugural presentation of the Coolidge Breakthrough Artist Award honoring filmmaker Elegance Bratton. The event will feature a screening of his film 'The Inspection,' followed by a conversation moderated by Globe columnist Renée Graham. Tickets are $20.| Friday, Jan. 27, 7 p.m.
---
ONE LAST THING
Mass. snow plow names
Image courtesy of MassDOT
Look out on the roads, here comes the Blizzard Wizard! That's the official name of one of the snow plows that came out of the state's first-ever plow-naming competition.
The winning names for the 12 plows submitted by elementary schoolers were announced by the Mass. Department of Transportation on Friday. We're partial to 'Sled Zeppelin' and 'Blizzard of Oz,' named by sixth graders at Shelburne Falls' Buckland-Shelburne Elementary School and fifth graders at Boston's James F. Condon School, respectively.
---
📺 Thanks for reading! Need a new show to binge? Here are the 10 shows Globe TV Critic Matthew Gilbert will be watching this winter. Adding "Daisy Jones and The Six" to my watch list.
💃 Keep up with us @BostonBSide on IG, TikTok, and Twitter. Send comments and suggestions to E[email protected]