The B-Side
A beloved, award-winning market is back 🛍️
Plus: 🏎️ Speeding into the Seaport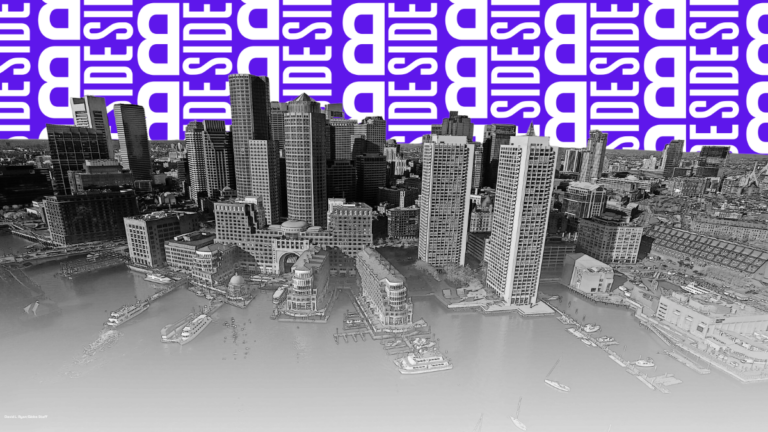 It's Tuesday, Boston.
🚨 Attention, outdoorsy readers! Two things:
1. Volo Sports just dropped their summer league line up, so sign up by June 2 to get early bird pricing. There's also a trivia league if you're more of an indoor cat.
2. The pickleball and volleyball courts at Assembly Row are officially open! You can sign up to play here.
👀 What's on tap today:
It's dry AF
Vroom! Vroom!
Dr. Usher
Up first…
---
THINGS TO DO
It's an outdoor market summer
Image: Photo Courtesy of Boston Seaport by WS Development – Bred Hampton. Illustration: Katie Cole
Add another outdoor market to your summer bucket list. The award-winning Black Owned Bos. Market will return to the Seaport for its fourth year this weekend. And this year, it's even bigger.
Here's what you need to know:
❤️ The market is all about supporting Black entrepreneurship. Like its name suggests, all of the businesses featured are part of the Black Owned Bos. network, a business services and consulting agency that amplifies Black-owned businesses and people. Boston magazine named the market the "Best Retail Pop Up" back in 2021.
📈 This year has a record number of 60+ vendors. Newcomers include handcrafted candles from Lumière René Candle Co., all-natural hair products from Helen Dawn Haircare, and couples-matching swimwear from Bae Beaux. And if you visited the Snowport last winter, you might recognize returning vendors like plant-based Nussli118 and lifestyle brand BLACK LABEL (remember their "Black is my happy color" shirts?). Each weekend will feature a rotating selection of over 30 vendors from the full roster covering fashion, beauty, wellness, gifts, food, art, and more.
🌸 Each month will have a different theme. May will be "Flower Power," followed by music in June, "fun in the sun" in July, "ZaZ fest" in August (pumped for this one), "Back to School" in September, and ending with "Fall Fest" in October. And there will be activities, entertainment, food, drinks, and giveaways to match each month's theme.
📆 It's only open once a month, so mark your calendar. The outdoor market will take place one Sunday per month between May through October (May 21, June 25, July 23, August 20, Sept. 24, and Oct. 8) and will be open from noon to 6 p.m. It's located right next to the Cisco Brewers pop-up, so you can't miss it.
🛍️ Black Owned Bos. founder Jae'da Turner thinks this year's market will be the best one yet. "Our goal for this season is to create a destination experience where people look forward to something new each month and can spend the day with us eating, shopping, and discovering their new, favorite retail brands," Turner said.
---
Tickets to Whale AID
🎟️ Enter for a chance to win two tickets to the upcoming benefit concert, Whale AID, at Big Night Live on Thursday, May 18. The concert will benefit Whale and Dolphin Conservation's work to protect the critically endangered North Atlantic right whale, and the night will feature a host of great acts, including: Matt Quinn of Mt. Joy, Brad Corrigan of DISPATCH, and Robbie Wulfsohn and Jon Becker of Ripe.
---
CITY
Quick & dirty headlines
Image: NOAA
🔥 Sooo … Mass. is under a fire watch. The catch to today's beautiful weather (80 degrees, baby!) is that it's going to be hella dry. Throw in a breeze, and you've got a recipe for brush fires. And even though temps will be cooler on Wednesday, the dryness is sticking around, which explains why the National Weather Service in Boston issued a fire weather watch through Wednesday evening.
🏖️ Not everyone feels welcome at local beaches. But the Metropolitan Beaches Commission is hoping to fix that. Their new "Breaking Barriers" report outlines several ways the state could make beaches in the Greater Boston area more inviting for people of color, people with disabilities, and non-native English speakers. It includes everything from adding beach shuttles, wheelchair friendly boardwalks, and installing multilingual signage. But the report itself feels more like a call to action rather than a concrete plan.
🏎️ You'll be able to speed in the Seaport in 2024. Well, at an arcade. If you're obsessed with the Formula 1 Netflix series, you'll be pumped to learn that Boston will be home to the nation's first F1 Arcade starting in early 2024. The arcade will be equipped with 69 custom-designed Formula 1 racing simulators where you can race on your own or with friends. Given the U.S.' new fascination with the sport, the F1 plans to open 20 or so more arcade locations throughout the country.
🍻 There's a new brewery in town! Arlington Brewing Company is kicking off operations as Arlington's first fully licensed brewery. While Tom Allen and Matt Guernsey, the brains behind the new brewery, don't yet have a permanent space, they're hosting six beer gardens on the Arlington Reservoir on Fridays throughout the summer. Arlington Brewing Company joins a longlist of local breweries bringing their operations outdoors this summer.
---
ONE LAST THING
Congrats from Dr. Usher
Image: Lisa Aileen Dragani/Getty Images
How do you make graduation even more memorable? Sing with Usher, of course.
Boston-based TikToker and newly minted Berklee College grad Alden McWayne (@gucci_pineapple) got more than just a degree this weekend.
Usher received an honorary doctorate from Berklee during this year's commencement and was sitting on stage as McWayne got his diploma. McWayne sang, "It started when we were younger, you were mine" to the eight-time Grammy winner, who finished the lyric with "my boo." McWayne posted the video on TikTok (which has over nine million views), and Usher commented his congratulations.
McWayne is known for his cringey antics on TikTok, but is a talented performer in his own right. He studied drums at Berklee, and has posted videos of himself in ensembles performing songs like Reelin' In the Years and Bound.
---
👴 Thanks for reading! My personal favorite TikTok series from McWayne is him gassing up old people.
💃 Keep up with us @BostonBSide on IG, TikTok, and Twitter. Send comments and suggestions to [email protected]