The B-Side
B's get degrees🏒
Plus: 🚴 Free Bluebikes today!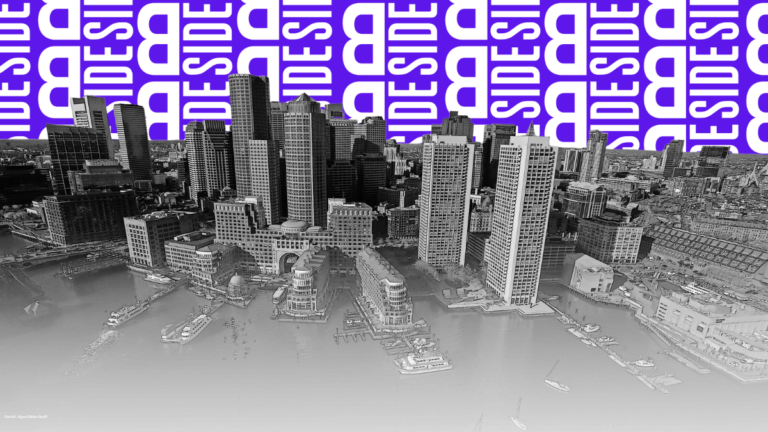 It's Tuesday, Boston.
🚲 Here's some news you can use: Bluebikes are free today! To celebrate World Mental Health Day, Blue Cross is sponsoring free rides ALL DAY to get you moving and grooving. Just use the code BLUECROSSMENTALHEALTH in the app.
🥳 Also: HBD to B-Side reader Maeve O'Sullivan who's been here since the beta days. You're a real one!
👀 What's on tap today:
Local Israel reaction
Savannah Bananas
Boston's official pumpkin
Up first …
---
SPORTS
Bruins for dummies
Image: Bruce Bennett/Getty Images. Illustration: Gia Orsino
Watching the Pats has been tortuous. But starting Wednesday, we finally can change the channel … to hockey.
The Bruins kick off their centennial season against the Chicago Blackhawks in their ritzy celebratory jerseys Wednesday at TD Garden. And we have some questions: Is the Stanley Cup really in reach this year? Or will it just be another heartbreaker (see: last year's playoffs)?
Here's where we're at:
💀 The B's had the choke of the century last season. Chatter of a championship was inescapable after the B's set NHL records for points and wins in the regular season. But that mojo clearly missed the postseason memo as the Florida Panthers knocked them out of the first round of playoffs in a Game 7 heartbreaker. Fans were utterly stunned, and the Globe named it among the worst collapses in Boston sports history.
👋 Then, it was the summer of goodbyes. Captain Patrice Bergeron and long-time player David Krejci decided to hang up their skates after a combined 35 seasons with the B's (winger Brad Marchand will be filling the captain shoes this year). Plus, several trades and free-agent departures sapped some of the B's forwards, meaning they'll have to make up some ground to keep pace with last season's juggernaut roster.
😬 The million dollar question … Are we going to be good? TL;DR: Most likely (even though most NHL reporters don't predict we'll be in the Stanley Cup Final). That said, don't expect as many blowouts as we saw last season as their offense isn't quite the same. If the B's want a real shot at the playoffs, it's going to come down to their defense, which remains one of the best in the biz. And you don't have to tell Coach Montgomery — he already knows expectations for another knock-out season are huge.
🥳 Playoff talk aside, this season alone calls for big celebrations. Wednesday kicks off the Bruins' 100th season in the NHL, and they're going all out with a "Rafters Reunion" pregame ceremony featuring appearances by members of the B's championship teams and retired number alumni. Plus, the B's will host five "Era Nights" throughout the season honoring various chapters of the franchise's history. Expect special pregame ceremonies, guest appearances, and more. You can see the full list of centennial events here.
👀 Want to go deeper? Here's a list of the 23 players who made the B's opening night roster. One of them is only 19 years old!
---
ADVERTISEMENT
TOGETHER WITH SNOWBOUND EXPO
Get ready to hit the slopes
🏂❄️ Believe it or not, ski season is just around the corner. The Snowbound Expo, the largest snowsport event in the Northeast, is coming back to Boston this year and is bigger than ever. Hosted Nov. 3-5 at the Boston Convention & Exhibition Center in the Seaport, the event features over 170 leading brands and resorts to help you get all the gear (and stoke) you need for this year's ski season. Enjoy après-ski bites and brews, an exciting Gilson Snowbound Rail Jam, and the chance to rub shoulders with legends like Shaun White, Lindsey Jacobellis, and Ted Ligety. Tickets are usually $16/day and $31/weekend pass, but you can get them for FREE until Oct. 15 with code: BSIDE. Don't miss out on this epic winter kickoff.
---
CITY
Quick & dirty headlines
Image: Craig F. Walker/Globe Staff
🕊️ Despite being over 5,000 miles away, the war in Israel is having a local impact. Following the shocking attack of Hamas militants on Israelis over the weekend, local leaders, including Gov. Healey and Mayor Wu, gathered in solidarity with Israel on the Common, condemning the brutal violence inflicted on the Israeli people. Northeastern is also working to evacuate three students who are currently studying abroad in Israel. To fully understand how we got to this point, here's a helpful timeline of the clashes between Palestinian militants and Israel.
🏆 Mass. universities keep churning out Nobel Prize winners. The latest feather in our capis the Nobel Prize in Economics, which was awarded to Harvard professor Claudia Goldin on Monday. Her work has helped to expand understanding about the gender pay gap in the workplace and is guiding policymakers as they try to address the problem. Goldin's award is also a step toward addressing a gap of its own — she is only the third woman, out of 93 total honorees, to win the prize. A simultaneously exciting, yet infuriating, achievement.
🤒 The Mass. COVID dashboard gets a makeover. Following last year's "tripledemic," the Mass. COVID dashboard has been updated to include important data about the flu and RSV, including probable and confirmed cases, hospitalization rates, severity levels of breakouts (right now, we're in the "green zone"), and vaccination rates on residents keeping up with their annual COVID and flu shots. It's not a bad dashboard to have bookmarked.
🍌 Banana Ball is coming to Fenway next summer. The Savannah Bananas, a.k.a., the Harlem Globetrotters of baseball, are coming to Fenway for a game of banana ball on June 8, 2024. This team has revolutionized the way baseball is played and watched. Their silly, fast-paced version of the sport is packed with dancing, spectacles, and loads of banana references. Unfamiliar? Just check out their TikTok with over 7.5 million followers. The events are so popular, tickets are sold through a lottery, which you can join here.
— Written by Gia Orsino
---
THINGS TO DO
Weekday checklist
Image: AP Photo/George Walker IV
🎬 Celebrate the Asian American experience through film. The Boston Asian American Film kicks off on Thursday for its 15th year with a 10-day calendar of incredible films.
🪨 Be among the first to scale this big, blue boulder. Boston Bouldering Project is unveiling a new terrain this Wednesday, and they're celebrating its big blue boulder birth with a grand opening event.
🎸 Tap into your Eras obsession. City Tap is throwing a Taylor Swift Eras Tour-themed party this weekend with two nights of Taylor-themed drinks, food, and a live DJ.
🧙 Catch your favorite witch sister trio on the big screen. If you've been wondering when to fit in your obligatory Hocus Pocus viewing, Night Shift's outdoor screening this Thursday is just what you need.
🍝 Feast on meatballs and a side of murder. This Thursday, the thrill of a murder mystery will intersect with the flavors of Italy at Maggiano's Boston Murder Mystery Dinner, complete with five delicious courses.
— Written by Claire Nicholas
---
ONE LAST THING
Squash goals
Image: Boston Public Market. Illustration: Emily Schario.
Here's a fun excuse for a midday field trip.
The "Official Pumpkins of Boston," will be revealed today at 11:30 a.m. at Boston Public Market in honor of the market's annual Harvest Party. This year's gourds are from a local New England Farm and donated by Red Apple Farm (the vendor responsible for the smell of apple cider doughnuts wafting throughout the market).
The largest of the pumpkins will weigh about 1,600 pounds, and the "smaller" one, described as a "monstrous green squash," comes in at a measly 892 pounds. They will be transported by forklift and promise to be "quite a sight."
But we should add, these gourds are child's play compared with the winners of the Topsfield Fair's giant pumpkin contest.
— Written by Gia Orsino
---
🎃 Thanks for reading! Our pumpkins are skinny legends compared to those…
💜 Special shoutout to today's sponsor, Snowbound Expo, for supporting local journalism and making winter 2023 an already unforgettable experience (and free with code: BSIDE).
💃 Keep up with us @BostonBSide on IG, TikTok, and Twitter. Send comments and suggestions to [email protected].