The B-Side
Bostonians have … style?🤯
Plus: 💅 Daddy gang, rise up.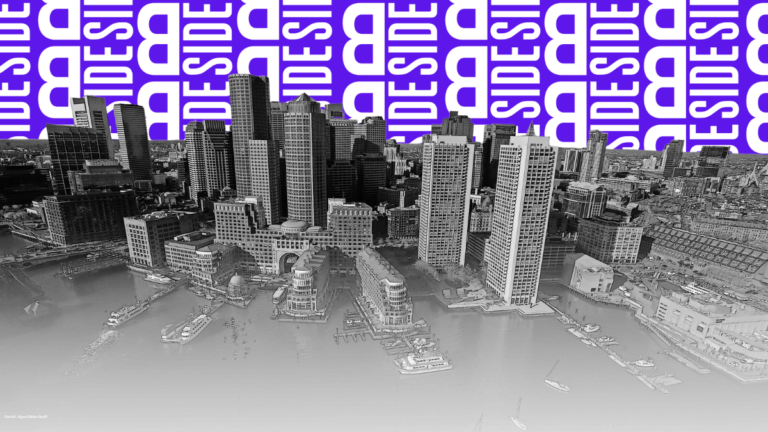 It's Thursday, Boston.
📚 Need a book rec? The Boston Public Library just shared its October staff picks, covering reads for all ages across several genres. And in true October fashion, there's a spooky theme.
👀 What's on tap today:
Tax relief is here
Daddy gang, rise up!
Haunted house for sale
Up first…
---
FASHION
Boston's style? Fashion forward.
Image: George Comeau. Illustration by Gia Orsino
For some, the phrase "Boston Fashion Week" might seem like an oxymoron. After all, we ranked No. 1 on GQ's list of worst-dressed cities in America in 2011.
But this year's Boston Fashion Week celebration proves that the local fashion scene is much more than just boat shoes, Patagonia vests, and sports jerseys.
Here's what to know:
🤓 "Boston fashion is smart." At least that's what our fashion week's tagline says. And we see this manifest in a few ways: Our brutal winters mean "there's always an underlying piece of functionality" (warmth > fashion), according to Jennifer Varekamp, professor of fashion design at MassArt. Plus, our tech-focused workforce often prioritizes comfort and athleisure. Throw in our coastal, puritanical roots, and you've got a style that is utilitarian and casual with a preppy edge.
🧠 But smart doesn't just mean practical. "There's more of a merger happening with fashion and technology," Varekamp said of Boston's fashion scene. Here's a perfect example: MassArt seniors are currently working with Tatum Robotics to design a glove for a robotic arm that's been developed for deaf and blind users. "The culture of fashion here is about experimentation. It's a big laboratory, like all the labs here," said Jay Calderin, the founder of Boston Fashion Week.
👗 That intersection of science and fashion has catapulted local designers. On the fashion-forward end of the spectrum, you have designers like MassART grad Jacqueline Mones, who's developed an international following with her futuristic designs using laser cutting, molding, and nontraditional materials. On the more functional side, you have Queen Adeline from Lowell, a designer who prioritizes sustainability by using 100% wax cotton print textiles and other biodegradable fibers.
🪞 "Dress is a reflection of whatever is happening at that time," Varekamp said. "Right now, sustainability is huge" because of the impact of climate change, and local designers are also "reexamining the fashion industry and who has access to it" by being more size inclusive and gender neutral with their designs, themes you'll see represented on the runway.
🔑 And unlike celebrity-laden New York Fashion Week, Boston's is all about accessibility. "That's the key word for us," Calderin said. "It's not just accessible to the public, but accessible in terms of ideas and concepts." And that accessibility is on full display with a list of free and low-cost events this week, including a talk at the Boston Public Library on the future of sustainable fashion and Boston's first-ever runway show featuring only curvy models.
🗽 "There are definitely people who say, this is not like New York," Calderin said. "No, this is Boston, and that's good. Why be a carbon copy of another city?" But if you're still pressed on wearing the hottest looks that are both unique and original, Calderin has one piece of advice: Buy local. There are tons of designers to choose from.
---
ADVERTISEMENT
TOGETHER WITH COMMONWEALTH KITCHEN
Support emerging entrepreneurs
🥫The CommonWealth Kitchen Food Show is today (Thursday, Oct. 5) at SOWA Power Station. The event features Greater Boston's most innovative, exciting, and diverse food entrepreneurs, and allows you to sample (and buy) unique food products being produced in our own backyard. From baked goods to hot sauces and jams (as well as food trucks), this year's event has plenty of delicious options. Tickets can be purchased here (starting at $20).
---
CITY
Quick & dirty headlines
Image: David L. Ryan/Globe Staff
🤑 Tax cuts are officially here! Gov. Healy signed a huge tax relief bill on Wednesday that's been in the works for months. Highlights include: Tax credit limits on children and dependents will increase from $180 to $440 by 2024; for renters, the cap on rental deductions will increase from $3,000 to $4,000, so if you pay more than $8,000 in rent a year, you'll save an extra $50; and the threshold for the Mass. estate tax is going up to $2 million with heirs getting a nearly $100,000 tax credit to offset what officials call the "cliff effect." See the other forms of tax relief here.
🎓 Black women are leading Boston universities. BU just announced that it has appointed Dr. Melissa Gilliam as its new president, the university's first Black person and first woman in the position. Formerly the provost of Ohio State, she said that affordability and diversity will be top priorities as she begins her role on July 1. Also: Claudine Gay, the first Black president at Harvard, was inaugurated Friday.
📦 Need someone to return a package for you? There's an app for that. Uber launched a service in Boston that will take care of arguably life's most annoying task: returning packages. The service will send a delivery person to pick-up up to five pre-paid and sealed packages and drop them off at a FedEX, UPS, or local post office. Returning a package has a flat fee of only $5, or $3 if you're an Uber One member. Plus, customers can track their package in real-time in the Uber app.
💅 Daddy gang, rise up. Call Her Daddy, one of the most popular podcasts the world over, is coming Nov. 3 to Boston for its first live show ever. Hosted by Alexandra Cooper, the podcast has grown from super-personal love and culture chats to interviews with some of the biggest names in showbiz. The Boston show will be the very first stop on Cooper's "Unwell Tour," and promises unique shows with surprise guests. Presale tickets go on sale today, Oct. 5 at 10 a.m., with general onsale kicking off Friday at 10 a.m.
— Written by Gia Orsino
---
ONE LAST THING
Haunted House for Sale
Image: Erika Kristal Euker. Illustration by Gia Orsino.
Two kitchens, five bathrooms, and "probably haunted." Welcome to Massachusetts real estate.
A recently listed property in Millbury, formerly a funeral home, is on the market for $750,000 with a note on the "For Sale" sign proclaiming it's "probably haunted." You have to check it out for the full effect.
The listing agent said the sign is an "appropriate and fun way to connect with potential buyers," given the home's history. She also mentioned that it's a fixer-upper in need of electrical and cosmetic work, plus some extra renovations on the living spaces to make it into a functional family home from its funeral home roots.
I Zillow stalked it earlier, and, well, there's definitely some work to be done beyond a seance.
— Written by Gia Orsino
---
👻 Thanks for reading! Knowing this real estate market, that house will still go well over asking.
💜 Special shoutout to today's sponsor, Commonwealth Kitchen, for supporting local journalism and fostering a vibrant Boston business community.
⚾ Only 18% of readers got Wednesday's Pop Quiz question right: Roughly, how much is a night at The Liberty Hotel this weekend? The correct answer is $1,200. One correct respondent wrote: "No number surprises me anymore."
💃 Keep up with us @BostonBSide on IG, TikTok, and Twitter. Send comments and suggestions to [email protected].
Correction: An earlier version of the newsletter misstated the cost of returning a package using Uber. Returning a package is a flat $5 fee, or $3 for Uber One members.