The B-Side
The only dunkin' better than Dunkin' 🏀
Plus: 👻 Halloweekend dos and don'ts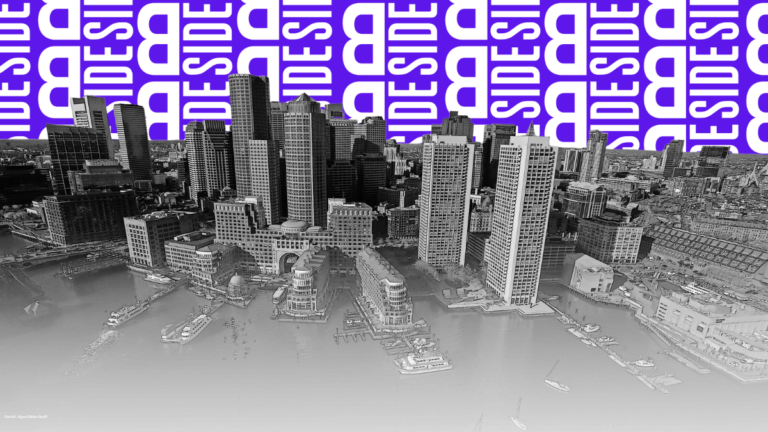 It's Tuesday, Boston.
🍺 It also could be your lucky day: We have two tickets to the Charles River Museum's Craft Beer for a Cause event this Thursday (tickets are normally $60 each). They're both yours if you respond to this email first (serious inquiries only)!
👀 What's on tap today:
Healey's approval rating
Salem dos and don'ts
A chef's kiss commute
Up first…
---
SPORTS
C's get degrees
Images: Maddie Meyer/Getty Images, AP Photo/Erik Verduzco. Illustration by Gia Orsino.
If Vine were still a thing, the Celtics would be channeling Trey's energy today. The C's kick off their regular season Wednesday against the New York Knicks, and word on the street is that if any Boston sports team is going to give us a championship this year, it's them.
Here's what to know:
📝 Catch up quick: Last season's Celtics had all the ingredients for a championship team, but they just couldn't finish like a championship team. Flashback: The C's attempted to channel their inner 2004 Red Sox after roaring back from a 3-0 series deficit against the Miami Heat in Game 7 of the Eastern Conference Finals. They were *pinches fingers* this close to becoming the first team in NBA history to rally from a 3-0 hole, but instead, they were blown out at home.
⛹🏾 Since then, they've rejiggered the roster to give themselves a real shot. Jayson Tatum and Jaylen Brown — two of the best players in the NBA — are thankfully staying put, with Brown signing a record five-year, $304 million supermax contract extension. And with the additions of 7-foot-3 Lativian superstar Kristaps Porzingis and All-Star Jrue Holiday on defense, plus C's veterans like Derrick White and Al Horford, Boston arguably boasts the most talented roster in the league.
💔 That said, they had to say goodbye to some real ones. Landing Porzingis and Holiday meant cutting loose Robert Williams, Malcolm Brogdon, Grant Williams, and most notably, Marcus Smart, the player who was considered the heart and soul of the team. But there is good news on the leadership front: Head coach Joe Mazzulla finally had a full offseason under his belt after taking over last year when Ime Udoka was fired for having a consensual relationship with a subordinate team staffer. Jayson Tatum said practice has been "hard as [expletive]" under Mazzulla.
😬 The million dollar question … Are we going to be good? TL;DR: Most likely. DraftKings sportsbook said the C's are tied for the best odds of winning an NBA title and have the best odds for winning the most regular season games; three out of of four Globe Celtics/NBA reporters predict the C's taking home the Larry O'Brien Championship Trophy; and the oddsmakers have several C's players in the running for some serious hardware (think MVP and Sixth Man of the Year).
😂 If you couldn't care less about basketball … here's a funny video of Celtics players trying to name vintage items … and by vintage items, we mean floppy disks.
---
CITY
Quick & dirty headlines
Image: Jessica Rinaldi/The Boston Globe
👍 How do Mass. residents feel about Gov. Healey? It's complicated. UMass Amherst and WCVB polled700 voters about her performance so far, and they had relatively good things to say. Her approval rating has held steady at around 58%, nothing to sneeze at considering the difficult issues she's tackling, experts said. But, when it comes to the issues of the MBTA, migrant surge, and housing crisis, respondents were less generous with their approval. On housing, 51% of voters said she's doing "not too well" or "not well at all."
👻 Heading to Salem this Halloweek? We've got you covered. The Globe put together a guide of things to do (and don't) if you're heading there this week, covering everything from transit to must-have treats. Some key tidbits include leaving your car at home, studying up at Salem.org and Hauntedhappenings.org, and skipping the overnight stay in favor of a day trip (have you seen those Airbnb prices?). P.S.: If you're planning on going as T-Swift this year … everyone else in Massachusetts is, too, so rethink that Fearless dress.
🎵 Charlie Baker is going to be one happy camper next summer. Blink-182 is shipping up to Boston in July for Fenway's 2024 Nucar Summer Concert series, joining the likes of Noah Kahan, Kane Brown, and the Foo Fighters. The punk rock band will stop by as part of their "One More Time" tour, joined by opener Pierce the Veil. Tickets go on sale to the general public on Friday at 10 a.m. (And if you couldn't figure it out, Charlie Baker is a massive Blink-182 fan; see: this video of him being a total groupie in the pit.)
🛍️ Can't get a handle on every new opening in the city? Don't worry, we've rounded up a few good ones for ya: Our Fathers, the former Allston deli, has officially reopened in the Fenway, serving up sammys, salads, and according to me, the best Reuben in town; Night Shift Brewing's Lovejoy Wharf waterfront restaurant is now open for weekend brunch, serving up apple pie stuffed French toast; and if you want to get a workout in, the deceptively challenging pilates-style workout studio [solidcore] is opening a new location Oct. 28 in the Seaport.
— Written by Gia Orsino
---
ONE LAST THING
A chef's kiss commute
Video: Emily Schario. Gif: Gia Orsino.
The only time of year you'll find a Masshole romanticizing their I-95 commute is now.
We captured this video of the slice of 128 North between Waltham and Lexington, and it is nothing short of fall foliage heaven.
In case you didn't know, Mass. has some serious highway foliage game, and there are tons of roads that are great for leaf peeping without even getting out of your car.
Throw on the 10-minute version of All Too Well, and you're basically in a movie.
— Written by Gia Orsino
---
🍁 Thanks for reading! Pro tip: While you're looking out at the highway foliage, imagine you're heading to get coffee with Dean from Gilmore Girls.
☃️ The results are in: 48% of readers knew how many inches Boston got during the infamous "snowmageddon" season: 110.3. One reader said: "After moving from Buffalo, N.Y. … It felt like home."
💃 Keep up with us @BostonBSide on IG, TikTok, and Twitter. Send comments and suggestions to [email protected].