The B-Side
The ballot is in your court 🗳️
Plus: 🚗 Parking tickets you actually want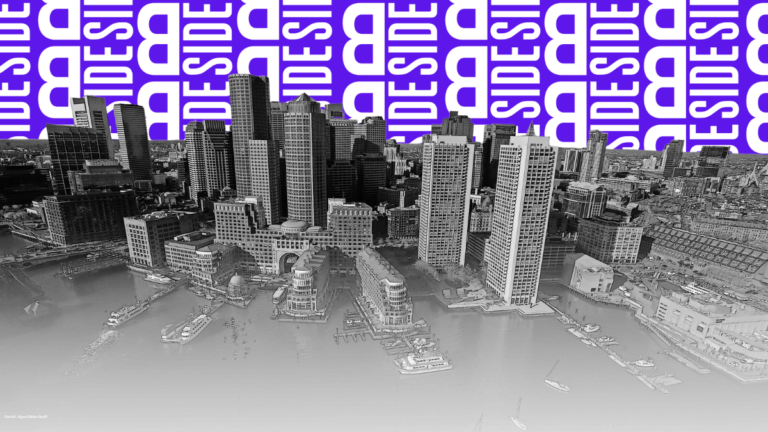 It's Monday, Boston.
🎃 Here's a fun start to the week: Black Earth Compost is hosting a pumpkin smash event on the Common from 2:30 to 5 p.m. today as a way to promote composting and keep your rotting gourds out of the waste stream.
👀 What's on tap today:
Don't throw away your shot
R.I.P. MyCharlie accounts
The only parking ticket you want
Up first…
---
CITY HALL
Your City Council election primer
From left to right: Tania Fernandes Anderson, Benjamin Weber, Jose Ruiz, and Joel Richards. Images: Pat Greenhouse/Globe staff; Nathan Klima for The Boston Globe; Handouts. Illustration: Gia Orsino.
Tuesday is Boston's municipal election a.k.a., the day you get to pick your next city councilors. Here's what to know:
☑️ First, let's run through the basics. You have from 7 a.m. to 8 p.m. on Tuesday to cast your ballot for your district and at-large seats, which you can do at your polling place, or in a designated drop box. Just make sure you know your district.
Here's a look at the races:
COUNCILORS-AT-LARGE
🗳️ There are four at-large seats on the ballot. Out of the eight-candidate field, there are three incumbents: Ruthzee Louijeune, Julia Mejia, and Erin Murphy; plus five other candidates: Henry Santana and Bridget Nee-Walsh (who are looking like the faves among the newbies), plus Clifton A. Braithwaite, Shawn Nelson, and Catherine Vitale.
DISTRICT 1: CHARLESTOWN, EAST BOSTON, NORTH END
👑 Gabriela "Gigi" Coletta is running unopposed. Coletta won her seat in a 2022 special election, and at the time said that displacement due to gentrification was the biggest issue facing her district. Read more about her here.
DISTRICT 2: CHINATOWN, DOWNTOWN, SOUTH BOSTON, SOUTH END
👑 Ed Flynn is running unopposed. Flynn was originally elected in 2017, and said his top priorities are affordable housing and pedestrian and public safety. Read more about him here.
DISTRICT 3: DORCHESTER AND THE SOUTH END
🗳️ John FitzGerald v. Joel Richards. FitzGerald is a Boston Planning and Development Agency deputy director, and Richards is a former Boston Public Schools teacher. FitzGerald is seen as the more centrist option compared with Richards. Read more about them here.
DISTRICT 4: MATTAPAN, DORCHESTER, JP, ROSLINDALE
👑 Brian Worrell is running unopposed. Worrell was first elected in 2021. He said his top priorities are affordable housing and creating opportunities for Boston Public Schools students. Read more about him here.
DISTRICT 5: HYDE PARK, MATTAPAN, ROSLINDALE
🗳️ Jose Ruiz v. Enrique Pepén. Voters will have a stark choice between the more conservativeRuiz, a retired Boston cop, and Pepén, a self-described progressive. Pepén was Boston's executive director of Neighborhood Services, and is endorsed by his former boss, Mayor Michelle Wu. Read more about them here.
DISTRICT 6: JP, WEST ROXBURY, ROSLINDALE
🗳️ Benjamin Weber v. William King. Weber is a Mayor Wu-endorsed lawyer, and King is an IT director at a conservation nonprofit. King is seen as the more moderate candidate of the two, though they have similar priorities. Read more about the candidates here.
DISTRICT 7: ROXBURY, SOUTH END, DORCHESTER
🗳️ Tania Fernandes Anderson v. Althea Garrison. Progressive incumbent Fernandes Anderson is one of the council's most outspoken voices, with housing, public safety, and climate injustice on the top of her priority list. She'll face off against Garrison, a perennial candidate who served on the council from 2019 to 2020. Read more about the candidates here.
DISTRICT 8: BACK BAY, BEACON HILL, FENWAY-KENMORE, MISSION HILL, WEST END
🗳️ Sharon Durkan v. Montez Haywood. Incumbent Sharon Durkan is running against her special election challenger, Montez Haywood. Durkan has Wu's endorsement (and a lot of moolah) behind her campaign, but Haywood promises that he can bring a sense of professionalism back to the council. Read more about the candidates here.
DISTRICT 9: ALLSTON, BRIGHTON
🗳️ Liz Breadon v. Jacob deBlecourt. Incumbent Liz Breadon is facing a challenge from Jacob deBlecourt in District 9. Both candidates are considered progressive, but deBlecourt posits themself as more reform-minded than Breadon. Read more about the candidates here.
🍩 And if you just can't pick … Boston.com asked the candidates a detailed list of questions — including their go-to Dunkin' order, which is a pretty solid indicator of taste.
— Written by Gia Orsino
---
CITY
Quick & dirty headlines
Image: Melissa Phillip/Houston Chronicle via AP
😷 Don't throw away your shot! And we're not talking about Hamilton. As of Nov. 2, only 9% of Mass. residents have had the latest COVID vaccine. These low numbers can likely be attributed to the COVID vaccine's bumpy rollout plus the public's generally more relaxed attitude toward the virus. That said, the vaccine is now widely available, and doctors generally recommend getting it (plus your flu shot!) by early November. So consider this a reminder: If you're in that 91%, find where to get a vaccine here.
🚃 Boston's MyCharlie era is over. The vintage CharlieCard website will officially retire Nov. 15. Which means you won't be able to refill CharlieCards online anymore (if you knew that was even possible). The good news? The new site will let users register multiple cards, request replacement cards, and sign up for auto payments. If you have a MyCharlie account, you'll just need to make a new MBTA account with the same email for your information to automatically transfer over.
🏀 It was a big couple of days for young Boston athletes. On today's episode of teens and 20-somethings accomplishing more in a day than you will in a lifetime, 25-year-old Jayson Tatum became the youngest Celtic in history to reach 10,000 points and the 10th youngest in NBA history during Saturday's game against the Nets. And on the rink, 19-year-old Matt Poitras and 22-year-old Mason Lohrei made some filthy moves for the Bruins, earning their places on the B's list of impressive rookies. Just don't ask about the Pats game … it wasn't great.
📱 Non-iPhone users: 2024 is your year. Google will open one of its first U.S. retail locations on Newbury Street in 2024 (there are two stores in NYC and one in California). Just like an Apple store, visitors will be able to shop for Google devices and book appointments for troubleshooting or hardware setup, including Pixels, Nest devices, and Fitbits. An opening date is still TBD, so stay tuned!
— Written by Gia Orsino
---
THINGS TO DO
Weekday plans
💡 Join the festival of lights. Diwali is on Nov. 12, and the MFA is throwing a celebration on Thursday in observance of the ancient holiday celebrated by Hindus, Buddhists, Sikhs, and Jains.
🍞 Get the sourdough education you knead. Missed the sourdough trend in 2020? Tuesday's your chance — the sourdough starter train is making a stop at the Boston Public Library's Fields Corner branch.
💑 Get your Thanksgiving started early. Rail Stop in Boston Landing is giving us the Wednesday evening we all need to catch up with our besties and give thanks for each other: Friendsgiving Wine Tasting Dinner.
📽️ Enjoy international films on Jewish themes. Until Nov. 15, theaters across Boston are showing films like "Perfect Strangers," "The Other Widow," and "The Story of Annette Zelman" for the Jewish Film Festival.
🧀 Say "oui!" to beer and cheese. You've had beer, and you've had cheese, and maybe you've even had beer cheese, but have you ever learned to pair beer with French cheese? Tonight at Lamplighter, you can!
— Written by Claire Nicholas
---
ONE LAST THING
Parking tickets you actually want
Image courtesy of Ethan Leblanc. Illustration: Gia Orsino.
Tired: Crying over a parking ticket. Wired: Crying over a parking ticket because it told you you can do anything.
The sight of an orange parking ticket generally ends in spiked blood pressure.But when 800 folks across Boston, Somerville, and Medford saw those slips of paper on their windshield Sunday morning, they experienced quite the opposite.
Tufts student Ethan LeBlanc made 800 "affirmation parking tickets" to put under random windshields. They look nearly identical to parking tickets, but instead have messages like, "You are kind" and "Nothing can stand in your way."
When we asked Aden Malone, the project's editor, about why he's doing this, he said: "This world can be especially lonely, and we feel it's important to feel appreciated … we hope that the project can get people thinking about the different forms that kindness can take. We challenge readers to be kinder."
— Written by Gia Orsino
---
🎫 Thanks for reading! In case you didn't get one, we'll spread the message right here: "You are kind. You look great today. I believe in you." <3
🚗 The results are in: 46% of readers tip their food delivery drivers 10-15%, and the majority of others say they tip at least 20%. One reader said: "I was a DoorDasher once, and 20% really helps!"
💃 Keep up with us @BostonBSide on IG, TikTok, and Twitter. Send comments and suggestions to [email protected].