The B-Side
Brace for daylight saving time 😫
Plus: 🎄 Red cups are back!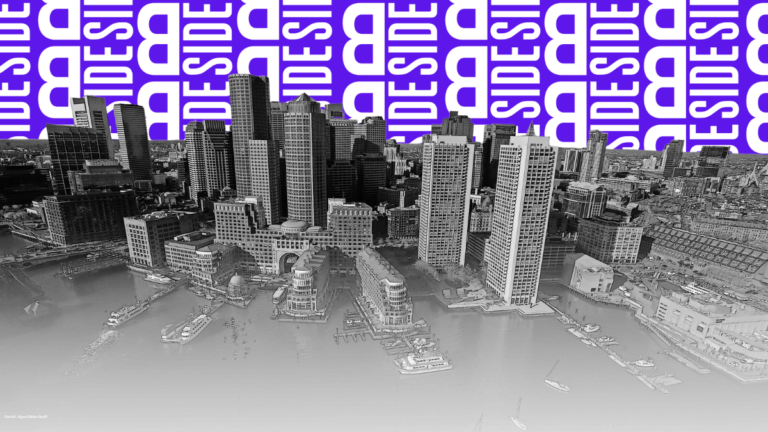 It's Thursday, Boston.
🎥 Wordle has some competition: Movie Grid, a new game created by two East Boston roommates, is the ultimate test for movie buffs: You can guess film titles based on daily clues, and try it out for yourself here.
😬 Warning: We played yesterday's game, and it was HARD.
👀 What's on tap today:
No room at the inn
Holiday cups are back
Boston math
Up first…
---
HEALTH AND WELLNESS
Don't sleep on sleep
Illustration by Gia Orsino.
We're t-minus three days from 4:30 p.m. sunsets, and for some, the start of the winter blues.
This upcoming stretch of doom and gloom can do a number on our mental health. So over the next four months, we'll be sharing the best hacks for beating the winter blues and how you can actually implement them in your day-to-day.
First up: Sleep.
💤 To stay well, you have to sleep well. At least that's according to Dr. David Mischoulon, director of the MGH Depression Clinical and Research Program. He said that working on better sleep habits is one of his first interventions to help treat depressive tendencies for all the reasons you'd think: Good sleep gives you more energy, improved focus, and even more motivation. And there's a ton of advice on how to do it "right:" keep a consistent sleep schedule, create an adult bedtime routine (there's a reason why babies have them!), etc.
🤔 But unless you're a baby, maintaining those habits ain't easy. There's no question that staying on top of the tips above can help you improve your sleep, Mischoulon said. But with demanding work schedules, social lives, and Daylight Savings messing with our daylight hours, they're hard to implement. One B-Side reader wrote: "I work 12-hour shifts from 6 a.m. to 6 p.m. There's no way I'm waking up at 4:30 a.m. on my days off." Preach!
⏰ Good news: getting enough sleep is really all you need. In order to see the benefits of a consistent sleep routine, you just need to stick to the basics, Mischoulon said, i.e., get enough hours of sleep on as reasonable of a schedule as you can. Everything else is just gravy. So whether you're vigilant about going to bed and waking up at the same time, or you need to schedule your Monday classes later because you'll be up late on the weekends, you're making a positive change.
😴 And if you mess up a few days, don't sweat! Our "sleep banks" are pretty resilient, so "sleep debts" can be repaid with a couple days of good sleep, Mischoulon said. For young people especially, just making sure you get enough zzz's (shoot for seven to eight hours) to be alert and focused throughout the day is the best thing you can do to reap the rewards.
🩺 Everyone is different. If you're thinking about making a major intervention or have questions, always talk to a doctor.
— Written by Gia Orsino
---
TOGETHER WITH THE MASSACHUSETTS STATE TREASURY
Don't miss out on free $$$
💸 Get your next night out paid for. Right now, over $3 billion worth of unclaimed property is sitting in the Massachusetts State Treasury, waiting for owners, like you, to come take their share. It's like finding money under the couch cushions, but on a much larger scale. Those forgotten savings, checks, stocks, and more could be your ticket to a surprise financial boost. Whether it's $20 or $2,000, don't leave money on the table. Your next lucky find could be just a name search away.
---
CITY
Quick & dirty headlines
Image: Suzanne Kreiter/Globe Staff
⚖️ Gov. Healey's migrant shelter cap can proceed. A lawsuit from a local legal aid group failed to block Healey's plan to cap the state's emergency shelter system at 7,500 families due to extremely high demand, limited budget, and not much space. The suit, which was heard Wednesday, argued that Healey's plan was too abrupt a change to the state's unique "right-to-shelter" law. But a judge decided in Healey's favor, clearing the way for the new rules to take effect quickly.
🌨️ New England weather is weathering. After an 80 degree mini "heatwave" last week, some areas in Mass. saw their first snow of the season on Wednesday. It mostly came in the form of snow showers in the a.m. across central Mass. (Boston just got rain), but some locales in western Mass. looked like a winter wonderland. But good news: It looks like by the end of this week, we're going to see a few days of good old fall temps in Boston through next Tuesday before things take a turn.
🍝 Boston's food scene is buzzing. The Globe just released a list of 10 new restaurants to visit this fall, covering everything from ZaZiBar in the Seaport, the newest venture of Afro-Caribbean cuisine powerhouse OIrie Roberts, to Amar, which features classic Portuguese meals in the Back Bay. Other highlights include: The Eaves, a hip Vietnamese spot in Somerville's Bow Market; Hook + Line, a seafood spot in the Seaport serving modern classics; and Moonbar, the more affordable and casual sibling of swanky Mooncusser.
🎄 Whether you like it or not, Dunkin's holiday menu is back. If you head to Dunkin' today, you'll find new festive arrivals like the spiced cookie coffee and loaded hash browns among returning fan favorites like the cookie butter cold brew and peppermint mocha. Plus, if you're a Dunkin' Rewards member, you can capitalize on their free doughnut Wednesdays with the purchase of a drink through Dec. 31. P.S. If you're team red cup, Starbucks' holiday menu also just dropped.
— Written by Gia Orsino
---
ONE LAST THING
Boston math
Illustration: Gia Orsino.
You've heard about girl math, you've heard about boy math, but may we present to you … Boston math.
We made this video detailing some of the key components of Boston math, including carving out 45 minutes for what should be a 30-minute T commute because of slow zones and budgeting over $10,000 for your Sept 1. move to cover the first and last month's rent, security deposit, and broker's fee.
This clearly hit home with our IG followers. Many were quick to add their own Boston math equations in the comments, like: "Boston math is trying to get anywhere in the city, it takes $30 and 25 min to Uber, 35 min to T, 40 min to walk. You're walking," and "It doesn't matter if you travel from downtown to Dorchester or somewhere 50 miles away, the travel time is always 45 minutes."
— Written by Gia Orsino
---
➗ Thanks for reading! I must be a Boston mathematician, because these have literally all happened to me in the last two months.
💜 Special shoutout to today's sponsor, the Massachusetts State Treasury, for helping residents reclaim what's rightfully theirs.
🦃 The results are in: 60% of readers think Nov. 1 is the appropriate time to start playing Christmas music, with one making the compelling point that: "Mariah is fully thawed at this point."
💃 Keep up with us @BostonBSide on IG, TikTok, and Twitter. Send comments and suggestions to [email protected].