The B-Side
It's here! Restaurant Week starts Sunday. 😋
Plus: ✅ Your weekend checklist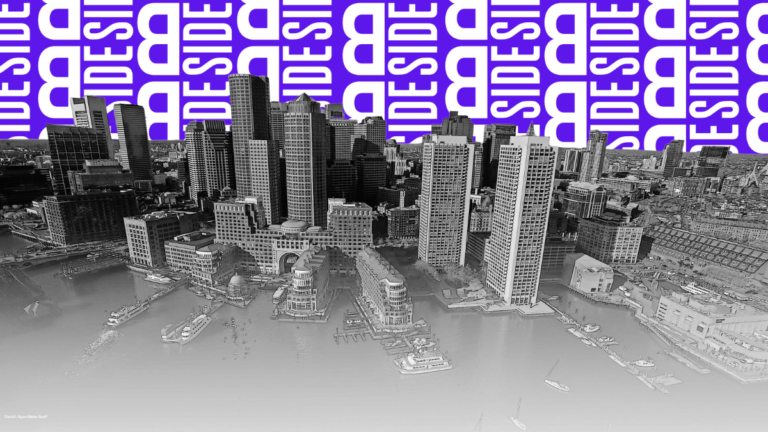 Happy Friday, Boston.
☀️ Reminder: Daylight saving time starts Sunday, so don't forget to change your clocks. 6:45 p.m. sunsets are just TWO days away, people!
👀 What's on tap today:
Mobile sports betting starts today
New MBTA schedule
Bova's on the big screen
Up first…
---
FOOD & DRINK
Your Dine Out itinerary
Gif: Katie Cole
Foodies, this one's for you. Dine Out Boston starts Sunday and runs through March 25, which means it's your chance to get food from your favorite restaurants for less.
Here's what to know — plus a few recommendations:
What's Dine Out? Dine Out Boston, a.k.a. Restaurant Week, is 14 days of meal deals and specials from over 140 restaurants in the area.

How good are the deals? Really good. All meals are set at fixed prices, so you can grab lunch for $22, $27, or $32 per person and dinner for $36, $41, or $46. Restaurants usually offer multiple courses per meal, so it's a great value. Plus, some offer specialty dishes exclusively for Dine Out.
Where should I go for lunch?
🍗 Smoke Shop BBQ's Seaport location is offering a two-course lunch for $22. Smoke Shop was awarded Boston's Best Barbecue in 2022 from Boston magazine, and after trying their wings and mac and cheese bites, we can see why.
🍺 Trillium Brewing Co.'s Fort Point spot has two courses of elevated pub food for $27. Their grain bowl is a great midday pick-me-up, plus you can snag local brews while you're there.
🍰 Alcove at Lovejoy Wharf has a two- or three-course lunch for $22 or $27, respectively. Their special menu features dishes not on their regular rotation (including carrot cake and stracciatella ice cream for dessert).
How about dinner?
🦐 Sumiao Hunan Kitchen offers a four-course dinner for $41. For an appetizer, we really recommend the steamed mini shrimp shumai. It's the perfect bite.
🍝 For a North End night out, Assaggio has three-course dinner of Positano cuisine for $41. Their sauté of clams in garlic and white wine is a great starter, and Earl Grey panna cotta is a must-try for dessert.
🍛 If you're looking for an absolute feast, Shanti Indian Cuisine's Kendall Square spot has a five-course meal — yes, five courses — of their top-rated eats for $46.
Want to see the food? Click here to take a look at what we tried for Dine Out.
— Reporting by Katie Cole
---
CITY
Quick & dirty headlines
Image: David L. Ryan/Globe Staff
📱 Mobile sports betting in Mass. starts today. You can officially place a bet on the Bruins from the comfort of your couch at 10 a.m. Which hopefully means you won't see as many annoying FanDuel ads in the coming weeks. The Mass. Gaming Commission issued six certificates of operations, meaning Barstool Sportsbook, BetMGM, Caesars Sportsbook, DraftKings, FanDuel, and WynnBET can run mobile betting in the state. So if you're looking to throw some money down, here's a great reminder of everything you can and can't bet on.
❄️ Stormy weather on the horizon? I know, we've been duped a few times, but you should still be aware. Forecasters are eyeing a system tonight into tomorrow that will probably just leave a light coating of snow in Greater Boston. Any real accumulation will be in Western Mass. Monday will be the start of a stormy week with the potential for snow, wind, and rain through Wednesday, but it's still a little too early to know just how much of an impact it'll have. You can track the latest weather updates here.
🚇 The MBTA released its updated spring schedule. Starting March 12, you'll notice some minor departure time changes on the Red, Blue, and Orange lines, but their frequencies will be about the same. If you're a bus rider, some routes will operate more frequently while some routes and departure times will change. If you're a ferry-goer, the East Boston Ferry will be back on March 27. And if you're a commuter rail rider, hang tight. Those schedule changes will be out soon. Take a look at all the spring schedule changes here.
🍸 Hue is officially accepting reservations! The highly anticipated three-in-one restaurant, cocktail, and entertainment venue in the Copley Square Hotel announced their soft launch this week. The new spot has two floors with three different concepts: RoseBar, a sunny dining room and bar that looks like a great spot for post-work drinks; Supper Club, a moody dining room with live music; and Speakeasy, which is exactly how it sounds. RoseBar and Supper Club are open for business, so you can book your reservation here.
---
THINGS TO DO
Weekend checklist
🧶 Make your own chunky blanket. This blanket-making class will show you how to make your own cozy throw, and best of all, no knitting needles are required.
🥘 Eat at a women-owned restaurant. That's just one of the many ways to celebrate Women's History Month in Boston. This list of women-owned spots is a great starting point.
🍿 Catch up on the Oscar noms. Here's the list of places you can stream all the nominees. Remember, the ceremony is Sunday at 8 p.m.!
---
ONE LAST THING
Bova's on the big screen
Images: Katie Cole, Nicholas Hunt/Getty Images/File Photo. Illustration: Katie Cole
Matt Damon and Casey Affleck are closing down Bova's to film a movie.
The pair are using the North End bakery as a set for "The Instigators," an upcoming movie about a robbery gone wrong. Filming will take place on March 22, but Bova's will be closed from March 20 to 24. Parts of Salem Street and Prince Street will also close down on March 22.
Translation: If you have a hankering for Bova's cannoli, you better stock up.
---
🍰 Thanks for reading! Speaking of Bova's, we're going there next week for a shoot. If you have any recs (that aren't cannolis, we already know they slap), reply to this email.
💃 Keep up with us @BostonBSide on IG, TikTok, and Twitter. Send comments and suggestions to [email protected].