The B-Side
The new 'Embrace' sculpture is a BIG deal 🤝
Plus: Our bad traffic goes international.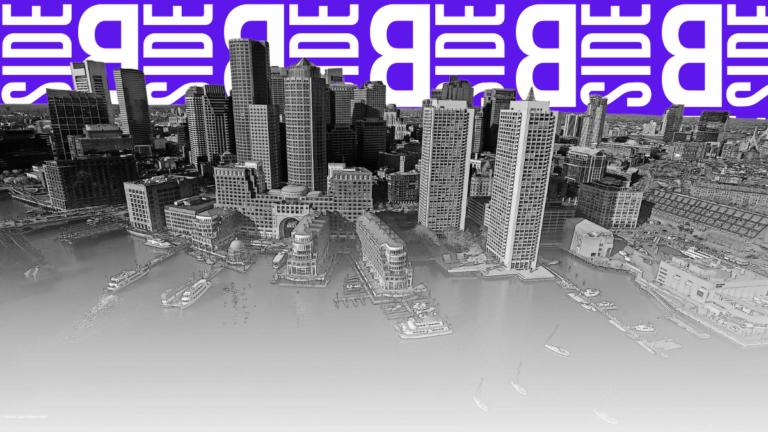 It's Thursday, Boston.
🏠 What does $7 million get you in the Back Bay? According to this TikTok, four beds, four and a half baths, and a lot of … gray.
👀 What's on tap today:
Our bad traffic goes international
A new booster timeline
A long-lost grasshopper
Up first…
---
COMMUNITY
Unveiling a powerful symbol of equality and justice
Design by Hank Willis Thomas and Mass Design Group. Image by Mass Design Group.
The wait is almost over. A breathtaking memorial dedicated to racial equality and justice will be unveiled this Friday, showcasing the Kings' legacy for all visitors to America's oldest park. Here's what you need to know:
What is it? The Embrace Memorial is a 38,000 pound, 20-foot-high, 40-foot-wide bronze sculpture in the shape of the hug Dr. Martin Luther King Jr. shared with his wife, Coretta Scott King, after he won the Nobel Peace Prize in 1964. The memorial and Freedom Plaza were designed by world-renowned conceptual artist Hank Willis Thomas and global award-winning design firm MASS Design Group. The plaza also honors 69 local civil rights leaders.
Why Boston? The couple actually met and fell in love in Boston while they were students, and their time in the city heavily shaped their approach to fighting for an equitable society.
Dr. King received a PhD from Boston University in systematic theology, where he deepened his ideas on religion and politics, and Scott King received a degree in music education from the New England Conservatory, later incorporating song and poetry into her civil rights work.
In 1965, Dr. King led a freedom rally march from Roxbury to the Boston Common, the place where the memorial will stand.
When can I see it? The statue will be unveiled at 1 p.m. Jan. 13. If you can't make it, NBC10 will air coverage starting at 11 a.m. You can see the statue in person beginning in February.
Want to learn more? NBC10 Boston is airing the Boston Globe's documentary, Embrace: The Kings, tonight at 7:30 p.m. It's a half-hour special that dives into the Kings' time in Boston as well as the unveiling of the Embrace Memorial. You can also stream the special on Peacock, Roku, and Globe.com.
---
TOGETHER WITH NOBEE
Say goodbye to the broker's full fees
Image provided by Nobee
🏡 And say hello to Nobee — a local rental agency changing the real estate game. Instead of charging a month's worth of rent for a broker's fee, Nobee only charges a flat $500 per bedroom fee — helping you save an average of $1,000. Plus, their agents don't work on commission, so you know they actually have your back in helping you find your dream apartment. Scheduling a tour with Nobee is super fast and easy, so skip the back-and-forth emails and book yours today.
---
CITY
Quick & dirty headlines
Image: Charles Krupa/Associated Press
🚘 Boston has the fourth worst traffic in the world. Not the country. The WORLD. At least that's according to an annual study from INRIX. The traffic analytics company reviewed over 1,000 major cities and found that the average Boston driver spent 134 hours stuck in traffic last year. London, where motorists logged 155 hours in traffic, took the No. 1 spot, followed by Chicago and Paris. And all that time sitting in traffic wasn't cheap: The cost of congestion per driver in Boston last year was $2,270, the study found.
💉 How long will your COVID booster last? Well, researchers at MGH have designed a mathematical model that could give us an answer. Their model predicts that a booster dose of either the Pfizer or Moderna mRNA vaccines can provide healthy individuals enough protection to last over a year. Immunosuppressed patients, on the other hand, will likely see the effects fade faster, with research suggesting they get boosted every four to six months. But these timeframes aren't set in stone. The mathematical model will be able to make adjustments as more variants pop up.
🍔 Menu prices will go up, and the suburbs will get more restaurants. Those are just a couple of the food trends local restaurateurs are predicting for 2023. While the impacts of inflation are likely to stick around this year (bigger bills, smaller portions), diners will hopefully be able to look forward to a few welcome developments: increased transparency of restaurant business models, innovative beverage programs (think Birds of Paradise in Brighton), and more.
---
THINGS TO DO
New year, new (ish) food spots
Image courtesy of Irene Li of Mei Mei
🥟 Make way for dumplings at the grand opening of Mei Mei's dumpling factory in South Boston on Jan. 21. Get ahead of the crowd and book your dumpling making class here.
🍕 Try the puffy crust pizza at Si Cara in Central Square. Their Canotto-style pies (meaning "life raft" in Italian) resemble an inflatable dinghy with airy edges and a center of rustic toppings. Book your res here.
☕ Get some baklava at the cozy Madhouse Cafe in Roxbury (fun fact: it's adjacent to Boston's only motorcycle shop). It's also a great spot to work remotely: outlets galore.
🥢 Satisfy your comfort food craving with Hong Kong-style snacks at Rubato. Globe food critic Devra First recommends the bolo bao, HK French toast, and Hong Kong milk tea.
🎏 Get your fish-shaped ice cream cone fix in Harvard Square. Taiyaki NYC just opened its second location in The Dough Club, its sister store, so you might as well grab a mochi doughnut while you're there.
---
ONE LAST THING
A long-lost weathervane twin
Images: Sotheby's, David L. Ryan/Globe Staff. Illustration: Katie Cole
The Faneuil Hall grasshopper weathervane's long-lost twin was finally found.
Some historians and collectors knew that the Faneuil Hall topper had a match, but most thought it was destroyed. Now, almost 200 years after it vanished in 1835, the copper grasshopper has leapt into auction. Historians are confident this new green guy is the real deal based on the distinct designs and craftsmanship.
Looking to take home the little fella? Sotheby's estimates it could go for $300,000 to $500,000.
---
🎂 Thanks for reading! Do you have a birthday this month? Let me know by replying to this email and we'll make sure to give you a shout out on your special day!
💃 Keep up with us @BostonBSide on IG, TikTok, and Twitter. Send comments and suggestions to [email protected]