The B-Side
Spice, spice, baby! 🎃
Plus: 🛍️ The return of the Snowport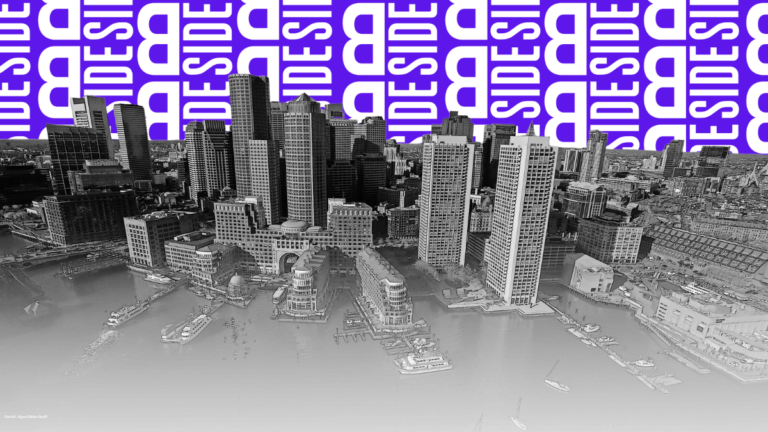 It's Wednesday, Boston.
🌧️ Place your bets: Will we have another rainy weekend? Because the forecast is leaning that way, and it looks like a nor'easter could be brewing.
🥳 Also: It's B-Side reader Taha Akhtar's birthday! You're a rockstar.
👀 What's on tap today:
The return of the Snowport
Look for the golden can
Grog and Dog Jog
Up first…
---
FOOD
Dishes to fall for
Illustration: Gia Orsino
Last week, we brought you a list of Boston's must-try seasonal sips. So it's only fair we share the eats, too.
Here are some fall menu specials worth sinking your teeth into:
CHEAP EATS
🍩 If you wanna mix up your cider doughnut rotation … Blackbird Doughnuts' October menu is stacked with all the fall flavors, including a PSL bismarck filled with pumpkin pastry cream, and a German chocolate cake doughnut with toasted coconut and ganache. Union Square Donuts' fall lineup is equally loaded, featuring a candied apple doughnut covered in a sweet candy shell and a spicy hot cocoa doughnut topped with marshmallow drizzle.
🥗 If you need a break from Sweetgreen's Harvest Bowl … Saloniki Greek's fall salad topped with delicata squash, cabbage, kale, walnuts, grapes, feta, olives, and their house vinaigrette offers some reprieve from the always-present sweet potato. But if you want something warm, the cozy Greek lamb and grain bowl is loaded with lamb meatballs, brown rice, and beans.
WON'T BREAK THE BANK
🍕 If you're craving Italian, but with a twist … Head to Si Cara on Oct. 27 for the unveiling of the restaurant's fall menu, featuring their beloved roasted butternut squash pizza with goat cheese, brown butter, almonds, and prosciutto. Speaking from personal experience, their puffy crust alone is worth a visit. For a more elevated night out, Tresca in the North End is serving up their classic pumpkin chicken risotto, filled with dried cranberries, cashews, caramelized onion, spinach, and maple syrup, served in an adorable sugar pumpkin.
🥘 If your idea of fall food = comfort food … City Tap House in the Seaport has an entire menu section dedicated to "cold weather comfort," including a deconstructed chicken pot pie topped with phyllo, and braised beef short ribs atop polenta with roasted mushrooms. You can keep that comfort train chugging with hot pot at Ibasaw in Malden, where pumpkin is one of the 60 ingredients to choose from.
SPLURGE-WORTHY
🥂 If there's an occasion worth celebrating … Sign up for dinner with Bon Ami, a pop-up supper club offering a seasonal five-course menu (it's technically invite-only, but you just have to submit your email to apply). Chef Gavin Lambert regularly crafts new menus using farm-to-table practices and local ingredients, with his next dinner leaning into Mexican cuisine and spooky Halloween vibes.
Note: I tried their squash-focused menu this week, and it was easily one of the best meals I've had.
👀 Eat with your eyes? Boston-based creator Armani Thao put together a video of 11 fall menu items that will make you drool.
---
CITY
Quick & dirty headlines
Image: Lindsey Ahern for the Boston Globe
❄️ It's official: Snowport season is upon us. On Nov. 10, a chunk of the Seaport will continue its tradition of transforming from a ritzy shopping haven into the Snowport, a winter wonderland with no shortage of things to do. The crown jewel is the Holiday Market, which will feature over 120 vendors — most of which are local and women/minority owned — for shopping, food, drinks, and holiday treats. Plus, there will be outdoor curling (reservations recommended), a Christmas tree market, and yes, appearances from Snowport mascot Betty the Yetti.
🚗 Your Uber driver may make less than minimum wage. At least that's according to a new report that found the median earnings of Mass. rideshare drivers is $12.82 an hour when considering total work time and expenses. This study adds fuel to the drivers' long fight to unionize, which drew over 300 people to a protest at the State House on Tuesday. The protest was in favor of the Rideshare Drivers Justice Bill, which, if approved, would guarantee drivers the right to unionize and negotiate pay and benefits.
🚦 Street signs in Cambridge will look a little different soon. The city is putting up signs that translate street names into the language of the native Massachusett Tribe, the people who first inhabited the land of Massachusetts. About 80 new signs will be installed between First and Eighth streets in East Cambridge by next summer, in the hopes of preserving Native languages as the city celebrates its 400th anniversary. Fun fact: It's funded by Cantabrigians through the city's participatory budgeting system.
🍺 Forget a golden ticket. Look out for a golden can. Harpoon Breweryis celebrating the 30th anniversary of their original IPA — one of the first craft IPAs on the East Coast, arriving on the scene far before IPAs were popularized in New England — with a fun treasure hunt. If you find a golden can in a Harpoon IPA 12-pack though Dec. 1, you could win a prize including a holiday party at one of their taprooms, a charcuterie board, or some Harpoon swag, just in case you needed another excuse to have a beer.
— Written by Gia Orsino
---
ONE LAST THING
Grog and Dog Jog
Glenn Osmundson for The Boston Globe. Illustration by Gia Orsino.
On Sunday, one of Rhode Island's most … unique athletic events came back after a several year pandemic hiatus.
The Grog and Dog Jog is, as the Globe reports, "a triathlon of sorts," which consists of a four-person relay where each participant completes a one-mile run, chugs a beer, and eats a hot dog before the next runner begins.
Wearing costumes is encouraged but not required, and themes this year ranged from different condiments, to hippies, to former R.I. governor and current U.S. commerce secretary Gina Raimondo.
The race does have a greater purpose beyond the spectacle: This year it raised about $3,000 for the American Cancer Society.
But the spectacle is pretty fantastic (and slightly appalling), too. Just check out these pictures. They are the definition of feral.
— Written by Gia Orsino
---
🌭 Thanks for reading! Mark my words, I will be there next year.
📱 The results are in: Over 70% of readers said they've never used TikTok instead of WebMD to look up their medical concerns. One wrote, "WebMD is still my go-to. It's the og!"