The B-Side
🤑 September freebies you NEED to know
Plus: 🍕 Viral for all the wrong reasons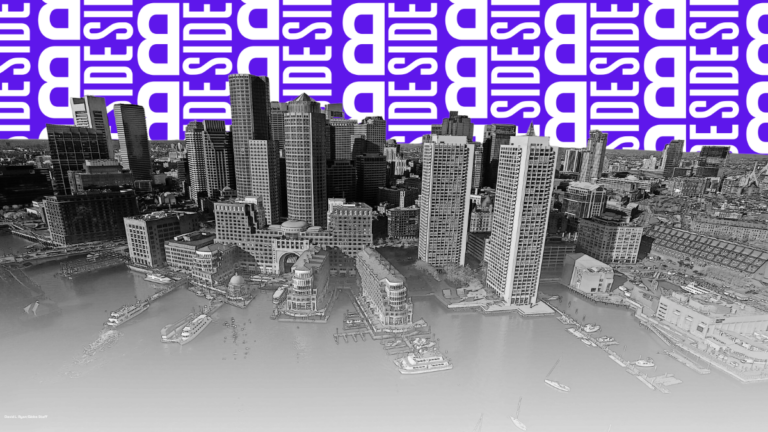 It's Tuesday, Boston.
🍎 Welcome back from the long weekend. To cure your end-of-summer blues, here's an iconic map of every cider doughnut spot in New England to get you in the fall spirit (even though it's 80 degrees).
🥳 Also … HBD to B-Side reader Caroline Gillette! We love ya.
👀 What's on tap today:
Viral pizza blowout
Copy-paste weather week
Welcome to Cambsterdam
Up first …
---
SEPTEMBER FREEBIES
Stargazing and street fests
Image: Trent Bullion. Illustration: Emily Schario.
How's your wallet doing after the holiday weekend? Yeah, mine's not great either …
So here's how to be a social butterfly this month without spending a dime:
🌌 Make Galileo quake with your new stargazing skills. The Museum of Science put together a free sky chart and viewing guide for the nights of Sept. 15 and 30 to help you pick out the main star groups and constellations. Just hold up the chart to the sky so "North" on the chart points to true north. And remember, look east on Sept. 19 for the rise of the Supermoon!
🚶 Watch a puppet start its walk across America. It's a muppet … It's a Macy's Thanksgiving Parade float … It's … Little Amal? This 12-foot-tall puppet of a 10-year-old Syrian refugee girl has become a global symbol for human rights and refugees after her 5,000-mile trek across Europe in 2021. And she's starting her 6,000-mile trek across the U.S. in Dewey Square on Wednesday (she's absolutely stunning). Here's how to walk alongside her this week.
🎉 Put on your best fête outfits for Carnival. The more glitter, feathers, and wigs, the merrier. At least it is at Cambridge's Carnival Festival in University Park this Sunday. Spend an afternoon celebrating the food, music, and culture of the African diaspora. And then skip on over to East Somerville for the final Carnaval block party of the season with food from Gauchao, haircuts from Marlon's Barbers, and martial arts performances.
🤝 Give your LinkedIn a run for its money. All in the name of revitalizing Downtown Boston. The Greater Boston Chamber of Commerce is putting on a free networking night for young professionals on Sept. 14. You can enjoy some free drinks and bites, make new connections, and chat with like-minded people about bringing the Downtown neighborhood back to life.
🥳 Block out your calendar for a month of street fests. The Common is turning into a backyard bash party on Sept. 14 with every lawn game imaginable (and free ice cream!); a chunk of Dorchester Ave. is going car-free for Open Streets Dorchester on Sept 17; and a chunk of East Broadway is doing the same on Sept. 19 for Southie's Street Fest for over 100 vendors dishing out food, live music, and games.
🥕 Take eating local to the next level. One of Boston's top 10 food events is almost here: the Boston Local Food Festival. This open-air market is all about supporting sustainable, local food and agriculture, featuring over 60 vendors. There will be cooking demonstrations from local chefs, tons of samples, and a seafood throwdown to cap it off.
💃 Celebrate Latin Heritage Month with a Fiesta en la Plaza. City Hall Plaza is transforming into a hub of Latin culture for several weekend fiestas featuring live music from local Latin bands spanning mariachi to jazz tango, poetry readings, short film previews, and a free Salsa class from El Bonche in Boston.
🌎 P.S. You can also visit the Mapparium for free this Friday.
---
CITY
Quick & dirty headlines
A pie from Dragon Pizza in Somerville. Image: Jim Davis/Globe Staff
🍕 A Somerville pizza shop is going viral for all the wrong reasons. Barstool's Dave Portnoy's review of Somerville's Dragon Pizza started with him calling it a "floppy mess" and ended in a screaming match between him and shop owner Charlie Redd. The viral video of the exchange is quickly approaching 1 million views, forcing Dragon to shut off its Yelp reviews as Portnoy's online army tried to sink its ratings (and sent Redd death threats). The video was released the day after Barstool announced it would slash its staff by nearly 25%.
☀️ It only took three months, but summer weather is finally here. We'll get to copy and paste the glorious LDW weather for a few days before temps start ticking up into the "why is it so humid in September" range later this week. So leave your light layer at home — there's no surprise morning cold yet. Speaking of cold, the Old Farmer's Almanac is predicting a matching snowy winter forecast from its rival, the Farmer's Almanac (yes, they're different), with the first flakes hitting in November. So you've got two months to mentally prepare.
🚨 You're gonna hear a lot of "state of emergency" this week. On the local level, four Boston city councilors are calling on the city's health commission to declare a state of emergency around the Mass. and Cass area to give Mayor Wu more power to address its addiction, mental illness, and violence crises. Wu's response? Pass the ordinance I already filed instead. On the state level, Gov. Healey activated the state's National Guard to help homeless families that are victims of the state's overburdened shelter system.
💏 Speed-dating isn't what it used to be in Boston. And it's probably for the better. Local groups are capitalizing on swiping fatigue and hunger for in-person interaction by reinventing the typical speed dating formula. Skip the Small Talk revolves around conversation prompts that skip right to the deep stuff like "in what ways are you different from the person you were five years ago?"; Tantra Speed Dates incorporate yoga and movement; and then there's Quirk Events, which give participants 20 minutes to play a quick board game.
---
ONE LAST THING
Welcome to Cambsterdam
Image: Jonathan Berk/@berkie1 on X
Amsterdam > the Boston area when it comes to bike infrastructure. But some areas aren't far off.
Somerville resident Aaron Greiner posted a video of a Cambridge bike lane on X that he cheekily billed as being from "the Netherlands" because it's so well protected. And he thought everyone would get the joke (they did not).
Hundreds of folks took to the post either complaining about American bike lanes (true), or debunking the video by pointing out an MBTA bus passing by (also true). But some got the joke, chiming in with, "Nice job Cambsterdam!"
Long story short: Cambridge bike lanes are proof that ambitious bike lanes projects aren't just for Europeans.
---
🚲 Thanks for reading! Quite frankly, Cambridge > than most of the Boston area when it comes to bike lanes.
💃 Keep up with us @BostonBSide on IG, TikTok, and Twitter. Send comments and suggestions to [email protected].