The B-Side
The friend zone worth staying in 🦃
Plus: ☕ The "Friends" café opens for business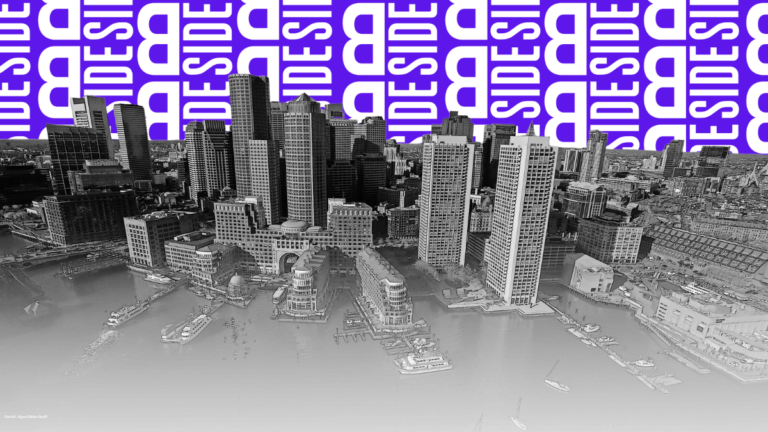 It's Tuesday, Boston.
🏆 Guess what? Watertown's very own Noah Kahan (yes, he lives in Watertown!) was nominated for his first Grammy last week in the Best New Artist category. This video of him hearing the news might make you shed a tear. You can read the full nominee list here.
👀 What's on tap today:
"Friends" café
Time to shred the gnar
Message in a bottle
Up first…
---
FRIENDSGIVING
It's giving … thanks
Illustration by Gia Orsino
Imagine: Thanksgiving, minus the stress of cooking an entire meal, seeing long-lost relatives, and holiday travel. Enter: Friendsgiving.
We asked some of Boston's coolest restaurateurs to share their Friendsgiving takes, tips, and tricks. Here's what they told us:
🙌 Colin Lynch, chef and owner of Bar Mezzana, said preparation is key. "Take as much of the onus off of getting things for people as possible," Lynch said. And to do that, you need to have a plan, he told us. Make sure everyone is on the same page about the party vibe, what people are bringing, and day-of reheating needs. Plus, the little things, like having a water station and several snack setups for self-service, will save hosts a ton of grief.
🍗 Chef partner Kwasi Kwaa at Comfort Kitchen said to keep it simple. "Good food, great company, and really chill vibes" are the keys, he said. Pick the food you know is gonna be good, even if it's not turkey. (He does a whole roasted chicken.) Consider skipping the decorations and lean on a good playlist (his includes Motown's finest, Afrobeats, and a lot of Dizzy Gillespie) so you can focus on enjoying the people at the table.
💆 Chef Carl Dooley at Mooncusser said good food doesn't need to come with stress. For seasoned cooks, there's always "a fun little pressure to bring something that's cool or different," he said. But that doesn't have to mean complicated. Having a stressed out host will ensure a bad vibe, so instead, do something simple that people will remember like making your own sauce for a shrimp cocktail or trading in a whole turkey for turkey quesadillas.
🍸 Tom Schlesinger-Guidelli, owner of Alcove and Hook + Line, said drinks can be easy. A self-proclaimed "wine friend," Schlesinger-Guidelli said that you don't need to be a master mixologist to make a successful drink spread. Case in point: Instead of stressing over wine options, buy a "festive" magnum bottle (a.k.a. jug wine) and call it a day. Or, if you're gonna do cocktails, pre-batch them (he suggests a gimlet) or set up a do-it-yourself bar with a recipe and let guests mix their own.
⭐ Alyssa Mikiko DiPasquale, owner of The Koji Club, said Friendsgiving "is the time for maximalism." "Thanksgiving is for family and tradition, Friendsgiving is for you to get a little weird," she said. In that spirit, she said it's important to make your contribution as you as possible (as an Italian, she always brings antipasto). If there's something you're really good at, "now is the time to flex" and make sure everyone knows it.
—Written by Gia Orsino
---
ADVERTISEMENT
TOGETHER WITH FLEXCAR
Add flexibility to your daily commute
🚗 💼 Over public transit, but not ready to buy a car? Enter Flexcar, your answer to affordable, flexible, and hassle-free transportation in Boston. No more hefty down payments, hidden fees, or long-term contracts. With a simple monthly payment (that includes insurance), you'll get instant access to wheels at 10-20% the cost of typical car ownership without the commitment of a long term contract. Sign up with code: BSIDE100 to get started and get 100 free miles ($50 value) on us!
---
CITY
Quick & dirty headlines
Image by Craig F. Walker/Globe Staff
🚧 Part of Boston's green future just went up in smoke. In a surprising move, Boston Mayor Michelle Wu announced that the city will not participate in a Mass. program that would allow 10 selected cities to ban developers from including fossil fuels in new buildings. Why? Wu, who up until now seemed pretty enthusiastic, said it became clear that Boston would not have been chosen because the program wasn't intended for a city so complex. However, some advocates worry the decision had something to do with the pressure of real estate developers, who were happy to hear the news.
🚃 Mass.' transit leadership is finally back on track. Gov. Maura Healey officially appointed Monica Tibbits-Nutt as the state's new secretary of transportation on Monday. She's been the acting secretary since mid-September, when her predecessor stepped down suddenly after less than a year on the job. Although overseeing the MBTA, RMV, and state highway division is no easy task, (e.g., restoring pre-pandemic transit service and delivering on long promised transit improvements), advocates have been positive about the news, voicing confidence in Tibbits-Nutt's abilities.
☕ The one where Boston gets a Central Perk. The first ever Central Perk Coffeehouse (yes, like the one in "Friends"), is opening on Newbury St. today. Although it won't be an exact replica of the café we know from the show, the shop's decor will feature a modern twist on the original design (including the iconic orange couch). The menu — featuring mostly coffee drinks, sandwiches, and pastries — pays homage to moments from the show with items like Joey's Meatball Sandwich, Mama's Little Bakery Cheesecake, and Princess Consuela's Banana Mocha blend.
⛷️ Strap in: It's officially shredding season. There may not be snow in Boston, but thanks to a combo of chilly weather and snowmaking machines, two ski areas in Maine are opening for the season this week. Sunday River in Newry opens today for some season pass holders and daily lift tickets are available starting Wednesday. Sugarloaf in Carrabassett Valley will kick off its season on Friday with the help of 235 snow guns. Plus: Killington Mountain in Vermont opened last week with limited trails available.
— Written by Gia Orsino
---
ONE LAST THING
Message in a bottle
Illustration by Gia Orsino.
Twenty-six years ago, a fifth grader dropped a bottled message in the ocean off of Cape Cod. Last week, the message came back, along with a reply from a 71-year-old French fisherman.
The letter, which was written for a class assignment, was sent into the ocean in September of 1997, and found on Aug. 11 of this year by Hubert Eriau. Eriau happened upon the letter on a beach in Les Sables-d'Olonne, Vendée, France — more than 3,300 miles away — while he was picking up trash on the shore. Eriau's letter in response arrived at Oak Ridge School in East Sandwich last week.
Although Ben, the original letter writer, was not available for comment, the school says that they'll write Eriau back, thanking him for his note.
— Written by Gia Orsino
---
📜 Thanks for reading! Apparently, other letters from the same class have washed up in Greenland and France before. Wild!
💜Special shoutout to today's sponsor, Flexcar, for supporting local journalism and making transportation more affordable and accessible in Boston.
💃 Keep up with us @BostonBSide on IG, TikTok, and Twitter. Send comments and suggestions to [email protected].