The B-Side
Go, B-Side! It's ya birthday! 🥳
Plus: 🔥 An October "heat wave"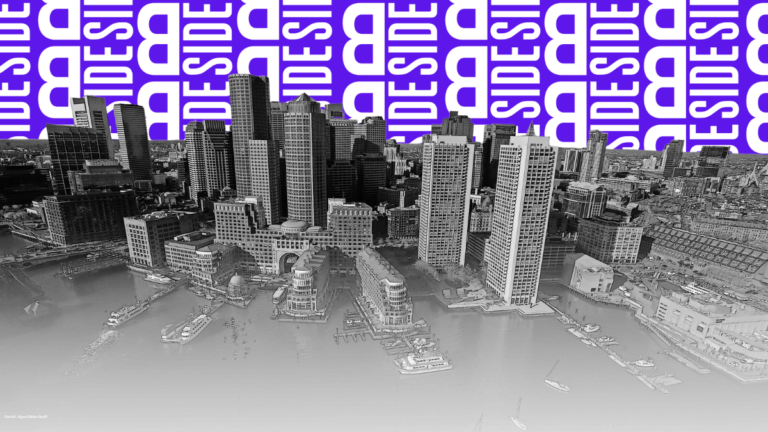 It's Wednesday, Boston.
😫 Green Line news has been pretty torturous lately. And we think this video probably captures exactly what you're feeling.
🎂 Also: HBD to reader Maddie Sims! We're B-Day buddies. <3
👀 What's on tap today:
GLX track work ahead
Finally, a sunny Saturday
America's spookiest No. 2
Up first…
---
THE B-SIDE
A year in review
Illustration by Gia Orsino
I believe a B-Side birthday shoutout is in order … for us.
Here's what to know:
🥳 Today is B-Side's first birthday. We started this newsletter 365 days ago with the mission of informing, connecting, and entertaining Bostonians with local stories they both need and want to hear, from Beacon Hill to Bennifer. After all, if staying up-to-date feels like a chore, you're not gonna do it! We like to think of ourselves as your informed friends helping you make sense of your community. And we hope that by reading B-Side, you too have become the in-the-know friend in your own circle who can debrief the squad on both the City Council election and the latest restaurant opening.
🤯 There are over 30,000 of you! Yes! There are technically more people subscribed to this newsletter than there are living in Wellesley or Milton! And that doesn't include our nearly 60,000 followers across IG and TikTok. Speaking of: If you don't already, be sure to follow us on IG and TikTok.
📱 Our videos have reached over 3 million eyeballs. Whether we're taste-testing the best pizzas around Boston; learning how to play pickleball at Harpoon Brewery; or keeping you up to speed on the latest MBTA nonsense (see: half of the Green Line Extension track needs to be redone), we've created over 100 memes and videos in the last year that (we hope) have made you feel smarter and smile.
👀 And we've got big things planned … We're thinking outside the inbox and hope to bring B-Side IRL with meetups and events in the coming year. Plus, if you really love B-Side, we're thinking of a membership option where you can get special perks to your favorite local businesses and early access to B-Side events all in the name of supporting local journalism. <3
🌟 Bonus: We have a new writer, too! You've probably seen her byline in the newsletter the past few weeks, but please give a warm welcome to Gia Orsino. She's a recent Wheaton College grad and has a gift for finding the weird and silly stories you read in One Last Thing.
💜 On a mushier note: Creating B-Side has truly been the most fulfilling, challenging, and wonderful experiences of our careers thus far. We love reading your emails and DMs and hearing how B-Side has helped you feel more connected with Boston. Special thanks to the duck boat tour guide who told us she uses some of our jokes on her tour (and that they land!).
😭 Long story short: WE LOVE YOU AND COULDN'T HAVE DONE THIS WITHOUT YOU.
---
ADVERTISEMENT
It's our party, we'll place an ad if we want to…
Pictured: ¾ of The B-Side staff. Image: Christina Geromini. Illustration: Gia Orsino.
🥳 For our birthday, we're asking for you to celebrate with us. It's no easy task launching a new media brand, especially one aimed to make local information more accessible to the next generation of Bostonians. If you're a brand looking to support the community and tell your story to our amazing (like, really amazing) readers, drop our GM, Andrew, a line at [email protected]. And if you're one of our incredible readers, refer a friend below — over 1,000 of you already have. Now … onto the news!
---
CITY
Quick & dirty headlines
Image: David L. Ryan/Globe Staff
🚃 Our GLX woes might have an end in sight. MBTA GM Phillip Eng announced the Green Line Extension's infamous track problems (narrowing tracks) could be fixed as soon as mid-November. Though, that timeline is still TBD: The T is currently mulling over two weeks of overnight work. This news comes during an already grim news cycle for the GLX, with power problems causing a total GLX shutdown last Friday, forcing some passengers to get off trains and walk. So yeah, emphasis on the might.
🎓 Mass. officials are encouraging affirmative action loopholes. In light ofthis year's Supreme Court ruling restricting colleges from considering race in admissions, Gov. Healey and AG Campbell have offered guidance to Mass. colleges and K-12 schools on how to pursue diversity without breaking the rules. Some of their suggestions include: Encouraging schools to view students holistically in the application process, forming relationships with schools that have low-college attendance rates, and offering application Qs that give students a chance to talk about race.
☀️ Get ready to ditch your fall jacket this Halloweek. In case you haven't checked your weather app, there's a "mini-heatwave" coming to Boston this week, starting today. And by heatwave, we mean in the 70s. But still! It'll be in the mid-70s all week, culminating in a 77-degree Saturday with sunny skies. Every. Single. Day. Don't worry, though, our fall vibes will return in full force on Sunday, when we can expect the temps to cool back down to the low 60s.
🍝 Looking for somewhere new to eat? You're in luck.Yelp released its list of the 50 best Greater Boston restaurants, and 21 local restaurants made the cut, from downtown's Café Bonjour, Mamma Maria's in the North End, and the South End's Cafe Polonia. There's a little something for everyone on the list, but the most represented group, taking up almost a quarter of the list, is Italian food (shocker). Bonus: The super-anticipated Windowmaker Taproom in Brighton is set to open tonight!
— Written by Gia Orsino
---
ONE LAST THING
America's spookiest No. 2
Illustration: Gia Orsino
Salem: The birthplace of the Salem Witch Trials, home of the world's largest Halloween celebration and … America's second spookiest city.
Yes, you read that right. New Orleans has been ranked No. 1 on Viator's list of America's spookiest cities leaving Salem in the dust. Why? It's apparently known as "America's most haunted city." And … I have some things to say.
According to Google, haunted means most frequented by a ghost, while spooky implies a sinister or ghostly atmosphere. Therefore, the fact that New Orleans has the most ghostly activity doesn't really make it the spookiest town.
So, if you're looking to meet a ghost, you should head to NOLA. But if you're looking for America's spookiest city, just hop on the commuter rail. Case closed, your honor.
— Written by Gia Orsino
---
👻 Thanks for reading! No harm, no foul, though. We can just chalk this one up to semantics.
🏘️ The results are in: Readers were split on whether Gov. Healey is doing a "great" or "fine" job, with many readers mentioning the housing crisis. One said, "Housing is still such a huge issue and I'm not seeing much of a push to resolve it."
💃 Keep up with us @BostonBSide on IG, TikTok, and Twitter. Send comments and suggestions to [email protected].