The B-Side
How to tidy up your head space 🧠
Plus: Step aside, dating apps.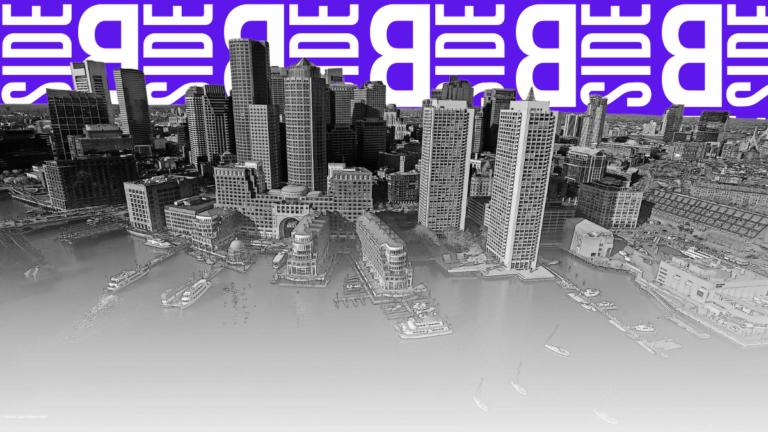 It's Tuesday, Boston.
🛳️ Here's a welcome wintertime distraction: The Steamship Authority is officially accepting Nantucket ferry reservations. Book yours here. Remember: only 155 days until summer.
👀 What's on tap today:
Boston matchmakers' time to shine
A secret concert
Coyote on the loose
Up first…
---
MENTAL HEALTH
How to tidy up your (head) space
Illustration: Katie Cole
Whether you find yourself living in clutter because you're mentally overwhelmed, or you're mentally overwhelmed because you're living in clutter, you're likely familiar with why it can feel so difficult to tidy up:
"Lack of motivation. Lack of energy. Lack of time. General fatigue. General apathy. And just straight up overwhelm," according to Dr. Natalie Dattilo, a clinical psychologist at Brigham and Women's Hospital. "The state of our space can be a reflection of the state of our mind."
So if you're looking to declutter both your physical and mental space in the new year (but aren't quite ready to Marie Kondo your life), Stasia Steele, a professional organizer and owner of The Little Details in Cambridge, has some low-hanging fruit advice:
🗑️ Take out the trash and recycling. Throwing away items you already planned to throw away is half the battle, and you'd be surprised by how much stuff gets cleared out. So yes, this means actually breaking down those Amazon boxes.
⏱️ Try a 15-minute tidy before bed. Just set a timer and go. Take the dishes into the kitchen. Put them in the dishwasher. Having a clean space the next morning will make your day feel 10 times easier. And it's a great habit to prevent future mess.
📦 Prioritize function. Meaning, put your coffee cup and coffee directly next to your Keurig. Having all your items that you need to complete a task in one space means less time spent ping-ponging around the house.
🏃 Just start somewhere. But don't go too hard. When analysis paralysis creeps in, Steele counts herself down from three, and without thinking, just starts cleaning. But she still recognizes that "every single object that you touch is a decision," making it easy to get decision fatigue. So if you do plan to declutter, only focus on one corner of a room, or only do it for an hour or two to avoid burnout.
---
CITY
Quick & dirty headlines
Illustration: Katie Cole
💑 Boston-area matchmakers are having a moment, thanks to a mixture of dating-app fatigue, privacy concerns, and the sheer desire to be cuffed for good. One Boston-based matchmaker said she's seen over a 25% bump in business compared to pre-pandemic times. Shout out to COVID for helping us realize that deliberate connections are actually nice. And while these services may be old school, they aren't just for your parents. One local matchmaker has seen plenty of 20-somethings in her database as of late. But it'll cost you — typically a few thousand dollars.
⚖️ Advocates want more Latino representation in Healey's cabinet. Leaders in the Latino community recently called attention to the fact that Healey's admin hasn't named a Latino to a Cabinet-level position. And with only a few cabinet picks left, some advocates went as far as crowd-sourcing and creating a list of more than 140 qualified candidates for the remaining roles and passing it along to her admin. This push for more Latino representation comes as Mass.' Latino population continues to grow, currently making up 12.6 percent of the state's total population.
🏆 Looking for a new job? You might want to check the hiring sites of the 10 Mass. businesses that made Glassdoor's 2023 list of best large companies to work for. Coming in third was Boston-based management firm Bain & Company, a regular on Glassdoor's list over the years. Other top-10 finishers included Natick's MathWorks at No. 6 and Boston Consulting Group at No. 7. Telemynd, a mental health services company and Berkshire Residential Investments also made Glassdoor's list of the best small and medium-sized places to work, too.
---
THINGS TO DO
Get out of the house
Gif: US National Archives via Giphy
🧑‍🚀 See an out-of-this-world exhibit with the immersive Space Adventure: The Arrival of Man on the Moon in Chelsea. Take a look at over 300 original NASA items and experience a simulated departure to the moon. Tickets are $33.28. | Jan. 18 to Feb. 26.
🛍 Buy from Asian American makers and businesses at the Dear Asian Americans Makers Market. FREE | Wednesday, Jan. 18, 4 to 7 p.m.
📎 Put your Dunder Mifflin knowledge to the test with The Office-themed trivia night at Lord Hobo Seaport. | Wednesday, Jan. 18, 7 to 9 p.m.
😂 Laugh all night at the Amateur Comedy Contest at The Burren. Amateur comedians compete for cash prizes and veteran comedians try out their new work. FREE, no cover charge. | Wednesday, Jan. 18, 10 p.m.
🎶 Hang with us at a secret concert. The B-Side team and Sofar Sounds are hosting a concert in Southie this Thursday. The catch? You won't know who's performing or where the show is until 36 hours before it starts. Tickets are $24. | Thursday, Jan. 19, 7:30 p.m.
---
ONE LAST THING
Coyote on the loose
Image: John Tlumacki/Globe Staff
So, there's a coyote on the loose in the city.
A concerned resident contacted Animal Care and Control after spotting one on Marlborough Street last Thursday. Which was followed by Animal Control and Massachusetts Environmental Police Officers making a valiant, but unsuccessful, attempt at catching the coyote.
But don't fret, coyotes are naturally scared of people, according to the Mass. Division of Fisheries and Wildlife. So if you see one, loud noises or bright lights should be enough to scare it away. Just don't let out a "meep meep."
---
🍝 Thanks for reading! Need a midweek date night idea? North End restaurant Ciao Roma is offering a three-course dinner for two for $49 on Mondays and Tuesdays (and the menu looks delish).
💃 Keep up with us @BostonBSide on IG, TikTok, and Twitter. Send comments and suggestions to [email protected]