The B-Side
Hurricane Lee: What to know 🌀
Plus: 🍩 Dunkin's latest concoction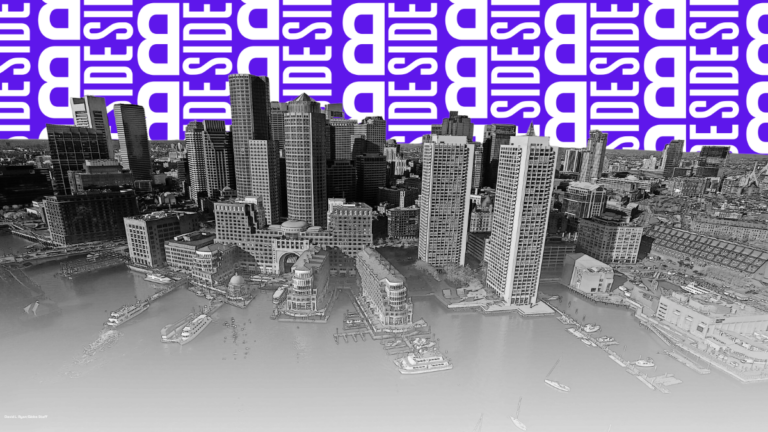 Happy Friday, Boston!
🥳 We've got three things to celebrate today:
It's the first day of Hispanic Heritage Month.
It's the first day of Rosh Hashanah. Shana Tova!
Boston.com just released a running list of the best college discounts in town.
👀 What's on tap today:
Trouble on the T
The CBO is O-U-T
Ice Spice Munchkins
Up first …
---
WEATHER
The latest on Lee
Image: NOAA via NASA. Illustration: Emily Schario.
The best way to cap off Boston's second rainiest summer? A hurricane. Hurricane Lee is expected to graze the coast of southern New England starting from tonight into Saturday morning, bringing tropical storm strength wind, rain, and storm surges, across eastern Mass., in addition to impacts around New England.
Here's what to know:
🌀 The Cape and South Shore will bear the brunt of it in Mass. A tropical storm warning is currently in effect for the Cape, islands, and most of the South Shore, with wind gusts up to 60 mph. "Wind is the biggest threat on the Cape," National Weather Service meteorologist Rog Megnia said. There's also a chance of hurricane force wind gusts. While some storm surges are expected, the peak is forecast to happen at low tide, which should hopefully lead to only minor flooding.
👀 The Boston area is under a tropical storm watch. The worst of the storm should miss Boston, but conditions are still expected to be similar to a nor'easter: Wind gusts around 30 mph, one to four inches of rain, and the potential for urban flooding and sewage overflows. But one area to watch is power outages. "The trees are fully leafed," Megnia said, making them heavier and more susceptible to falling limbs. And since the soil is so saturated from recent rain, there's an increased risk for trees uprooting, leading to downed power lines and other damage.
🌧️ Farther west? It may just feel like a windy, rainy day. Some good news is the storm did trend a little bit farther east, meaning areas outside of I-95 should only have a strong breeze with light to moderate rain (assuming this forecast holds).
🧻 You don't need to panic buy toilet paper, but … just to be safe, Mayor Wu is urging Bostonians to prepare for the storm by putting together emergency kits with flashlights, batteries, and non-perishable food items, charging cell phones, tying down outdoor furniture and trash cans, and elevating items stored in the basement. All of these tips and more can be found in the state's storm preparation checklist.
🚨 Just remember: Lee's path still has the potential to shift west (making it worse) or east (having less impact). Be sure to keep tabs on the storm's path on the National Weather Service Boston's X account — we like their easy-to-read visuals — and sign up for emergency notifications through AlertBoston.
☀️ The good news? In true New England fashion, Sunday is set to be a September stunner.
---
CITY
Quick & dirty headlines
Image: Pat Greenhouse/Globe Staff
🚇 Feds to the MBTA: Get it together, or we're shutting you down. The FTA sent a scathing letter to the MBTA's GM, citing four incidents where trains came dangerously close to hitting workers on the T's tracks … and the T didn't report them. This letter comes five months after a nearly identical one citing worker safety concerns, so now the FTA is putting the T on a short leash: If the agency doesn't report all near misses within two hours and provide a report within 30 days, they're cutting off track access until officials are confident they can keep workers safe.
⚾ The Red Sox's Chief Baseball Officer is OUT. If you know nothing about Chaim Bloom's tenure as the Red Sox's CBO, here's a quick primer: We won the World Series in 2018, Bloom was hired in 2019, and ever since, he's been stripping the team of its stars (Mookie Betts, Xander Bogaerts, etc.) and replacing them with a motley crew of veterans and prospects, effectively driving the Sox into the bottom of the AL East. The result? Lots of empty seats at Fenway. The hunt for the next CBO begins, and until then, the team's future looks fuzzy.
🤔 Should Boston change the name of Faneuil Hall? Bostonians don't know much about Peter Faneuil, for whom the building is named after. He was a local, a businessman, a philanthropist … and a slave trader. But should knowing that history change the way the city remembers him? According to a 2021 survey, over 50% of Bostonians think so. This latest piece from The Boston Globe offers a comprehensive history of Faneuil's involvement in the slave trade, the building, and the renaming efforts, giving you the opportunity to decide for yourself.
😋 Two local restaurants are making national headlines. Bon Appetit just released its list of "The 24 best restaurants of 2023," and Moëca in Cambridge and Rubato in Quincy made the cut. The BA team raved about Moëca's scallops, semolina gnocchi, and taramasalata (a fishy Greek dip), noting their sensible and curious approach to seafood. And Hong Kong–style café Rubato got tons of love for their warm bolo baos and thick slabs of French toast stuffed with condensed milk and cookie crumbs — the sign of a confident chef putting on his own spin.
---
THINGS TO DO
Weekend plans
Image: Sustainable Business Network
🍅 Taste the flavors of New England. The Boston Local Food Festival is back for its 13th year at the Rose Kennedy Greenway on Sunday with over 60 local vendors, and most importantly, free samples!
🤘 Punk up your workout. The Boston Public Library is kicking off Punk Rock Week this Saturday with a free Punk Rock Aerobics class. No experience necessary, but definitely bring your air guitar.
🍺 Hold a stein at Dorchester Brewing Co. Their Oktoberfest runs today through Sunday with German beer flights, food specials from M&M BBQ, and traditional tunes from local bands. Entry is free!
🎃 Dip your paintbrush into spooky season. Studio by Garden Streets is hosting a Fall/Spooky Season Glassware Painting Workshop, where you'll bring home two personalized beer, wine, or pint glasses.
🚶 Go for a car-free stroll at Open Streets Dorchester. A swath of Dorchester Ave between Ashmont St. and Freeport St. is open to pedestrians, cyclists, and bladers Sunday afternoon.
✨ Spice up Sunday with drag bingo. Time Out Market Boston's resident drag queen Plane Jane will host Pop Divas Drag Bingo, with a hefty side of performances and Bingo prizes.
🎛️ Snag last-minute, EDM music fest tickets. There are still tickets available for Breakaway Boston tonight and Saturday at Suffolk Downs.
Written by Claire Nicholas and Emily Schario.
---
ONE LAST THING
Ice Spice Munchkins Drink
Image: AP
Tired: Pumpkin spice latte. Wired: Ice Spice Munchkins Drink.
This collab between rapper Ice Spice and Dunkin' is the latest addition to their fall menu, which is essentially just pumpkin spice Munchkins blended up with frozen coffee (which honestly sounds delicious).
In true Dunkin' fashion, the drink was announced in this silly commercial that features, you guessed it, Ben Affleck, where the two stars debate what Ice Spice's special drink should be.
And since she calls her fans "Munchkins," this drink combo made perfect sense to her. Ben Affleck? Not so much. You can watch the whole thing here.
---
🎃 Thanks for reading! Hot take: I would like to see more Ice Spice and less Affleck in these Dunkin' commercials.
💃 Keep up with us @BostonBSide on IG, TikTok, and Twitter. Send comments and suggestions to [email protected].