The B-Side
Life is longer in these zip codes 👵
Plus: 🌳 Boston's Lorax moment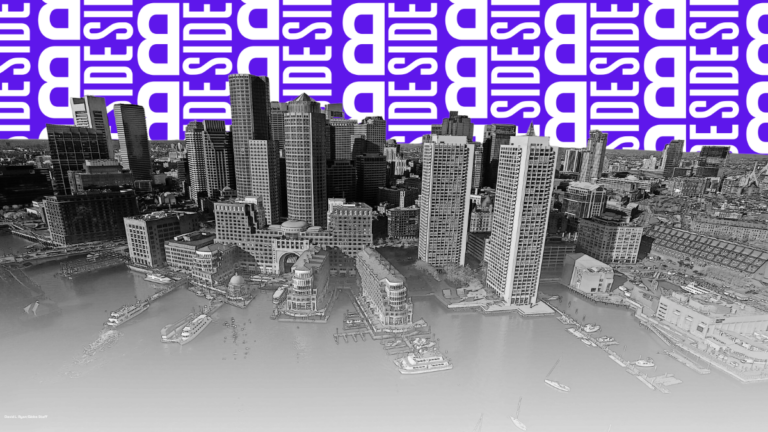 It's Monday, Boston.
🥳 It's also B-Side reader Presley Ackeret's birthday! Happy 27th, Presley. If you don't have B-day plans, South End Buttery is doing a spring prix fixe menu where you can get an entree, salad, and unlimited fries for $28 (you can add a cocktail for another $10). Enjoy!
👀 What's on tap today:
The C's are moving up
Boston's Lorax moment
Adult Lego night
Up first…
---
HEALTH
The key to a long life: Your zip code
Image: Carlin Stiehl for The Boston Globe. Illustration: Katie Cole
Your neighborhood could be an indicator of how long you'll live. At least that's according to a new report from the Boston Public Health Commission. The study looked at mortality rates among Boston residents from 2017 to 2021 and found that, while numbers have technically improved since the last study, deep health inequities still remain.
Here's what to know:
😳 There's a 23-year difference in life expectancy between two neighborhoods. Arguably the most striking data point of the study, the average life expectancy in one census tract of Back Bay was almost 92, compared with another in Roxbury that was just shy of 69. Dr. Bisola Ojikutu, executive director of the commission, told Boston.com that these disparities are "disturbing, but they're not necessarily surprising."
💰 Especially when you look at factors like race, income, and education. The Back Bay census tract is nearly 82% white, while the Roxbury one is 87% people of color. $141,250 is the median household income for the Back Bay tract, over $100,000 more than the Roxbury one. And the number of adults over 25 in the Back Bay neighborhood with a college degree is more than double the Roxbury tract.
📈 These trends persist in other mortality measurements, too. The average life expectancy for Boston residents decreased by 2.4 years, largely thanks to COVID. Latinx residents saw the biggest drop (4 years), followed by Black residents (3.3 years) and Asian residents (3 years). White residents saw the smallest drop (1.1 years). Also, in 2021, the premature mortality rate, i.e., dying before 65, was more than twice as high in Dorchester and Roxbury than it was in Back Bay, Downtown, and Beacon Hill.
🩺 But the hope is this data will jumpstart real change. According to Dr. Ojikutu, it has before. The 2012 report prompted the creation of the Whittier Street Health Center's Boston Health Equity Program. "I think it definitely created change and improved life expectancy," she said, "but I think the point of highlighting these data and publishing this … is the fact that we need to do more."
---
CITY
Quick & dirty headlines
Adam Glanzman/Getty Images
🏀 The C's are going to the Eastern Conference Finals (again). Despite stringing us along for an emotionally taxing seven-game series, the C's got it done with a blowout 112-88 win over the 76ers. Jayson Tatum was the star of the show, scoring 51 points — a record for a Game 7. The C's will face off against the Miami Heat in the Eastern Conference Finals for the third time in four seasons. Game 1 in that series tips off Wednesday at the Garden.
🗳️ The Boston voting map drama continues. Less than a week after a judge tossed out the City Council's proposed political map due to using race as a predominant factor, Mayor Wu proposed her own map to speed up the process. Her goal is to have cohesive neighborhoods remain within a single district, rather than split among seats (like in the previous map). The deadline to get this map buttoned up is May 30, so we're cutting it kinda close. You can see what Wu's proposed map looks like here.
🌳 Boston wants you to help grow the tree canopy. Mayor Wu announced on Friday that the city partnered with Mass Audubon to help residents learn how to grow and take care of trees on private property (over 60% of Boston's tree canopy is privately owned). Mass Audubon will lead a group of other non-profits in the Tree Alliance, which will focus on communities of color that live below the poverty line where the tree canopy is less dense. This comes as the City Council is thinking about regulating the removal of trees on both public and private property.
🚂 T-Swift Commuter rail tix are long gone. The saga continues.3,230 additional Commuter Rail tickets for the Eras Tour trains were made available on Friday, and all Boston tickets sold out in less than 90 seconds. Providence tickets sold out on Sunday. The mTicket app reached a peak of 20,000 requests per minute to snag the remaining seats. But for the unlucky Swifties who don't know how they're getting to Gillette on Sunday, the existential question remains: Is it better to have scored Taylor tickets or not scored Taylor tickets?
---
THINGS TO DO
Weekday plans
🧱 Build something new at Adult Lego Night at the MFA.
🎞️ Watch Stonebreakers at Emerson Paramount Theater, a RoxFilm Fest pick highlighting conflicts around monuments that came about during the George Floyd protests in 2020.
🥞 Eat, drink, and be artsy with the Pancakes and Booze Art Show at MIXX 360 Nightlife in Malden.
🧣 Put your Taylor Swift knowledge to the test with Taylor Swift Trivia Night at the Samuel Adams Boston Brewery.
🎉 Sample and shop at the grand opening of Nubian Markets, a new market, cafe, halal butchery, and community space in Roxbury.
---
ONE LAST THING
They're all in this together
Got the Monday blues? Here's something to pick you up: An entire Boston high school senior class is going to college.
All 38 members of the Cristo Rey Boston High School class of 2023 have been accepted to college, and a quarter of them are going on full ride scholarships. Cristo Rey is a private school in Dorchester that serves families with limited economic resources. School president Rosemary Powers said that many students will be the first in their families to go to college.
Congrats, Cristo Rey seniors!
---
🥲 Thanks for reading! Graduation season always makes me emo!
🏈 The results are in! And they were closer than I expected. 60% of respondents to Friday's poll said they were pumped that Tom Brady would be celebrated at Gillette this upcoming season. The other 40% were annoyed and think he's a traitor.
💃 Keep up with us @BostonBSide on IG, TikTok, and Twitter. Send comments and suggestions to [email protected]