The B-Side
Make Boston fun again 🕺
Plus: 🚇 The sky is falling.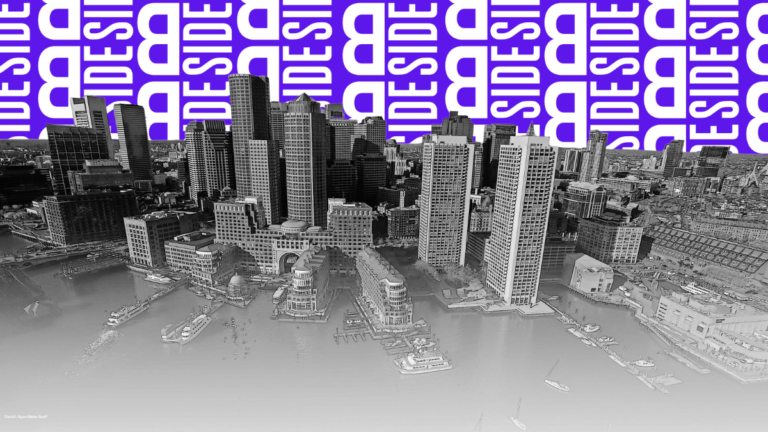 It's Monday, Boston.
🍪 PSA: Crumbl Cookies just opened its first Boston location in Brighton. Which means it's your time to become the city's first Crumbl Cookie review TikToker. Or, you can just get a good cookie.
👀 What's on tap today:
The sky is falling
Extra restaurant fees
In a pickle(ball)
Up first…
---
CITY HALL
Make Boston fun again
Image via City of Boston. Illustration: Katie Cole
Corean Reynolds, Boston's first-ever director of nightlife economy, starts today. And while she has arguably one of the most interesting city job titles, being in charge of sprucing up Boston's buttoned-up late-night scene is no small order.
Here's what you need to know:
👀 Her plans. During a press conference last month, Reynolds said she'd prioritize increasing the amount of nighttime options across all Boston neighborhoods, improving after-hours transportation, and boosting public safety for those who are out and about at night (for both work and play). She is also tasked with advancing the city's post-pandemic recovery efforts and Wu's vision for a 24-hour neighborhood downtown.
🍸 What the people want. We asked B-Side followers on Instagram: What's the first thing they'd do to improve Boston's nightlife scene? The responses were overwhelmingly two things: make the T run later and bring back Happy Hour drink specials.
🚇 What businesses want. The T and alcohol are also top of mind. Scott Feldman, the marketing manager for City Winery, told the Globe that if the T stays open later, people will stay out later, meaning they could double book shows and boost alcohol sales. Olrie Roberts, owner of ZaZ Restaurant in Hyde Park, told the Globe that he hopes Reynolds will elevate the voices of BIPOC residents and business owners in conversations about expanding liquor licensing (a report found that only 2% of on-premise liquor license holders identify as Black).
🤔 What can she actually do? When it comes to the requests listed above, not a whole lot. Expanding liquor licenses and the T's operating hours fall under Beacon Hill's purview. And Happy Hour drink specials have been banned statewide since the 80s. But even though Reynolds can't fix those big-ticket items on her own, she can still start the conversation. Plus, Segun Idowu, the city's chief of economic opportunity and inclusion, said she'll also be focused on how "we're redefining nightlife to be something that's more than clubs and more than restaurants and bars."
But let's not get ahead of ourselves. It's only her first day.
---
CITY
Quick & dirty headlines
Image via MBTA.
🚇 The sky is falling at Harvard Station. Or at least the ceiling is. New video released on Friday shows a corroded, 25-pound ceiling panel nearly landing on a rider. While they passed inspection in 2021, these ceiling panels aren't spring chickens, as they've been in place since 1978. Since the incident, the MBTA's interim GM has ordered the removal of several other ceiling panels at Harvard station and others to ensure it doesn't happen again. So if you see a bunch of holes in the ceilings at your T stop, that's why.
🏠 Rent control advocates don't think Wu's plan is enough. Advocates voiced support for a stronger rent control policy to counter Boston's affordability problem during the Boston City Council's second public hearing on Wu's rent stabilization plan. Wu's current proposal caps rent hikes at 10% each year and exempts new buildings from the cap for 15 years. But advocates are asking her to cap it at 5% and shorten that exemption period. The council is set to hold a session to propose any tweaks to the policy this week.
👀 Have you noticed those extra fees on your restaurant bills? Some local joints are adding a single-digit tax as a way to boost pay for the dishwashers, line cooks, and other back-of-house workers who can't receive tips. Others are adding a 20% "fair wage surcharge" to the bill to ensure that every staff member gets paid at least $17. But no matter how it's done, it's the restaurant industry's way of trying to fix a broken system. And these extra fees appear to be here to stay.
🏈 Mac Jones may have some competition for starting QB. And his name is Bailey Zappe. Jones is still expected to be the Pats starting quarterback this fall, but Zappe will at least have a chance to push Jones for the job, according to The Athletic. There's hope that Jones' lackluster performance last season can be fixed with a more experienced offensive coordinator. But at the end of next season, the Pats will have to decide if they want to stick with Jones again. And if the answer is "no," we could see more Zappe Hour in our future.
---
THINGS TO DO
Weekly checklist
Image courtesy of Emily Saul
🏃 Try a different workout. The November Project runs the stairs at Harvard Stadium every Wednesday at 5:30 and 6:30 a.m. rain or shine. And it's free.
📚 Catch up on a good book. Porter Square Books is hosting its monthly silent reading party, where you literally just read your book for an hour then chat about it. BYOB (books).
🍿 Watch something new. Boston.com has a great list of five must-watch movies and TV shows streaming right now.
---
ONE LAST THING
In a pickle(ball)
Image: Jim Davis/Globe Staff
Some Mass. residents are getting tired of the 'pop pop pop' of pickleball.
So much so, that some towns are getting noise complaints of the sound of the plastic ball getting smacked back and forth on the court. The Wellesley Recreation Commission even held a hearing on Friday to listen to complaints about the popping sport. Which somehow feels very on brand for Wellesley.
Pickleball has grown quickly over the past few years, with Mass. players having a particular love for the sport. Bostonians Googled 'pickleball near me' more than nearly any other city in the U.S. last year. So it looks like the 'pop pop pop' could be here to stay.
---
😬 Thanks for reading! As someone who frequents the deafeningly loud Boylston T stop, I have little sympathy for these Wellesley residents.
💃 Keep up with us @BostonBSide on IG, TikTok, and Twitter. Send comments and suggestions to [email protected]