The B-Side
If dinner and a movie had a baby…🍿
Plus: 👑 The queens are coming to Boston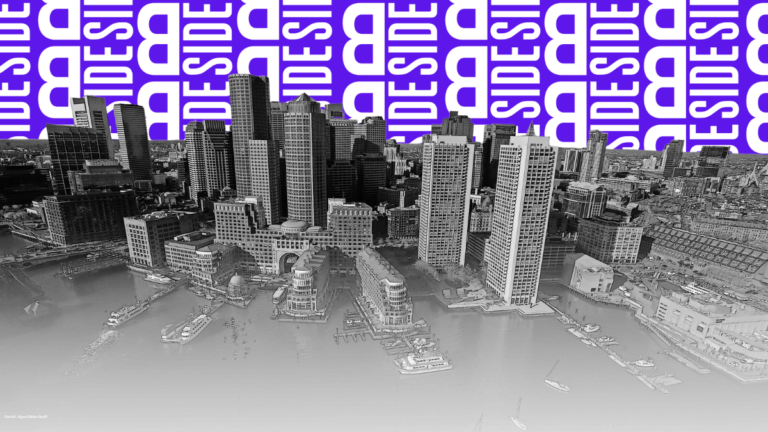 It's Tuesday, Boston.
🍁 It may not be not peak in Mass., but it's certainly starting in Maine. Here's what the leaves look like at Hanson Lake in Presque Isle, or as we Mainers call it "way up theyah."
🎂 Also: A happy belated birthday to B-Side reader Jack "JD" Descher. We appreciate you! Want a B-Side b-day shoutout? Respond to this email and we'll make it happen!
👀 What's on tap today:
The Pats' flop era
Fenway concert bender
Topsfield Fair champs
Up first …
---
RESTAURANTS
New month. New food.
Image: Alamo Drafthouse. Illustration by Gia Orsino.
You already know what time of the month it is. Boston.com assembled the monthly list of restaurant openings they're most excited about.
Here's what they picked:
🍿 Alamo Drafthouse, Seaport. The 40th location of this Austin-based movie theater chain is giving your popcorn and slurpee order a run for its money, serving up made-from-scratch comfort food, including pizza, wings, even French toast. Plus, there's an impressive lineup of craft cocktails and local beers, including a literal bar connected to the theater. But don't fret: There will be plenty of popcorn to go around. Take a look at this sample menu.
Things to try:
Brussels sprouts, bacon, and goat cheese pizza
Churro popcorn
Whiskey banana split shake
🦪 All That Fish + Oyster, Kenmore. This new seafood spot is the first of four new Fenway area concepts from culinary legend Garrett Harker (one of which is a new Eastern Standard). All That is taking a global POV on the classic mollusks and crustaceans. Yes, the menu has a lobster roll, but it also has lobster scallion pancakes and leche de tigre, a Peruvian method of curing fish with lemon juice, fish broth, and onion. Here's a sample menu for good measure.
Things to try:
Lobster scallion pancakes
Any of their crudos
Charred hamachi collar
🥗 Just Salad, FiDi. It appears that NYC-based restaurants are infiltrating Boston (see: Boqueria, Borrachito). But if it means we can have an alternative to Sweetgreen, it's probably for the better. Just Salad, the fast-casual salad chain making a debut in Post Office Square, is the first Mass. location, serving over 15 salads, as well as wraps, warm bowls, avocado toast and smoothies. Plus, the restaurant's carbon labels let you know the environmental impact of your meal. Here's the full menu.
Things to try:
Crispy Chicken Poblano salad
Thai Chicken Crunch salad
Honey Crispy Chicken wrap
🍕 June Bug, Somerville. If this new Somerville spot is anything like its sister restaurants Field & Vine and Dear Annie, it's poised to be a hit. The casual space is designed to give "a dinner party with friends" vibe, serving a changing seasonal menu with fresh, local ingredients. And it seems like their open kitchen with a wood-fired oven will be the star of the show, cooking up natural leavened pizza with unique toppings. Here's a look at their sample menu.
Things to try:
"Chimney sweep" pizza with spinach, spazza di camino, and pine nut agrodolce
Roasted oysters with shiitake cream, sourdough crumbs.
Upside down cake
🍸 Good Company, Charlestown. Seth Freidus is a cocktail mastermind. And after stints at Eastern Standard, Contessa, and Alden + Harlow, he's finally opening up his own concept showcasing classic spirits infused with gourmet ingredients (think duck fat, miso-roasted squash, and caramelized onion-infused tequila). The menu is still under wraps, but you can get a sneak peek on their IG.
---
CITY
Quick & dirty headlines
Image: AP Photo/Brandon Wade
🏈 The Patriots are in their flop era. "Uninspired, undisciplined, and unprepared," is how sports writer Chad Finn characterized the Pats' painful 38-3 loss against the Cowboys on Sunday, marking Coach Belichick's largest margin of defeat in his 29-year career as an NFL head coach. And while Belichick still stood up for QB Mac Jones after benching him in the third, Jones' tenure is clearly on the line. The team will have to decide where to pick up Jones' fifth-year option in May, and right now, he doesn't look worth the extra $4.95 million.
🧪 Massholes have one more thing to pound their chests about. Mass. native Drew Weissman, along with Katalin Karikó, were presented with the Nobel Prize in medicine for their research into mRNA, which contributed to the speedy development of COVID-19 vaccines. Though their research was done at UPenn, Weissman is originally from Lexington and attended Brandeis and BU. Karikó, as far as I know, has no Mass. connections, but her achievements are equally impressive.
🎸 Add another show to your Fenway summer concert bender. The weekend of July 19, 2024 is going to be lit. You've got Noah Kahan on Friday, Kane Brown on Saturday, and now, Foo Fighters on Sunday. The alt rock band is making their second stop of their Everything or Nothing At All Tour next summer to ring in their 11th album But Here We Are. This show will be their third time at Fenway, joining the likes of Kahan and Brown in the stadium's 2024 Nuclear Concert Series. Tickets go on sale at 10 a.m. Friday. You can get them here.
👑 The Queens are coming to Boston. Queen Bey (Beyoncé) and the Queen of Christmas (Mariah Carey) are both making appearancesin the city this year: one on the big screen, and one on the stage. After bringing the house down at Gillette this summer, Beyoncé's Renaissance tour movie will be coming to theaters on Dec. 1, and tickets are available for presale. In other queen-related news, Mariah Carey announced she'll be coming to TD on her Merry Christmas One And All tour on Dec. 11, and tickets will go on sale Friday.
---
THINGS TO DO
Weekday plans
Image: Studio by Garden Streets
🌿 Incorporate live moss into your decor. Jump on one of the newest trends in home decor with Studio by Garden Street's Moss Art Workshop. You'll go home with an eight-inch square live moss display.
🌮 Celebrate National Taco Day the Loco way. Loco is helping us all celebrate with a special deal: $25 gets you three tacos and a helping of chips and guac. Reserve ASAP!
😂 See some of the country's funniest stand-up. Comics you've seen on Netflix, Comedy Central, and HBO will be performing sets at Back Bay Social on Thursday. Tickets are only $10.
🍹 Meet at the corner of sandy and spooky. Tropical-inspired restaurant Shore Leave is undergoing their yearly Halloween transformation — their reopening today kicks off a month-long spooky extravaganza.
🤸 Work out for free with a river view. Join Barre3 at the Charles River Esplanade for a fun and effective barre workout, one of many free River Fit Fall classes coming to the Esplanade this month.
— Written by Claire Nicholas
---
ONE LAST THING
Topsfield Fair champs
AP Photo/Ed Zurga. Illustration by Gia Orsino.
The Topsfield Fair contest winners are raising the bar this year.
Winners of the pumpkin weigh in and the hot dog eating contest pulled off some seriously impressive (and in the case of hot dog eating, slightly horrifying) numbers this weekend.
The winning pumpkin, grown by Steven Sperry, came in at a whopping 2,198 pounds, about 129 times larger than a run-of-the-mill pumpkin, and just 282 pounds short of last year's fair record of 2,480 pounds. I mean, just look at it!
Meanwhile, the hot dog eating contest saw historic numbers, with champion Brandon Wood eating 11 quarter-pound hot dogs and buns in 7 minutes (the equivalent of 22 standard hot dogs), breaking his previous fair record set in 2022.
Besides my grudging admiration, Wood also won $205 for his feat, which doesn't seem like nearly enough.
---
🚽 Thanks for reading! Thoughts and prayers to Wood's stomach.
⚾ Only 40% of readers got Monday's Pop Quiz question right: Which Boston locale is NOT allegedly haunted?The correct answer is Fenway Park.
💃 Keep up with us @BostonBSide on IG, TikTok, and Twitter. Send comments and suggestions to [email protected].