The B-Side
What to expect when you're expecting a plant 🪴
Plus: 🍺 The hungry marathoner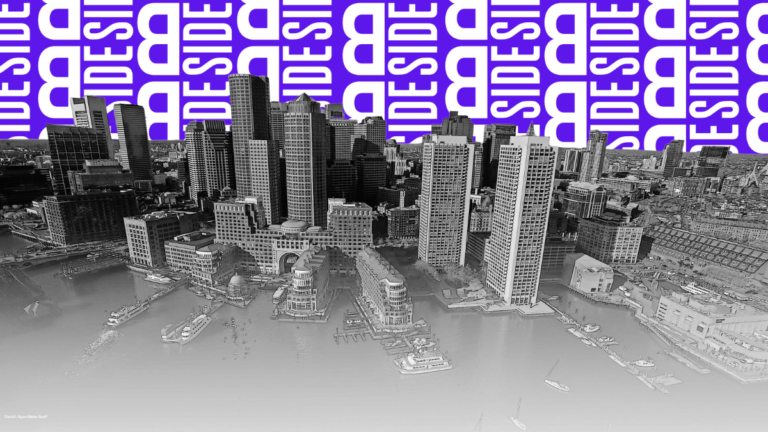 Happy Friday, Boston!
🎶 Earth Day might steal the spotlight, but tomorrow is also National Record Store Day. To celebrate, Boston.com created the ultimate guide to the best independent record stores in Greater Boston. 44 made the list, so there's plenty to pick from.
👀 What's on tap today:
B.A.A. speaks out
A Storrow-sized headache
The hungry marathoner
Up first…
---
SMALL BUSINESS SPOTLIGHT
The local plant queen
Footage and Gif: Katie Cole
Happy almost-Earth Day! Looking to add some green to your space this spring? Enter: Weslie Etienne Pierre. She's the owner of WesLeaf Designs and Decor and knows a thing or two about plant design and care.
Here's a little background on her business and her tips for being a good plant parent:
🥕 How it started: Pierre's plant passion started during the pandemic when she began growing her own produce. She then pivoted to decorative plants, both inside and outside, and shared her journey on her Instagram. She clearly had a knack for it as people started requesting her plant design magic in their homes.
🛍️ How it's going: Today, Pierre has a WesLeaf studio storefront in Needham and has held pop-up events across Boston, including a pop-up shop at The Current in the Seaport.
🤔 There's a lot to consider when picking a plant. Pierre starts with learning about the lifestyles of her clients to figure out which plants will work for them. And it's not just about the plant care, but also what container holds the plant and the way the plant feels in a space.
🌱 Looking for a starter plant? Pierre will ask you this: "Are you a person that's more of a plant neglector or an over interactor?" If you're a neglector, you need plants that you can set and forget. Yucca plants and snake plants are good for that, Pierre said. If you want to be more hands-on, she recommends a peace lily. "They droop when they're thirsty," Pierre said. "That's a plant that kind of talks to you."
🪴 Now that it's spring, you have to give your house plants a little extra love. All pots need to be re-potted every spring because that's when they go into the growing season, Pierre advises. Give them a pot no more than two inches in diameter bigger than their current pot and add nice, fresh soil. And remember, the sun gets stronger this time of year, so be mindful about where plants are placed in your house so their leaves don't burn. Lay off the grow lights, too.
✨ Want some green inspiration? Take a look inside the WesLeaf studio here!
---
CITY
Quick & dirty headlines
Photo courtesy of Dave Hashim/Pioneers Run Crew
👟 The B.A.A. speaks out about the Marathon Monday incident. CEO of the Boston Athletic Association Jack Fleming said in a statement that the organization "need to do better" to create a welcoming environment after police officers blocked a predominantly Black crowd of spectators from the course on Monday. Fleming said he met with the Pioneers Run Crew and the TrailblazHers Run Co. on Wednesday, where the groups shared their "deep concerns that they were not given the chance to enjoy the day and celebrate." Fleming's statement did not outline any concrete steps the B.A.A. will take to make the race more welcoming for BIPOC communities.
🚗 Prepare for a Storrow-sized headache, drivers. Storrow Drive will be closed five nights a week starting Sunday through May 21 for repaving work, according to the Mass. Department of Conservation and Recreation. The closures will take place from 8 p.m. to 5 a.m. and will impact the following: Storrow Drive (outbound) from Leverett Circle to Mass. Ave. and Storrow Drive (inbound) from Cambridge Street to Leverett Circle. Leverrett Circle and David G. Mugar Way will be closed from April 24 until April 28.
😡 North End restaurant owners are a little salty. Just a few weeks after the City of Boston announced new outdoor dining restrictions in the North End, the city turned Canal Street into a car-free playoff zone, allowing more outdoor dining options during home Bruins and Celtics games. One restaurant owner called the decision a "slap in the face." This news comes as a group of North End restaurant owners are suing the city over its new outdoor dining rules, where they allege that the city is discriminating against them for being white and Italian.
🦠 Add the norovirus to the wastewater tracker list. Cambridge-based Biobot Analytics is expanding its wastewater monitoring to include the norovirus, a highly contagious bug that will land you in the bathroom longer than you'd prefer. This is an exciting addition, as the CDC doesn't require cases to be reported, meaning current data offers a limited picture of just how bad caseloads are. Biobot's norovirus monitoring will be available to existing customers starting in May before it's opened to other communities.
---
THINGS TO DO
Celebrate Earth Day
🌱 Somerville celebrates SustainaVille Week with eco-friendly activities like a 'Depaving Party,' gardening workshops, and informational panels.
✍️ Improve your creative writing skills with a poetry workshop and nature walk at the Central Branch of the Boston Public Library.
💧 Clean up the Charles River during one of the country's largest Earth Day Cleanups.
🌎 See 'Our Planet Live in Concert' at the Emerson Colonial Theater. Ticket proceeds go to the World Wildlife Fund.
🍻 Grab free seeds and a drink at Lamplighter's Earth Day happy hour where you can connect with local volunteer orgs to get involved.
---
ONE LAST THING
The hungry marathoner
Image: Mary Schwalm/AP; Illustration: Emily Schario
Runners are often discouraged from taking food and drink from spectators on Marathon Monday. But that didn't stop TikToker Matt Choi (@mattchoi6) from indulging in a 10-course sampler of spectator treats during his trek from Hopkinton to Boston.
In addition to his normal gels, Choi channeled his inner hungry caterpillar and wolfed down several Twizzlers, orange slices, pickles, pretzels, freeze pops, beer, and … more beer. He documented all of his marathon course eats in this TikTok video that has over 1.4 million views.
And while Choi didn't turn into a beautiful butterfly, he did finish the race with an impressive time of 3:24:53. Twizzlers and all.
---
🍻 Thanks for reading! As someone who shied away from the Twizzlers (and beer) on the course, I have nothing but respect for you, Matt.
💃 Keep up with us @BostonBSide on IG, TikTok, and Twitter. Send comments and suggestions to [email protected].