The B-Side
The best things in November are free 🤑
⛄ Cold-weather outdoor dining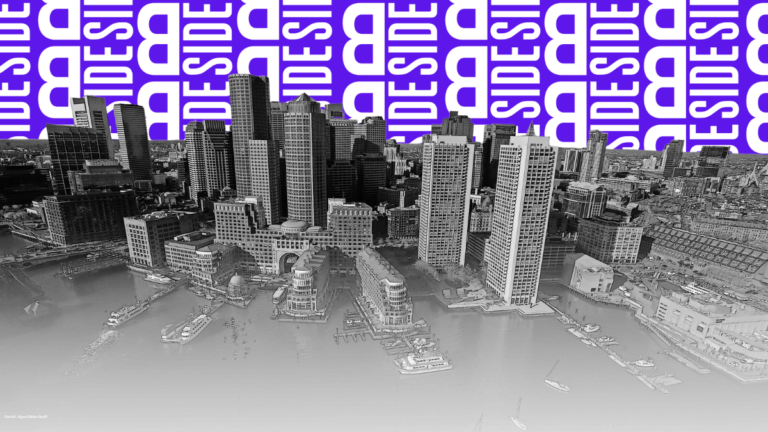 It's Wednesday, Boston.
🎧 Good news: Oct. 31 used to be the day Spotify cut off your listening data for its end-of-year Wrapped list, but this year, the platform plans on collecting info for a few extra days. Now's your chance (me) to prove that you didn't obsess over just one artist this year (Taylor Swift).
👀 What's on tap today:
An MBTA win is a win
Free COVID shots
Zillow scrolling, meet doom scrolling
Up first…
---
NOVEMBER FREEBIES
Eat, drink, and free merry
Image: Lindsay Ahern. Illustration by Gia Orsino.
October may be the best month of the year, but November is a close second: You can finally wear a sweater without sweating by 11 a.m., there's Thanksgiving, and it's socially acceptable to start listening to holiday music. At least, we think so.
But with the holidays around the corner, November isn't exactly cheap. So here's how to have fun for free:
💐 Head to the Pru for a flower fashion show. From Nov. 2 to 6, the Pru will be home to 16 mannequins decked out in exquisite gowns made entirely out of flowers as part of the Fleurs de Ville VOYAGE exhibit. What's even cooler is they're all designed by local florists. You can see what past exhibits looked like here. Bonus: Cast your vote for your favorite ensemble, and you'll be entered to win a free trip to Bermuda.
🛍️ Window shop around the Snowport. A chunk of the Seaport will transform into the Snowport on Nov. 10, featuring its iconic Holiday Market with over 120 vendors, most of which are women and minority-owned. Even if you don't buy a thing, there are tons of free samples that will leave you full. IMO, the best freebies can be found at Chequessett Chocolate, Crystal Rock Maple, and The Truffleist. Take a peek at all the goodies we noshed on last year.
🦃 Get Thanksgiving ready. If you're responsible for bringing something to Thanksgiving dinner this year, Boston Public Market is hosting a free demonstration on the craft of cookie baking and decorating; George Howell Coffee has a class on pairing coffee with Thanksgiving treats; or if you prefer just the eating part, you can indulge in all the holiday classics at a Thanksgiving cook-off between the Boston Fire and Police departments.
🎄 Don't forget: November is tree lighting season! You've got the Columbus Park Trellis lighting ceremony on Nov. 20, Faneuil Hall on the 21st, Martin's Park Ship on the 25th, Boston's official holiday tree (and Comm. Ave.!) on the 30th, and tons more. Here's the most up-to-date list of the biggest holiday lighting ceremonies around town.
❤️ One thing is always free this season: your time. Whether it's the Greater Boston Food Bank, Haley House, or local community fridges, volunteers and donations are hot commodities among nonprofits this time of year. Here's an easy one: If you've got extra spices lying around, the Boston Public Library launched a spice bank where folks can bring unopened spices to their local library branch to be shared with local families.
---
ADVERTISEMENT
TOGETHER WITH SNOWBOUND EXPO
The freebies continue!
🏂❄️ Last call for free tickets to the Snowbound Expo this weekend (Nov. 3-5). The expo is the biggest snow sports event in the Northeast, and will feature over 170 brands and resorts, plus a lineup of famous snow pros like Shaun White, Lindsey Jacobellis, and Ted Ligety. Grab your FREE tickets now with code BSIDE (normally $16/day at the door) before they sell out!
---
CITY
Quick & dirty headlines
Image: David L. Ryan/Globe Staff
🚇 This MBTA win could mean future commuting headaches. The 16-day shutdown on the Red Line's Ashmont/Mattapan branches was a much-needed MBTA success, eliminating all slow zones, allowing trains to run up to 40 mph where they used to crawl, and giving stations needed facelifts. According to GM Phillip Eng, imposing similar shutdowns to eliminate slow zones looks like an effective strategy, meaning they could be coming to an MBTA line near you soon. A win's a win, I guess.
💉 Need a COVID vaccine? Head to City Hall. Since we're on the topic of freebies, if you haven't gotten your flu or updated COVID vaccine yet, now's your shot (hehe). Starting today, you'll be able to get them for free without insurance in both the Bruce C. Bolling Building in Roxbury on Thursdays through Saturdays from noon to 6 p.m., and at City Hall on Mondays from 7 a.m. to 1 p.m. and Wednesdays from noon to 5 p.m. You can get all the info you need here.
⛄ Who says outdoor dining season is over? Not us. Time Out just released its list of the 10 best Boston restaurants for outdoor winter dining covering everything from igloos to fire pits. If those heated igloo-bubbles are your vibe, you can hang in one at 75 Liberty on Wharf in the Seaport; for a cozy meal by the fire with seasonal cocktails, Somerville's River Bar is the ticket; and for aprés ski energy without the slopes, enjoy a winter-themed menu in Southie at Publico's "The Lodge."
✈️ Still need to book your flight home for the holidays? There's a sale for that. Southwest's Halloween Sale is offering one-way flights from Boston for as low as $79 between Nov. 23 and May 22, including major holiday travel dates (Thanksgiving, Christmas, and New Years Eve!). The deal applies if you book a one-way base fare flight on a Tuesday or Wednesday, in addition to Nov. 23-24, Dec. 24-25, and Dec. 31. And if you're thinking of booking, act fast, because the sale ends tomorrow at midnight.
—Written by Gia Orsino
---
ONE LAST THING
A Zillow "Where's Waldo?"
Image courtesy of Maggie Coppola. Illustration: Gia Orsino.
With the dawn of November also comes the end of spooky season. But we can't fully let go without paying homage to one of the weirdest things we've ever seen: a terrifying, Michael Myers version of "Where's Waldo" in this Zillow listing from last year.
If you check out the pictures, you'll notice many of the New Hampshire listing's images include a masked figure lurking: behind curtains, with a hand in the knife drawer, peering in the window, or behind a tree. The creepy photos were staged by the listing agent and are said to be a Halloween-themed sales tactic. I still can't help but wonder: Who likes this?
Clearly someone does. The sale closed last fall for $375,000.
— Written by Gia Orsino
---
🏚️ Thanks for reading! Although, for $375,000 for a cute two-bedroom home, there isn't much that could scare me away.
💜 Special shoutout to today's sponsor, Snowbound Expo, for supporting local journalism and making winter 2023 an already unforgettable experience.
💃 Keep up with us @BostonBSide on IG, TikTok, and Twitter. Send comments and suggestions to [email protected].