The B-Side
Five new restaurants? Oui! 😋
Plus: 🍦 A museum made for TikTokers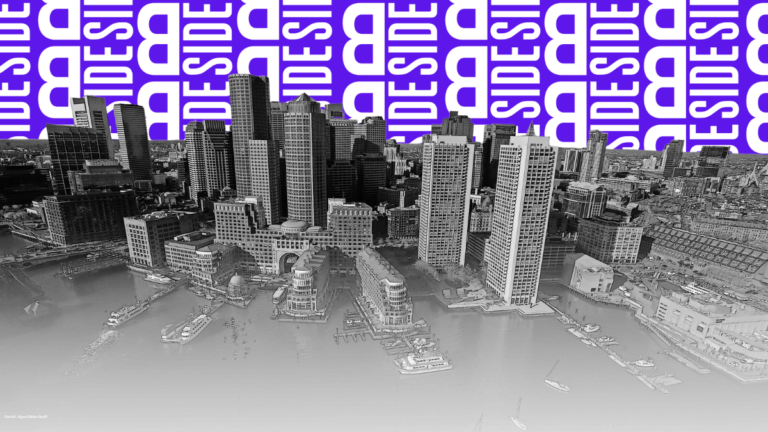 It's Tuesday, Boston.
🗳️ It's also municipal election day! If you glazed over Monday's newsletter (bad, reader!), here's what to know about Boston's City Council elections, from how to figure out which district you're in to an overview of all the candidates.
🔥 Like we've said: If you vote, you're an automatic seven — and a nine if you voted in the primary.
👀 What's on tap today:
Migrants max out
A museum made for TikTokers
Trick-or-chicken
Up first…
---
RESTURAUNTS
New month. New restaurants.
Image: Emily Kan Photography. Illustration by Gia Orsino.
It's the beginning of the month. You know the drill. Boston.com assembled a list of November restaurant openings they're most excited about.
Here's what they picked:
🦪Blue Ribbon Brasserie, Kenmore. If you loved Blue Ribbon Sushi and Pescador, there's a good chance you'll feel the same about Blue Ribbon Brasserie (it's from the same restaurant group). The original SoHo locale of BRB is where chefs like to grab a post-shift bite, and the folks at The Infatuation agree it's an undisputed NYC classic. BRB's vibes are unfussy and unstuffy, and its American cuisine with seafood flair (equipped with an oyster bar), is always consistent. The Boston menu isn't live yet, but you can see the NYC location's menu here.
Things to try:
Bone marrow and oxtail marmalade
Cheese fondue
Pu pu platters
🇫🇷DW French, Fenway. You may know Chef Douglass William as the brains behind Boston's soulful Italian spot, MIDA, but did you know he's trained in French cooking, too? He's flexing those skills in a new concept with a menu of French staples including escargot, steak frites, duck confit, and more. And, of course, there's an exceptional wine list to match. You can see the menu here.
Things to try:
French onion soup with broiled Gruyère
Hake en papillote
Escargot
🐟 Hook + Line, Seaport. Think of this restaurant as a clam shack you'd dress up for. Whether it's the seafood-centric menu or the floor-to-ceiling windows overlooking the water near the ICA, this new concept from Tom Schlesinger-Guidelli (the guy behind Alcove) is putting the sea in Seaport. You'll still find all your elevated New England classics like lobster rolls and fried clams, just add in a wood-fired grill and standalone fish market. You can see the menu here.
Things to try:
New England clam chowder
Fried Ipswich clams
Oven-roasted whole branzino
🍔Moxies, Seaport. If Canadians know one thing, it's poutine … and modern American cuisine. Both of which are on the menu at the new Boston locale of this Canada-based chain. You can enjoy everything from maple-glazed Brussels sprouts to nachos in this architecturally stunning, two-floor restaurant. Plus, the cocktail menu pays homage to the area, including the Marky Marg, made with Mark Wahlberg's tequila, pineapple, lime, and basil. You can see the menu here.
Things to try:
Tuna sushi stack
Chipotle mango chicken
Crab cake with lemon and dill cream
🍩Union Square Donuts, Harvard Square. This beloved doughnut shop is far from new, but its permanent set-up in Harvard Square certainly is. Fun fact: The Union Square Donuts team sold their goodies at Harvard Square's Tuesday Farmers Market back in 2017 (full circle!). In addition to cult faves like the Boston Cream and raspberry jam doughnuts, you'll also find Harvard-only treats, like maple coffee and iced chocolate. You can see the Harvard menu here.
Things to try:
Cranberry ginger French cruller
Vegan chai apple cider doughnut
Pumpkin spice latte doughnut
---
ADVERTISEMENT
TOGETHER WITH BHCHP
Get involved with the Boston Health Care for the Homeless Program
Ready to have some fun while making a positive difference in the lives of others? On November 16, Boston Health Care for the Homeless Program (BHCHP) will be hosting its annual Fall Soirée at Fenway's 521 Overlook. It'll be a festive evening with food, drinks, dance, and more, designed to introduce individuals to BHCHP's Emerging Leaders Board. For nearly 40 years, BHCHP has been at the forefront of addressing the health care needs of Boston's unhoused population and your attendance will help support their mission. Get your tickets today!
---
CITY
Quick & dirty headlines
Image: Johnathan Wiggs/Globe Staff
💔 There's basically no room at the inn. As of Monday, there are 7,439 families in Mass.' emergency shelter system, meaning the state is about to hit its 7,500 capacity limit. After that, families will be placed on a waiting list prioritizing those in more dire situations. The limit has sparked worry about what will happen to turned-away families, with concerns that they'll seek shelter in places like Logan or ERs. However, the state is attempting to free up shelter space by streamlining the work authorization process. BTW: Here's a guide to help local migrant families.
🚆 The train to NYC just got faster … five to 15 years from now. President Biden announced $16 billion in funding for Amtrak (and other agencies) Monday to revamp rail bridges, stations, and tunnels on the Washington-to-Boston corridor. The 25 different projects — which range widely in scope and size — will take somewhere between five and 15 years to complete, but will ultimately serve to make trains faster and more reliable. Case in point: Travel time from NYC to Boston is expected to be reduced by 30 minutes, and overall delay time could be cut in half.
🍦 My milkshake brings all the influencers to the yard. That's right, the international Museum of Ice Cream, a.k.a., a content creator's dream, is coming to the Seaport in 2024. The museum will feature many sweet offerings, including: a history of ice cream exhibit, an IG-famous sprinkle pit (think: ball pit, but sprinkles), unlimited tasting options, a Fenway Park-themed carnival, and an ice cream laboratory, but we're still TBD on the exact opening date. Fun fact: The museum's co-founder, Manish Vora, is from Wayland, so she knows her way around a J.P. Licks cone.
🦃 One Turkey Day dinner to-go, please! Can't bear to cook this year? Boston.com released its ultimate guide to Thanksgiving dining, a very comprehensive list of Thanksgiving offerings across Boston restaurants. The list covers spots that will have Thanksgiving-day menus, including sit-down dinner service with turkey and the fixings, to-go dinners that don't require you to lift a finger (just make sure to order ahead of time!), or even just a charcuterie board or a holiday dessert platter. Peruse the whole thing here.
— Written by Gia Orsino
---
ONE LAST THING
Chick-or-treat
Image courtesy of Michael Marotta. Illustration by Gia Orsino.
Quick! In one hand, I have a full rotisserie chicken from Market Basket. In the other, a full-size Snickers. Which are you taking?
That's the choice some trick-or-treaters faced at Michael Marotta's home in Maynard this Halloween, after he decided to double down on the popularity of a Facebook post he made joking about the idea. He and his wife ended up buying five chickens (you have to look at their trick-or-treating setup) and managed to give away two, one to an excited parent and one to a slightly confused trick-or-treater.
Shockingly, most of the kids seemed to prefer the candy, Marotta said. Plus: Chicken wasn't the only gourmet trick-or-treat offering this year. Another house gave out pierogies — which they cooked in their front yard.
— Written by Gia Orsino
---
🍗 Thanks for reading! A Market Basket chicken and a full-size Snickers is the ultimate gourmet girl dinner.
🗳️ The results are in: We knew it: B-Siders are hotties. That is, most of you vote in your local elections. 84% of readers say they vote in their local elections yearly. One said: "gotta vote so I can complain :)".
💃 Keep up with us @BostonBSide on IG, TikTok, and Twitter. Send comments and suggestions to [email protected].