The B-Side
Let's get fluffed up 😎
Plus: 🍝 Deep fried meatballs on a stick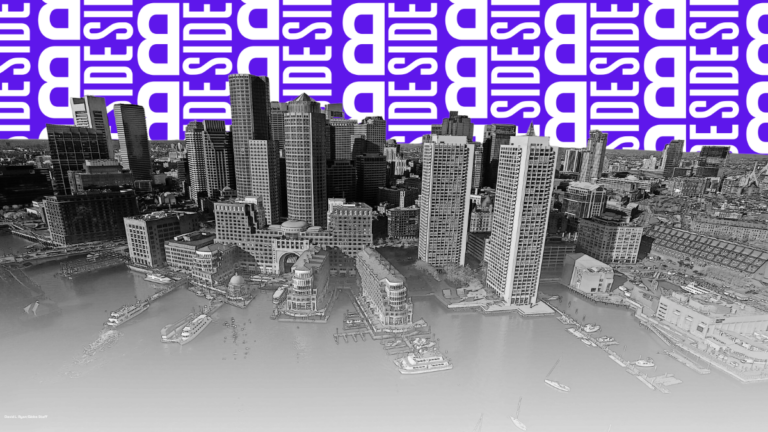 Happy Friday, Boston!
🍁 And a happy early first day of fall! The autumnal equinox arrives Saturday morning at 2:50 a.m. You can finally enjoy your pumpkin spice latte in peace.
👀 What's on tap today:
Tobin Bridge TLC
Central Perk
The Big E(ats)
Up first …
---
COMMUNITY
The stickiest festival around
Image courtesy of Union Square Main Streets. Illustration: Emily Schario.
This weekend, it's all about the Fluff in Somerville. The 18th annual What the Fluff? Festivalcelebrating the marshmallowy goodness kicks off Saturday from 3 to 7 p.m. in Union Square.
So if you're a Fluff Fest first-timer, here's what to know.
💡 Fluff was invented in Somerville. A local named Archibald Query had been making it in his kitchen and selling it door-to-door back in 1917, but wartime shortages forced him to close up shop. By the time the war ended, he was uninterested in getting back into the biz, so he sold his Fluff recipe to two men for $500 who, in today's lingo, took the brand to the moon.
🤝 At its core, Fluff Fest is all about celebrating community and innovation. Somerville is a hotbed for both scientists and artists, and "this idea of creativity and inventing is just core to who our identity is," said Jessica Eshlemen, executive director of Union Square Main Streets. Exhibit A: There's a robot building s'mores. Plus, the fest spotlights 200 local businesses that call this neighborhood home.
🦪 The treats go beyond your classic fluffernutter. Over 60 Somerville vendors and businesses nearby will be dishing up Fluff-inspired dishes, including a fluffernutter doughnut from Union Square Donuts, Oysters FLUFFefeller from Bluefin (yes, oysters), Fluffy naan from Himalayan Kitchen, blowtorched Fluff ice cream from Gracie's, and more. You can see the full list of Fluff specialties here.
👋 And you may want to bring some wet wipes for the Fluff-tivities. Their shenanigans stage puts bobbing for apples to shame. There's Fluff jousting, Fluff limbo, Fluff hairdo contests, and Fluff musical chairs (yes, your butt will be sticky). All of which bring "contagious joy" according to Eshleman. "I can't think of other festivals where you can walk around with Fluff in your hair and on your pants, and people are having fun with it," she said.
🚲 Heading over? Bike, boogie, or bus. That's what festival organizers are encouraging to minimize road congestion (parking will be a pain, too). If you're coming on two wheels, they're offering free bike valets, plus there are two BlueBike stations nearby. And despite the Union Square branch of the GLX being down, free shuttle buses will be running every 10 minutes from the East Somerville station to the festival from 2:30 to 7:30 p.m.
🌧️ Note: The weather is looking a little dicey, so organizers are going to make the call midday today if the festivities get bumped to Sunday. Stay up-to-date on the latest here.
---
ADVERTISEMENT
TOGETHER WITH BOCH CENTER
An inside look at Boston's music scene
🎸Looking to experience American history through the lens of music? Whether you're a history-buff, photography fan, or curious to know more about America's musical roots, the Boch Center is offeringtwo new incredible exhibits in its Folk Americana Roots Hall of Fame:
Bruce Springsteen: Portraits of an American Music Icon. Experience a guided tour of "The Boss's" extraordinary life and career through the span of over 40 intimate photographs.
Legends of Folk, Americana, Roots Music. Learn how legends of Folk, Americana, and Roots music have paved the way for generations of musicians and activists to speak their truth, address social justice issues, and act as modern-day troubadours reporting on the human condition.

Get your tickets today (only $25)!
---
CITY
Quick & dirty headlines
Image: Lane Turner/Globe Staff
🚧 Start emotionally preparing for Tobin Bridge closures. Officials have their eye on updating or replacing the bridge, which sees nearly 90,000 trips during the work week, but first, they're starting with a study to see what their options are. Luckily, once approved, the study will take about two years to complete before ground is broken. For now, MassDOT has approved over $109 million in TLC for the 70-year-old bridge. In other construction news, here's your reminder that the Sumner Tunnel will be closed every weekend through Nov. 10.
🏊 Boston College's swimming and diving teams are in an indefinite timeout. BC released a statement saying both its programs have been put on indefinite suspension due to credible reports of hazing. The school's student news outlet reported freshmen members of the team were allegedly directed to binge-drink alcohol, then consume their own vomit. This story just adds to the list of other hazing instances in colleges and high schools in the Boston area. There's something about the fact that both teams were last in their divisions that make this story even worse.
💼 The state of return-to-work downtown might be as returned as it gets. Many Boston employers have finally accepted the reality that forcing their employees to come into the office five days a week just ain't happening. At least for now. Keeping a hybrid schedule has not only been key in holding onto hot talent, but it's also allowed some companies to save money on office rent, with some choosing to downsize their space. But what does this mean for downtown businesses? They're having to get creative.
☕ The one where Central Perk comes to Boston. The Friends-inspired coffee shop is officially opening its doors next month on Newbury Street. NOT New York! And it's not just going to be a cutesy pop-up for pics. It's going to be a permanent, fully functional coffeehouse with a food menu inspired by "Top Chef" judge Tom Colicchio. In addition to the indoor, cozy, Orange Sofa room, the coffee shop will also have two outdoor patios for guests to enjoy their order al fresco. Keep an eye on their page for the official opening date!
---
THINGS TO DO
Weekend plans
Image: John Tlumacki/Globe Staff. Illustration: Emily Schario.
⚾ Go for some Barbie and brews at the ballpark. Tonight is Barbie Night at Fenway, where you can get an on-theme T-shirt with the purchase of your ticket. And Saturday, your ticket will get you four drinks (for real).
✊ GTL with DJ Pauly D. There's gonna be lots of throwback energy at The Grand tonight as the Jersey Shore star brings his fist-bumping beats to da club.
🎷 Hear musical performances from 90 porches. Once you've been to one porchfest, you'll want to hit them all. This Saturday is Roslindale's, where there will be over 175 shows and three afterparties.
🍂 Hit the Landing's fall festival. You can get in the seasonal spirit at Boston Landing's Sunday Fall Crawl, fully equipped with free cookies, a pie-eating contest, and sweet raffle items (Roadrunner gift card, anyone?).
🏃 'Book it Around Boston.' The Boston Public Library and Heartbreak Hill Running Co. are hosting a neighborhood tour of that (genius) name where you can run, walk, or bike. There's no reading, but there certainly will be booking.
— Written by Claire Nicholas
---
ONE LAST THING
The Big E(ats)
Image: Handout. Illustration: Emily Schario.
Deep fried meatballs on a stick. Pickle doughnuts. Dorito gyros.
No, these aren't the concoctions your stoned friend cooked up. They're the new food items on the menu at The Big E, the iconic New England fall fair in West Springfield open through Oct. 1.
If you're unfamiliar, this beloved event is an eclectic mish-mash of New England agriculture, B-list musicians (Zedd and Jimmy Eat World this year), and decadent eats designed to clog your arteries. What more could you want!?
This year's food lineup features over 65 new items from vendors around the region, from disco dog fries to Oreo cinnamon buns. But if those additions feel a little too adventurous, they still have the classic Big E cream puffs and eclairs.
You can grab tickets to the fair here.
---
🎡 Thanks for reading! Hot take: The Big E is the id of New England.
💜 Special shoutout to today's sponsor Boch Center for supporting local journalism and fostering a vibrant Boston arts community.
💃 Keep up with us @BostonBSide on IG, TikTok, and Twitter. Send comments and suggestions to [email protected].